Review: Once Upon a Time at Efteling
Have you ever wondered how you can tell if a family weekend away has been a success? What do you really look for and what would make you return to the same place time and time again? I (Jane) have just returned from a fabulous weekend away with my husband and three children Bas (9), Finn (6 ) and Fleur (3) to Efteling Loonsche Land and we are all still living off the magic that was sprinkled on us during a short break away. We stayed in hotel accommodation on Loonsche Land holiday park.
It sounds unreal I know but jokes aside my children have been reliving the weekend through their own play all week. I keep catching them pretending to pack their bags and getting on a bus to take themselves to Efteling and talking about all the things they saw and did. As a parent it's a wonderful insight into to what they actually really enjoyed and remember.
So, I decided, rather than write completely from my point of view, that I would ask each of them what they wanted to tell me about our stay. So dotted throughout this blog are the 'literal' responses that each of them gave me just to give a little insight into their true opinions.
Introductions over let's get down to what is so special about Efteling and what we got up to….
The Prep
As my children packed their bags full of excitement they really didn't know what to expect or what they would see at Efteling but in preparation for our weekend away we had used the Efteling children's website to introduce them to some of the characters they might see. Efteling is a fairytale theme park with entertaiment for the whole family and is like walking through a brothers Grimm story book, only with more fairytales, magic and wonder. Efteling is one of The Netherlands' best kept secrets but we've a feeling it won't stay this way for long.
It was a quick and easy drive from Amsterdam and before we knew it we were all excited about spotting the signs leading us to Efteling Loonsche Land. As we approached we were able to spy some of the rides whizzing around on the opposite side of the road. This filled us all with excitement and anticipation.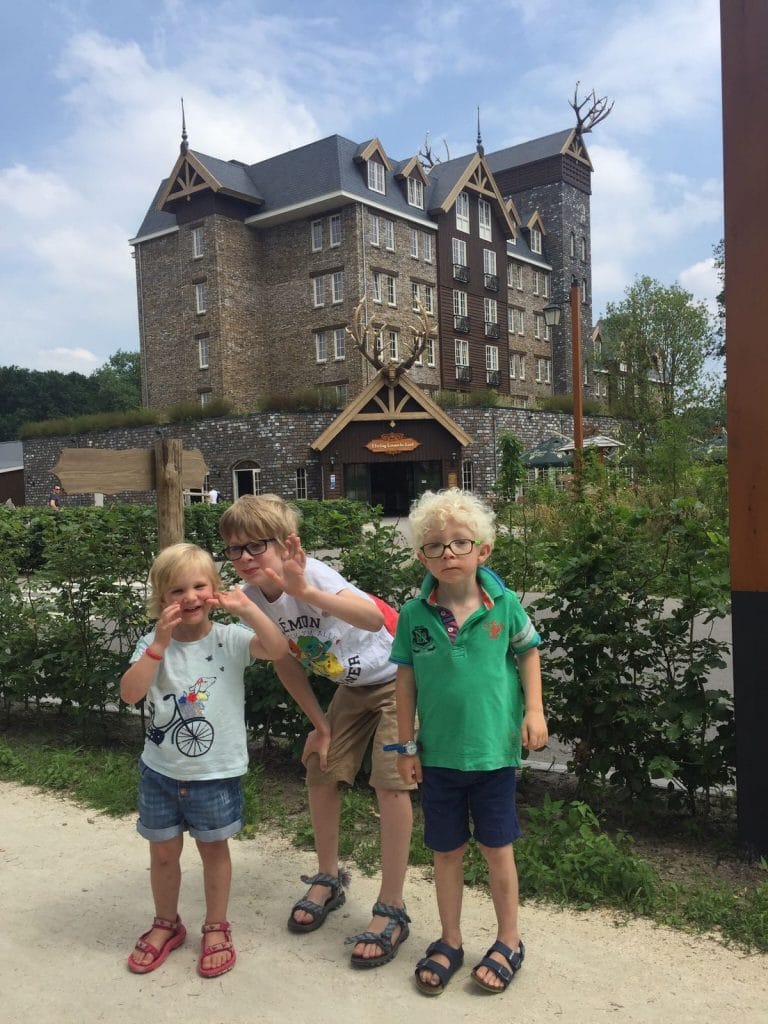 Checking In
On arrival at Efteling Loonsche Land Hotel we were greeted with extremely friendly staff which I have to say continued throughout our entire stay both at the hotel accommodation and at Efteling theme park itself. What I really appreciated was how our children were treated with equal importance to ourselves if not more so as guests and visitors of Efteling. Each member of staff they engaged with would take the time to talk to them and make their stay even more fun. Even when my son grilled the poor receptionist about the flags she had on her uniform which stated which languages she could speak and why she didn't have Chinese, they answered him with a smile!
We arrived before the official check in time (15h00) so on hearing the screams of delight in the distance we decided not to waste any time and to follow our curiosity making the short walk through the woods to enter Efteling theme park. The walk itself was delightful and as a family so enjoyable to be able to take the time to talk about what we expected to see and what to do first.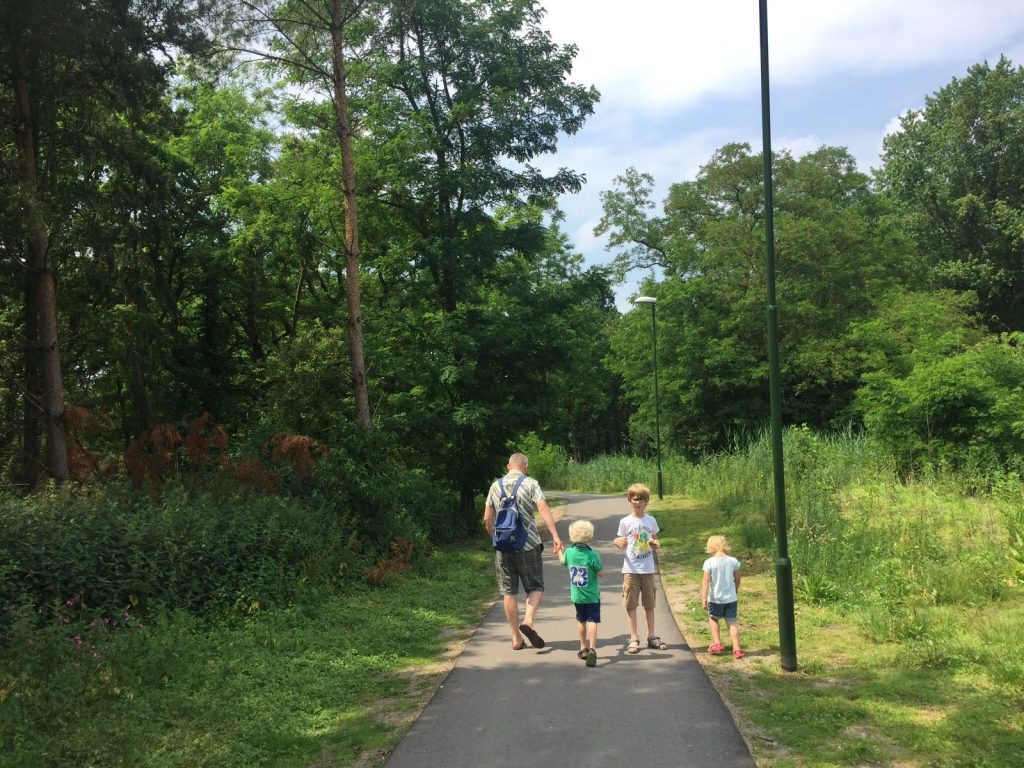 Sleeping Beauties
We were booked into a hotel room for 6 people which my children found very amusing as they presumed we would have all been in one giant bed together (now we all know how it goes when we get little visitors in the night and it doesn't always end up in Mummy and Daddy getting any sleep!) In fact the hotel room was great as there were two large twin (double beds), one in a separate room partitioned by a curtain and then two loft beds with a staircase to reach them and a curtain to create privacy. There was also a sitting area with table and chairs, free WIFI and a TV which also features Efteling TV. When I say Efteling sprinkled its magic well, it is in the details such as this that we created wonderful family memories as our children excitedly played on their beds and had us ringing the (imaginary) doorbell to gain entry. Who knew having your own light, stairs and curtains was so much fun!
Fleur – "I did like the bunk bed because I sleeped high and Finn sleeped there too." 
Finn – "I loved the high bed and the card to open the door." 
Bas – It was good that they had six beds and I really actually really really liked that at the top there were two gigantic beds with curtains."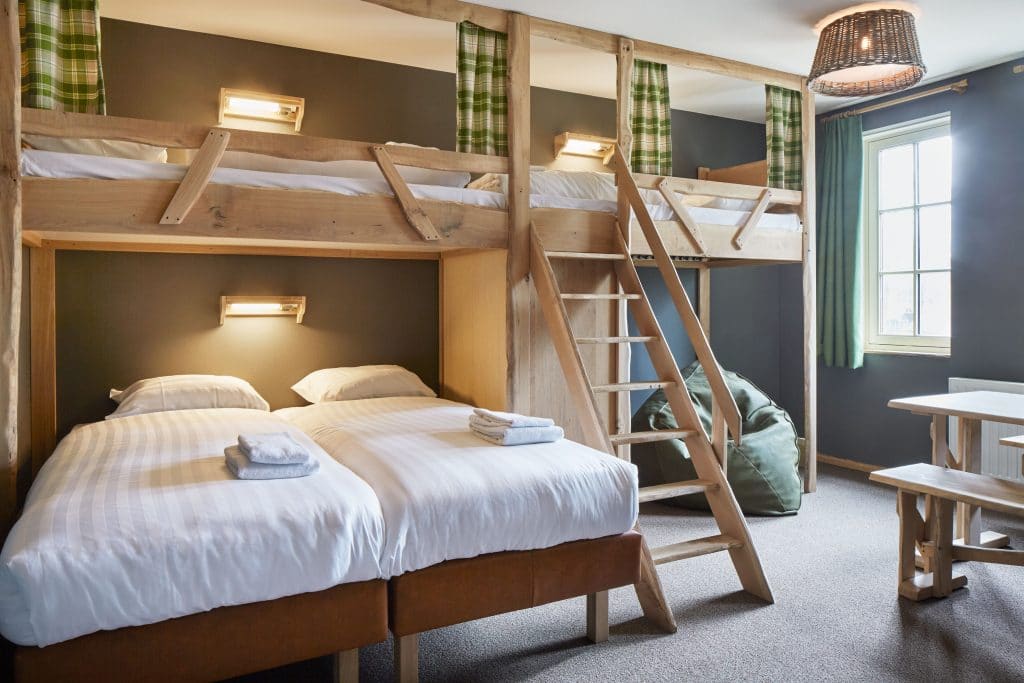 Copyright Efteling
Our Fairytale Begins..
As we entered the theme park we were immediately drawn into the magical feel of Efteling. The layout and the architecture go some way in creating this but there is just an inexplicable magic and excitement that is in the air that we felt drawn to.
We did notice that we could hire a little wooden trolley for €4,50 to transport the children when they were tired from walking and we saw that many people did make use of them. However, we opted to take a more leisurely approach and to attempt walking, even though of course our children did mention (more than once) that they also wanted one, and to be fair they did look like fun.
We were encouraged to use the Efteling app on our phones to improve our visit to the theme park. I don't always feel like I'm the handiest person with technology and try my best to live by the rule that when I'm having quality time with my children that I don't want them to be seeing me looking at my phone all day. In reality it is indeed a very handy app to have and it is so easy to navigate that you really only need to glance at it to use it to your advantage. For us as we had already decided on the 3 main rides we were going to visit we could check the app to see what the expected waiting times were and plan our route accordingly. We also came across little events, shows and meet and greets with characters taking place across the park as we walked around. By using the app we would realise that there was a little surprise just around the corner that we could stop by to enjoy.
Beware of The Big Bad Wolf
At the park entrance there was a handy carriage with maps of the park in all languages. Of course when Papa got one they all wanted one and they loved being able to look at the map for themselves when walking around and when back at the hotel later to talk through what they had done and what they planned to do the next day.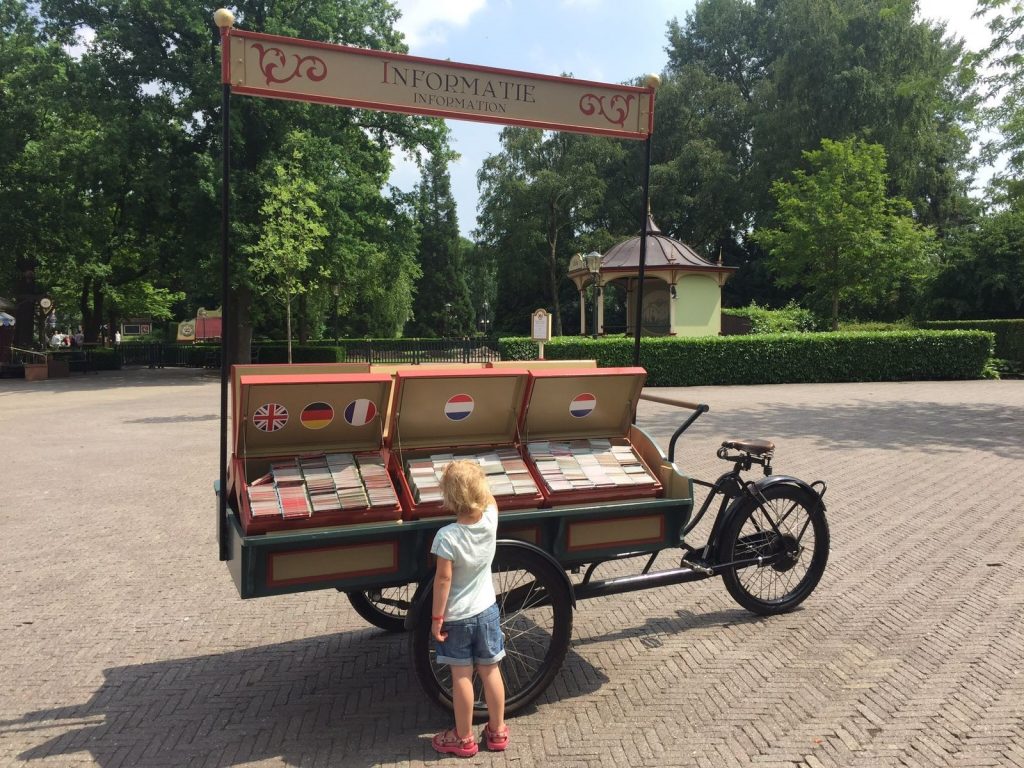 Our plan was to visit the Sprookjesbos (Fairytale Forest) on the first day. Not far from the main entrance we crossed over the steam train track, of course as we did and they waved as passengers went by we had to promise that we would take a ride the next day. Just after the train we arrived at one of the entrances for the Sprookjesbos and as you would imagine it is set within magical woodland. It was a beautiful walk and as you meander through the winding paths you come across fairytale after fairytale. Next to each is a short synopsis in a variety of languages so if your fairytale skills are a little rusty these are a great help! Even the toadstools play music in the Sprookjebos.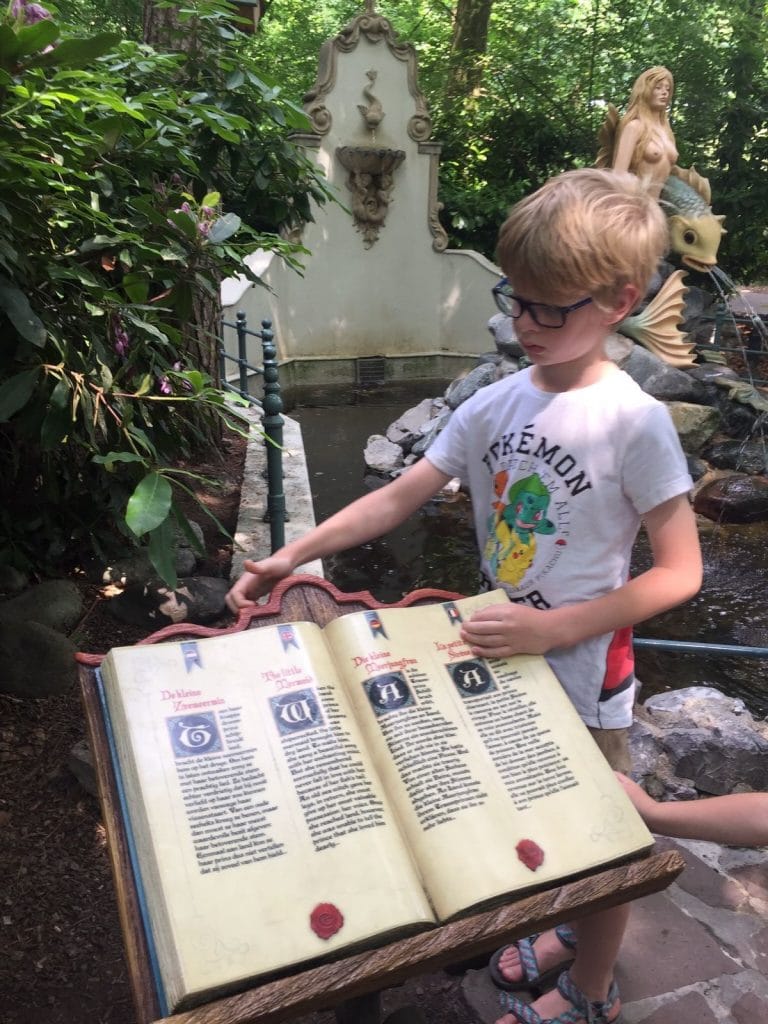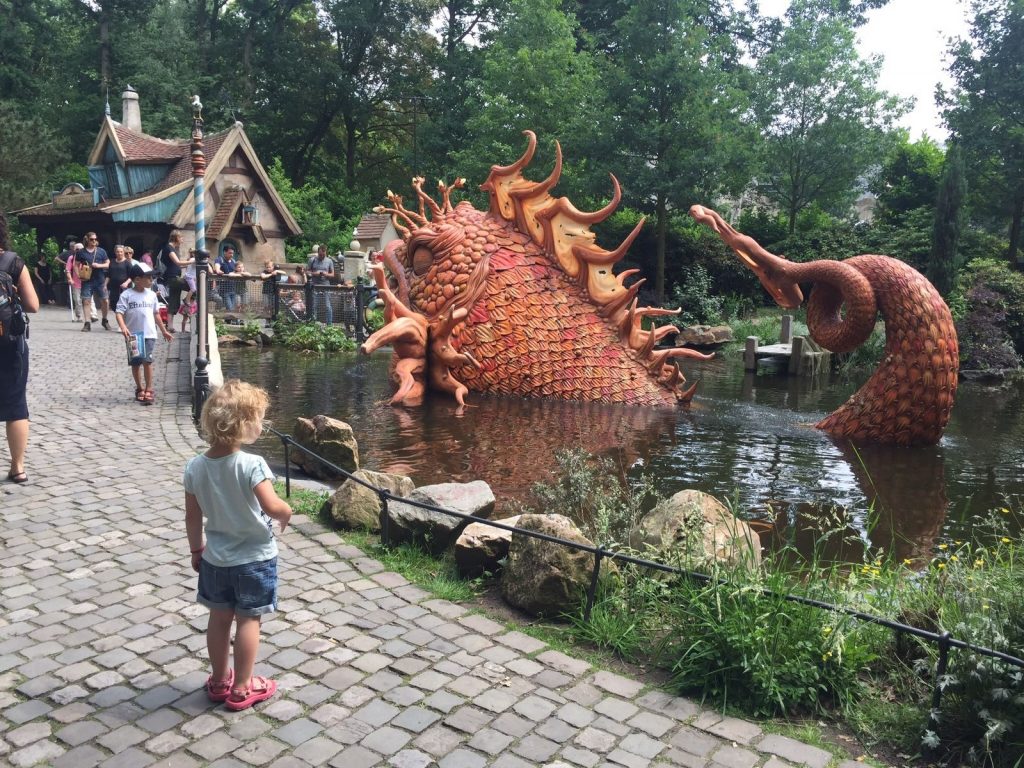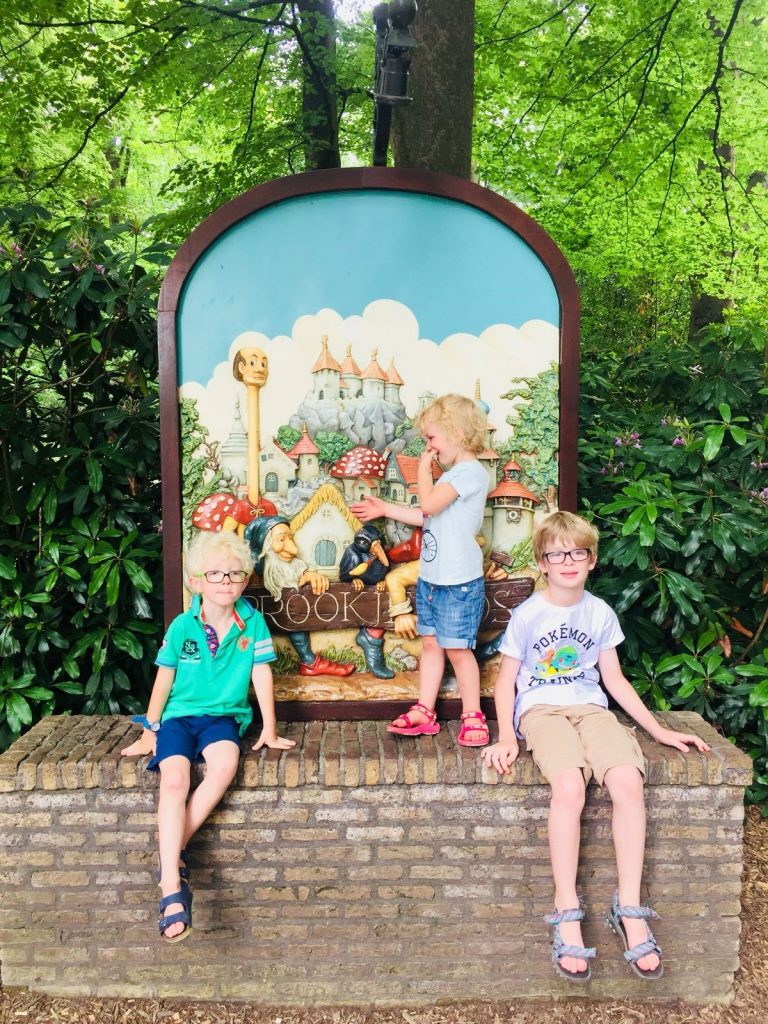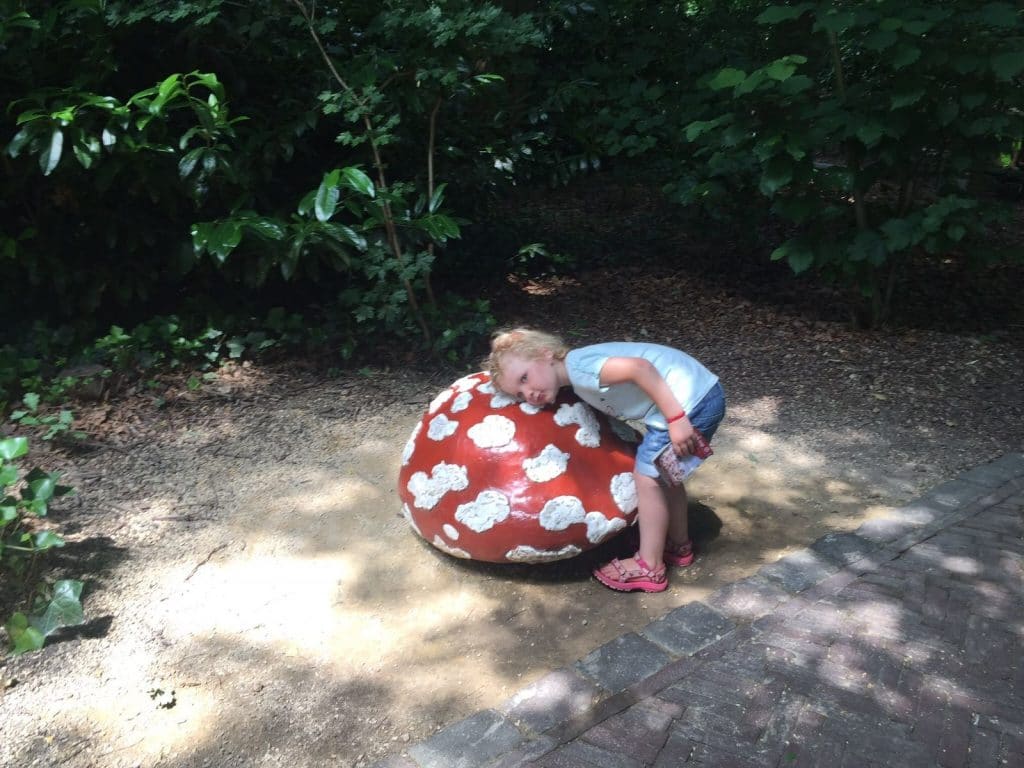 For us it was enjoyable to stand back and let our children guide us through the forest and to tell us what they could see. What we really loved was the interactivity: there are bubbles blowing, water features, the dragon really breathes fire and as for Hansel and Gretel's house, the sweet treats REALLY smell like the real food. I for one was like a kid exploring and having fun reliving the stories of childhood memories.
Bas – "The Emporers new clothes was funny because he came in his big bottom with no clothes on."
Finn – "I liked the Sprookjesbos because the dragon is so scary."
Fleur – "I liked the dragon."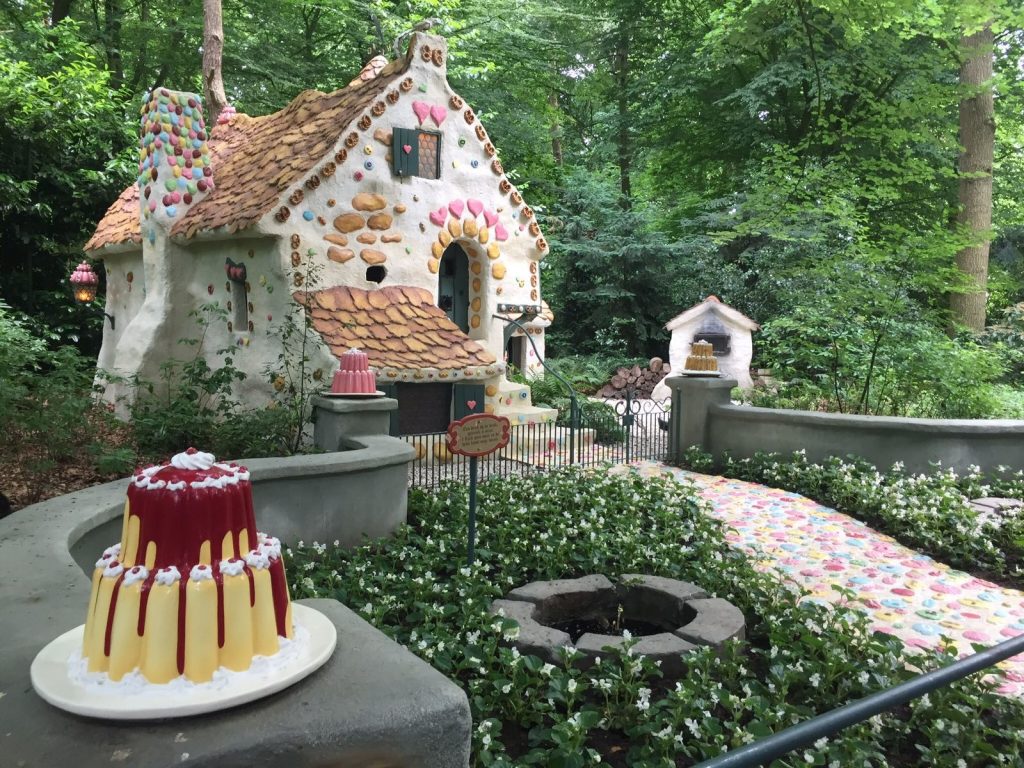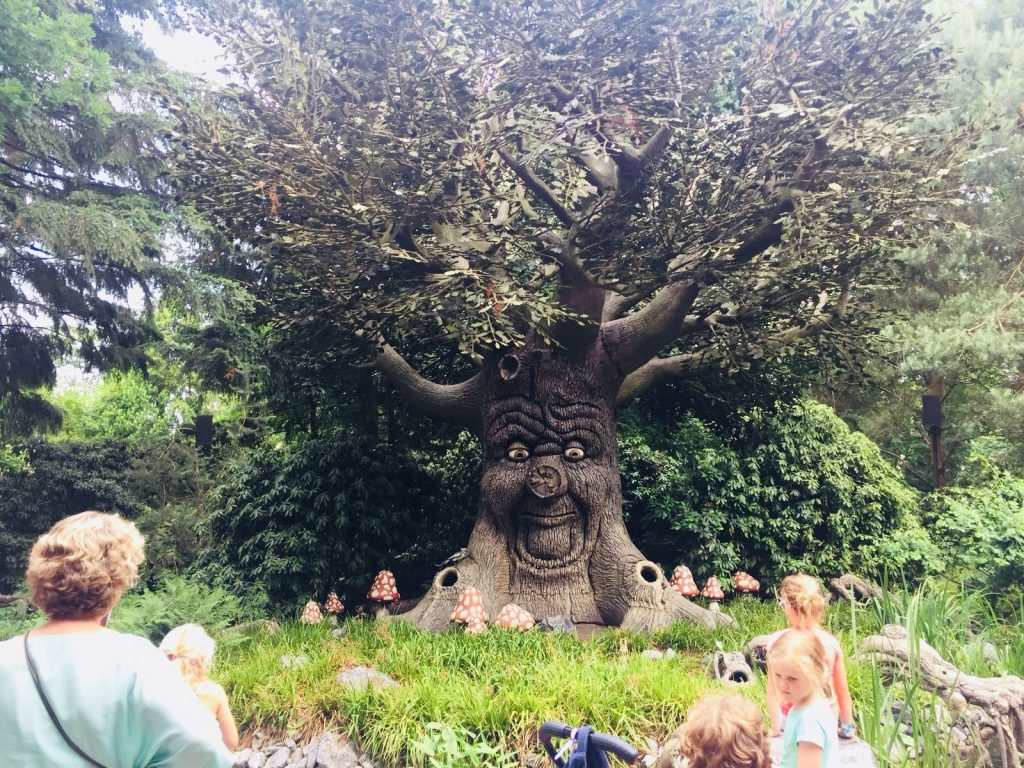 When we got to Sleeping Beauty's castle which is surrounded by red roses (this matches the Dutch saying of 'sleeping like a rose') we discovered that the guards were sleeping and snoring too! As for Little Red Riding Hood she has clogs in Holland!! We loved the little theatres dotted around the forest telling animated stories including The Indian Water Lillies which is actually written by the Belgian Queen Fabiola.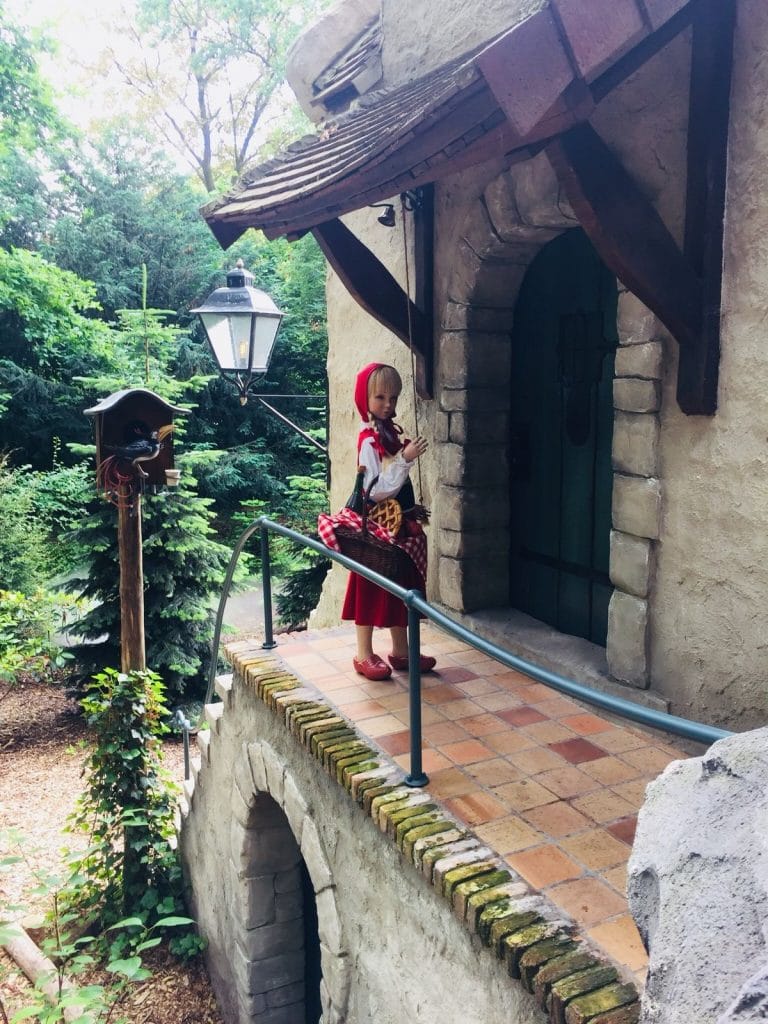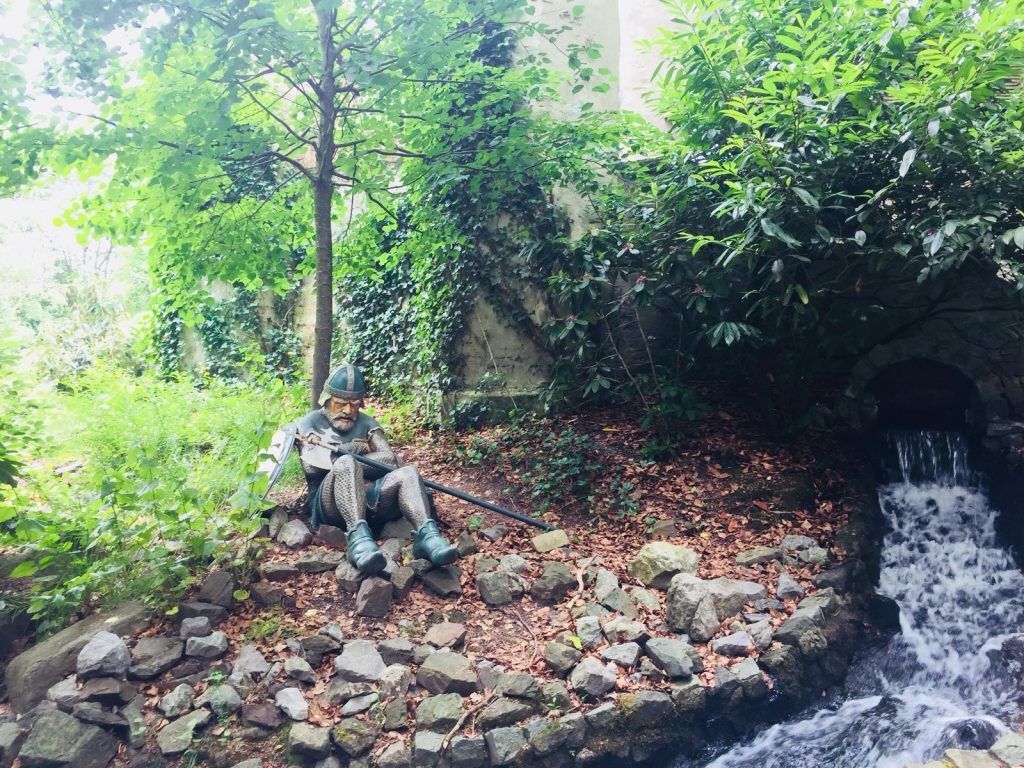 After some more exploration we came upon the Kabouter (gnome) houses. These were just fab as they are made specifically with children in mind so they are free to roam and explore. Ours had frantically waved at us from the windows of the little houses and spotted the Kabouters at work or fishing in the pond. I loved the little signs saying "children only' too. I was asked how the Kabouters get into the little houses and what could I say 'through Kabouter doors.' In fact at one point when my son was overheard by a member of staff asking if something was 'real' she just quietly mentioned to him that everything is real at Efteling. I loved this as the whole time whenever I was questioned I could just say, you know what the lady told you…….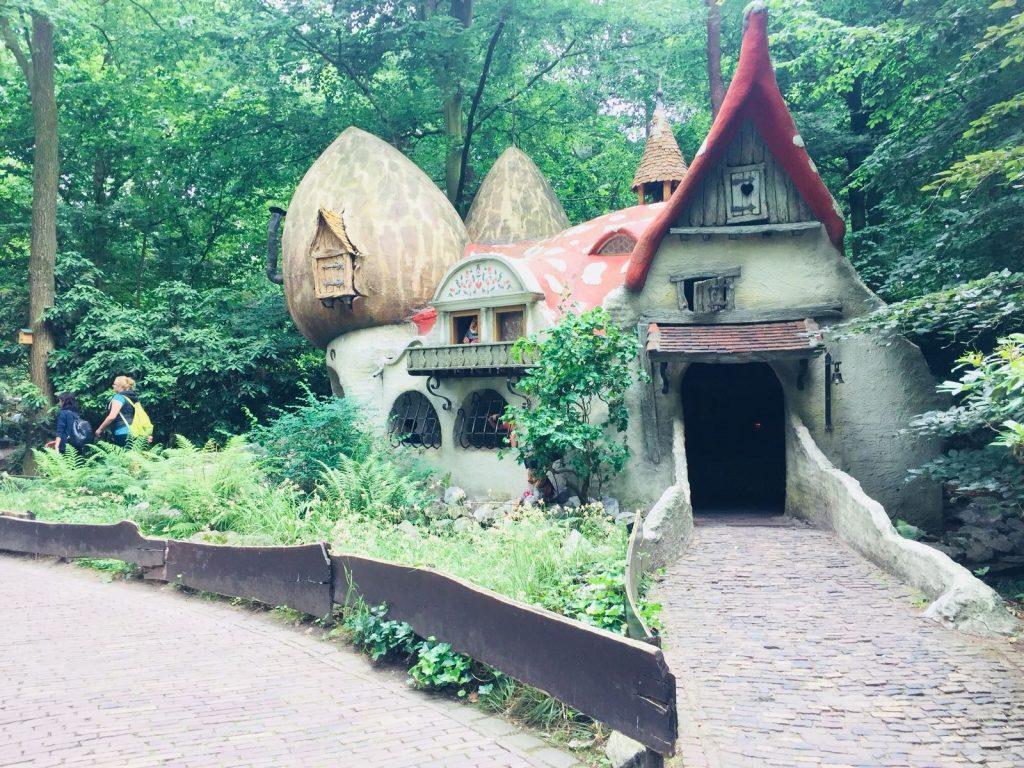 Back to Base
After a wonderful time exploring the Sprookjesbos we headed back to our accommodation and to have some dinner. Being such a beautiful sunny weekend we chose to sit out on the terrace. The shuttle train/bus brings you right back here from the theme park too. Everything is easily accessible at Loonsche Land and it has a really cosy family feel. There is a range of detached houses which are set in dunes, woodland or on the water and even treehouses. The hotel itself where we were staying overlooks them all. Beyond the hotel and houses was open woodland and within the accommodation park was a small petting farm and a barn filled with hay bales to climb up on to reach a slide. My children really enjoyed the little crooked wooden bridges that reached out across the different lakes that are dotted around.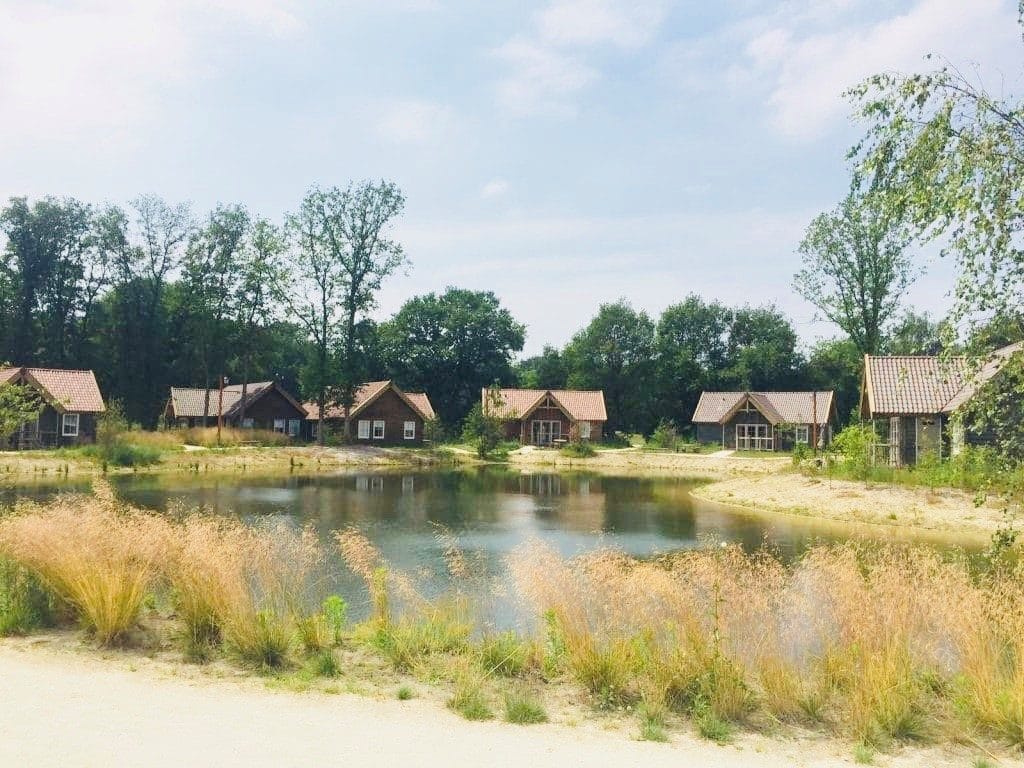 As we sat on the sunny terrace our children immediately said,' ok we're off the the playground.' Right next to the terrace was a great enclosed sandy play area, perfect for our children to entertain themselves as they waited for their dinner. Our food was served in cute little plant pots which amused Finn in particular as he commented that his food couldn't grow!!
Bas – "I did find it very sensible that there was a playground with a little slide so that the children could entertain themselves while the adults were eating and having a little chat with each other. Then they can have a little bit of peace and we don't get bored."
---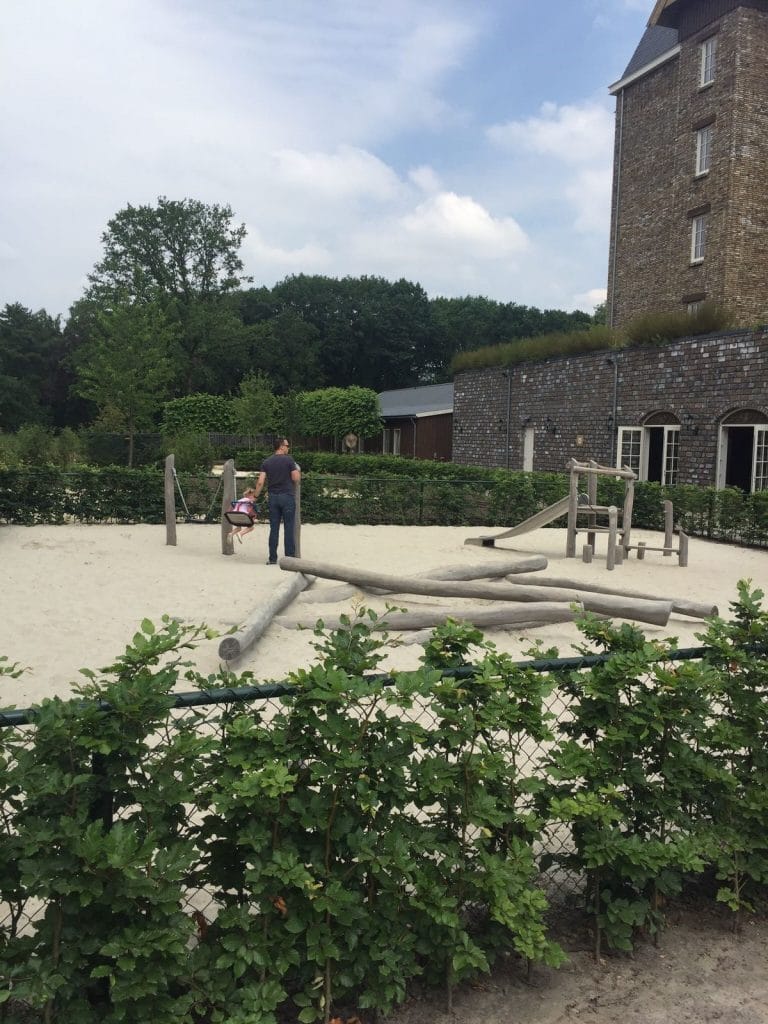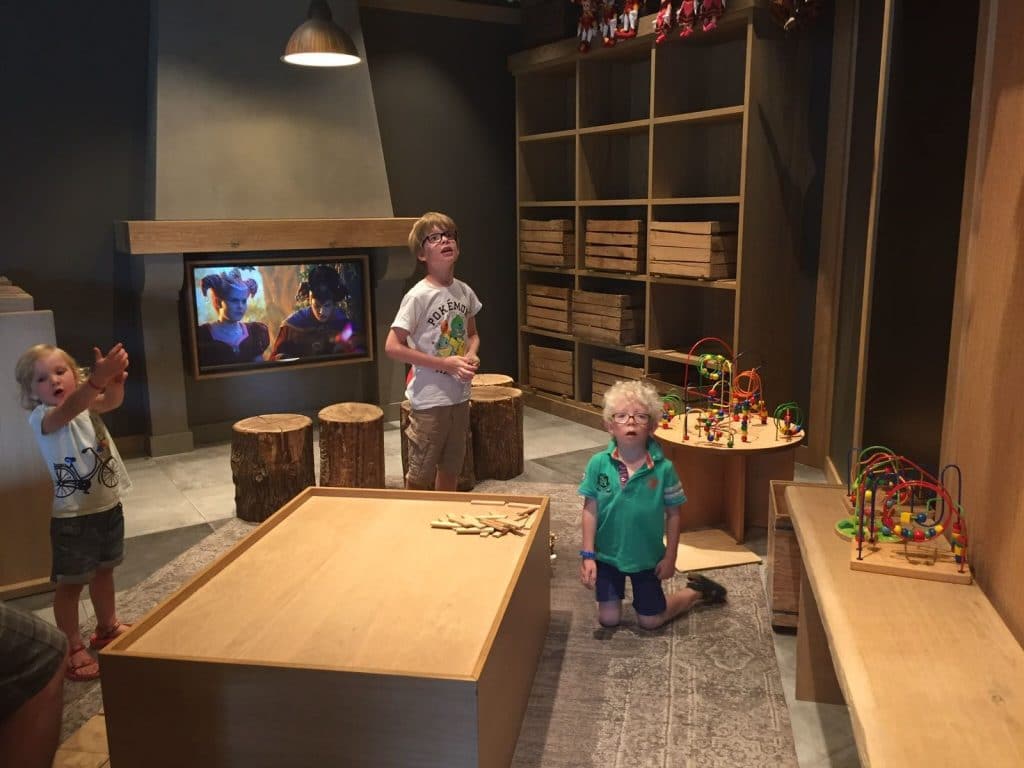 What I really liked was how each children's meal came with beautifully presented vegetables. In fact we spent hours relaxing on the terraces trying out good old Dutch snacks like bittterballen, ice creams and having a few drinks while the children met friends and happily played. It was such a wonderfully relaxing atmosphere and the staff were impressively attentive.
Fleur – "I did like the bitterballen and the playground." 
Bas – " I liked the bitterballen at the hotel and I liked that in the restaurant there was a play area with Efteling tv showing the Symbolica ride and the Sprookjesboom."
Then we headed to bed for a good rest so we could wake early and take advantage of the early entrance for overnight guests (entrance to the theme park is included on all days of your stay). But we had a cheeky night cap first which we were able to take to our room from the bar, followed by some serious zzzzzzzzzzzzz in our super comfy beds.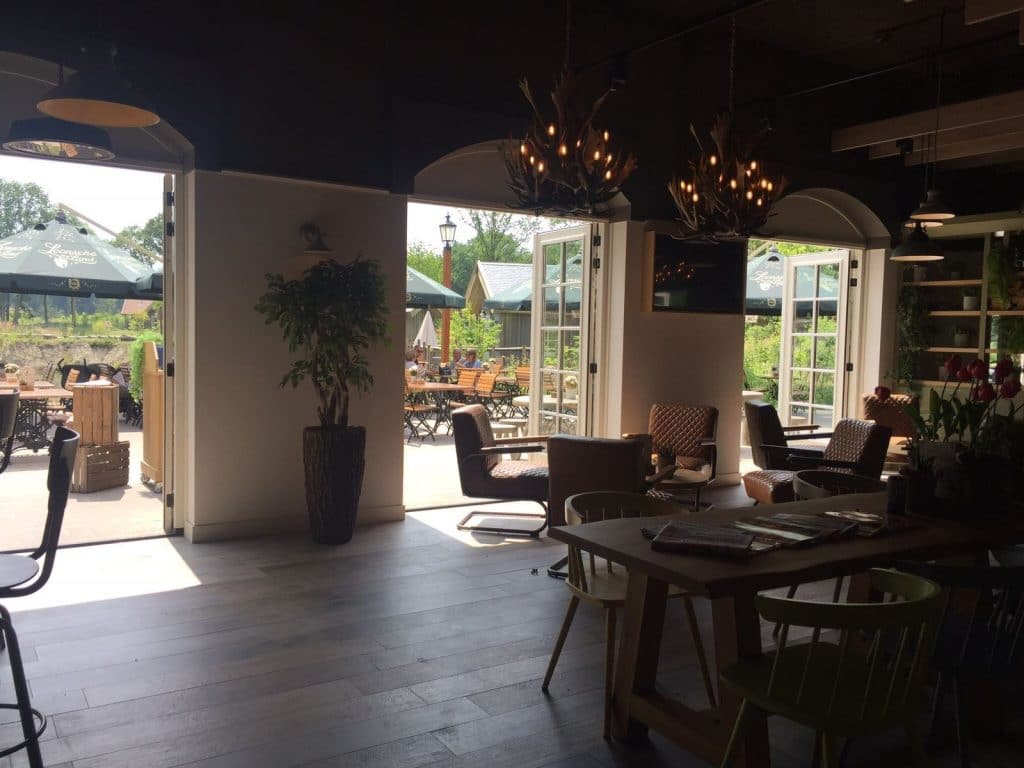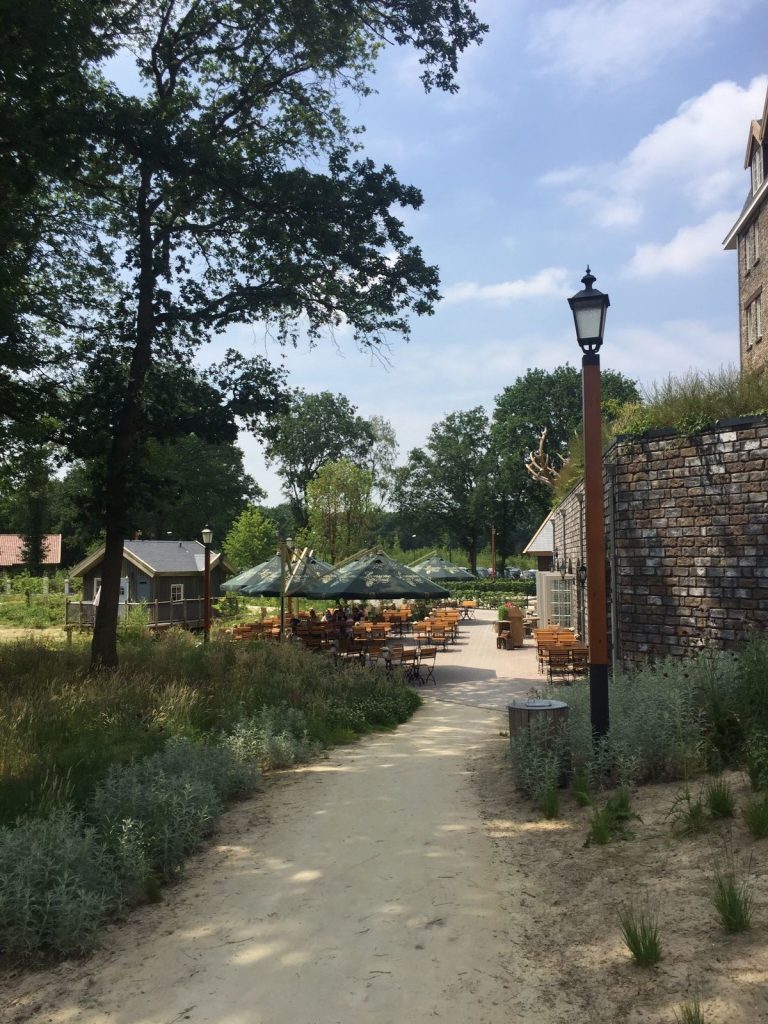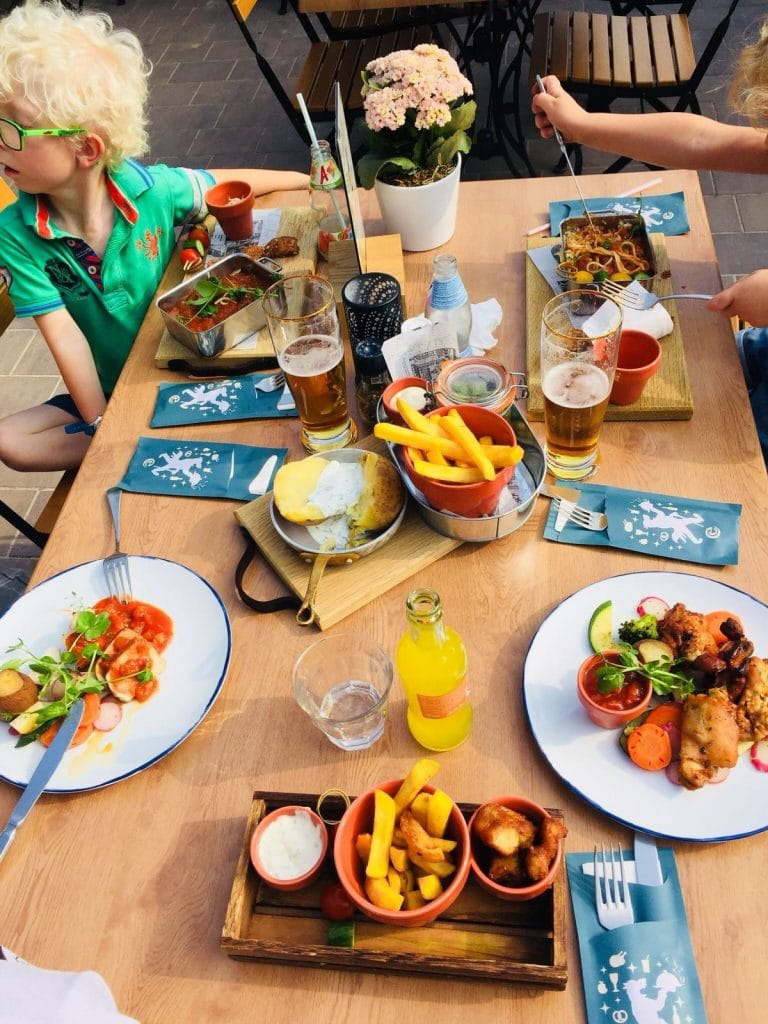 The Early Bird Catches the………Best Rides!
Day 2 we woke up bright and early and took advantage of the fabulous extensive self-service breakfast before taking the stroll through the woods back to Efteling theme park where we were excited to have a full day of adventures.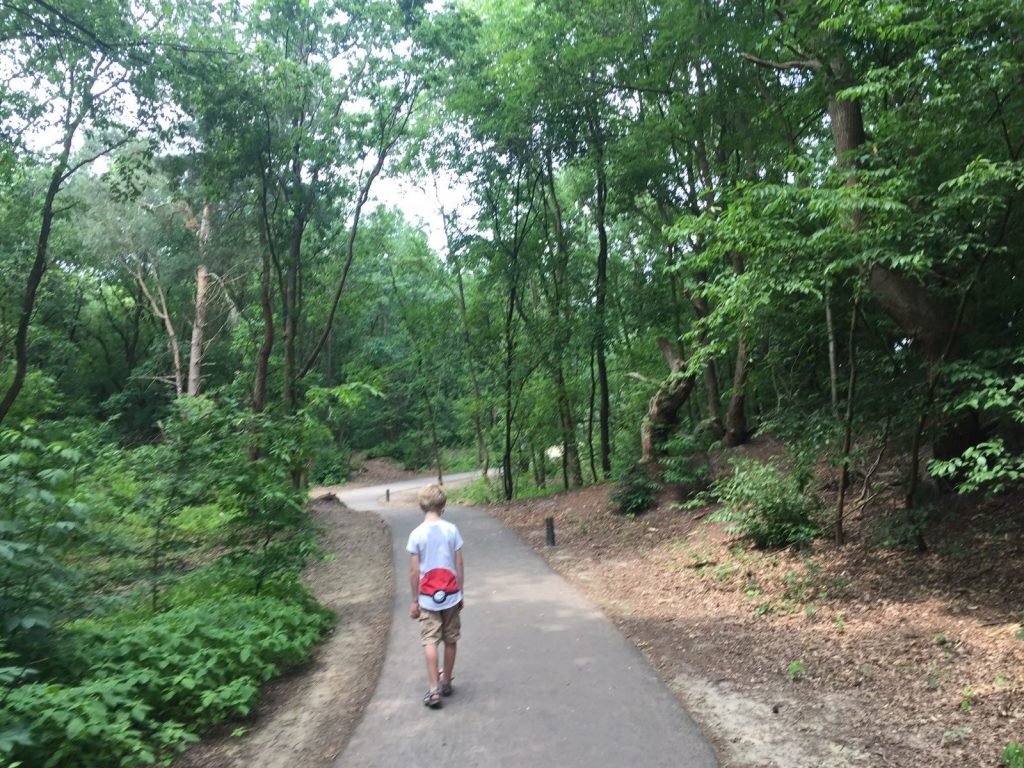 We had decided to only plan to do 3 main rides and headed straight to Symbolica which is a family ride which opened in 2017 and cost 35 million Euros. We really didn't know what to expect but had heard how popular this ride can be. No sooner had we joined the queue for overnight guests did we see the general public also joining in the regular queues. This was a good half an hour before the park officially opened. We could have gone to one of the rides that was already open but it was worth being at the front of this queue. The Symbolica ride was amazing!!!! So many unexpected features and the chance for our children to be interactively involved too. The jester Pardoes guided us as we were transported around the castle and were taken by surprise as lights, music and magical effects made it all the more fabulous and enticing.
What we didn't expect was to have to choose a theme at the entrance meaning that there are actually 3 different rides to choose from. The build up of suspense was fantastic and a great way to start our day. Giving any more away would spoil it when you visit too!
Bas – "I liked the Symbolica ride because there was an interactive pad for us to do missions to open the secret doors. I want to go back and do the Symbolica again and choose the knight of the Symbolica and the treasure ride" 
After these we checked the Efteling app to see the distances and waiting times for the rides we had planned and headed towards the Carnaval Festival ride.
On the way we took in the sights and stopped off to do the Pagoda ride giving us a fabulous view of the entire park.
The characters of Jokie and Jet took us on a journey around the world on the Carnaval Festival ride. It is a lovely bright colourful ride taking a journey through all sorts of countries showing tourist attractions and a taste for cultures around the world. There is so much for little eyes to spot and enjoy that we hopped back on twice, taking advantage of the short queue.
Finn –  "The Jokie ride was fun because I just like it but not the dragon. When we came out we saw him for real!!"
Then we headed to the automated boat ride. This was a wonderful way to leisurely enjoy the beautiful mature gardens and mini waterfall of Efteling whilst taking a moment to relax before walking on. The boat ride itself was 20 minutes. My children thought the ducks that followed our boat all the way around were highly entertaining.
Fleur – "I liked seeing the ducks on the boat ride and sitting in it."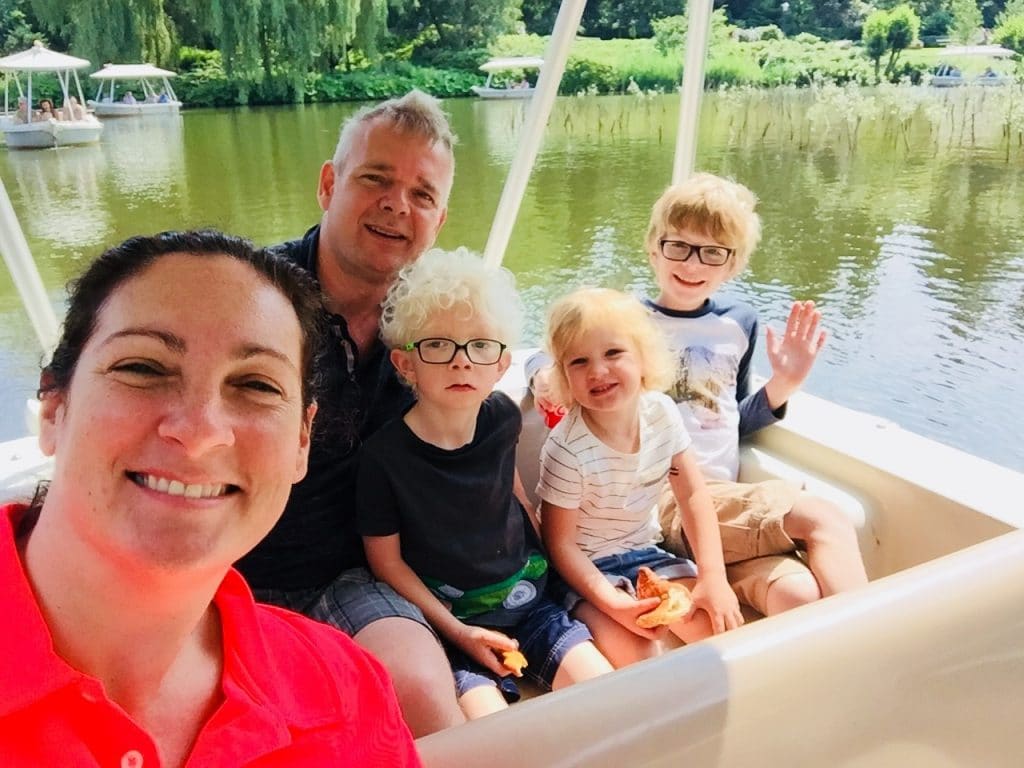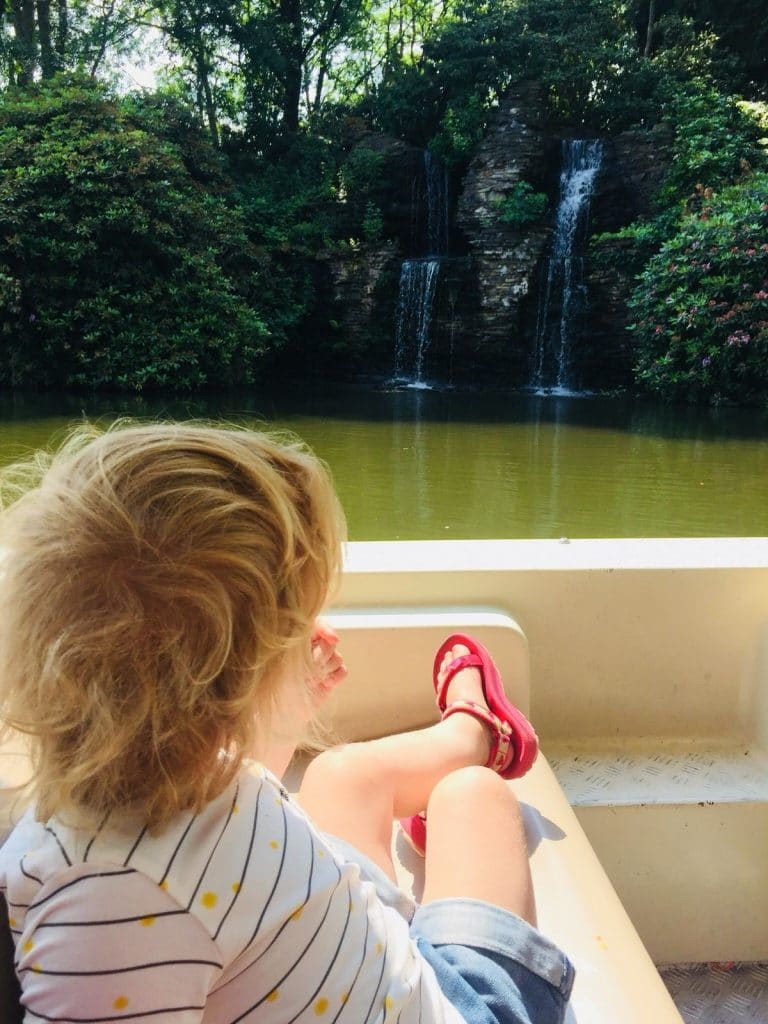 Our final ride in our plan was the Droomvlucht. As with everything in Efteling the suspense of the ride is built up by the building and entrances you go into. The Droomvlucht (Dream Flight) was no different with its huge hanging lights filling the hallway as we entered. This is a really magical ride (in the dark) where your carriage takes you into the air on a flight through fantasy dreams of floating planets, fairies and more.
Bas – "I liked the Droomvlucht because it was surprising and there was a slide down that went round and round but it didn't get busy and there was a bit like you were travelling through time and that the planets were moving and the fairies were funny."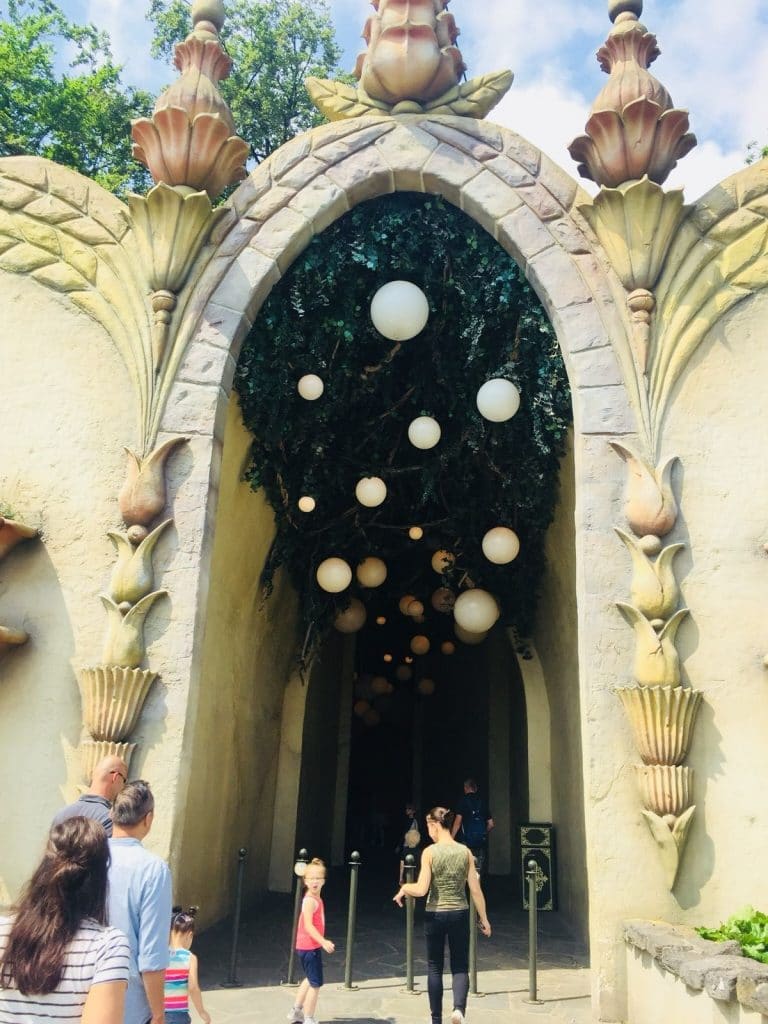 A Promise Is Kept
So, then, as we had promised, we took a ride on the stream train. What a great way to ride through the park and to see all the rides we had done and to spot new things too. We even waved to our hotel (as you do).
Bas – "I liked  when we went on the train so that we could see the whole of Efteling and it didn't take too long or too short and you could really see steam. "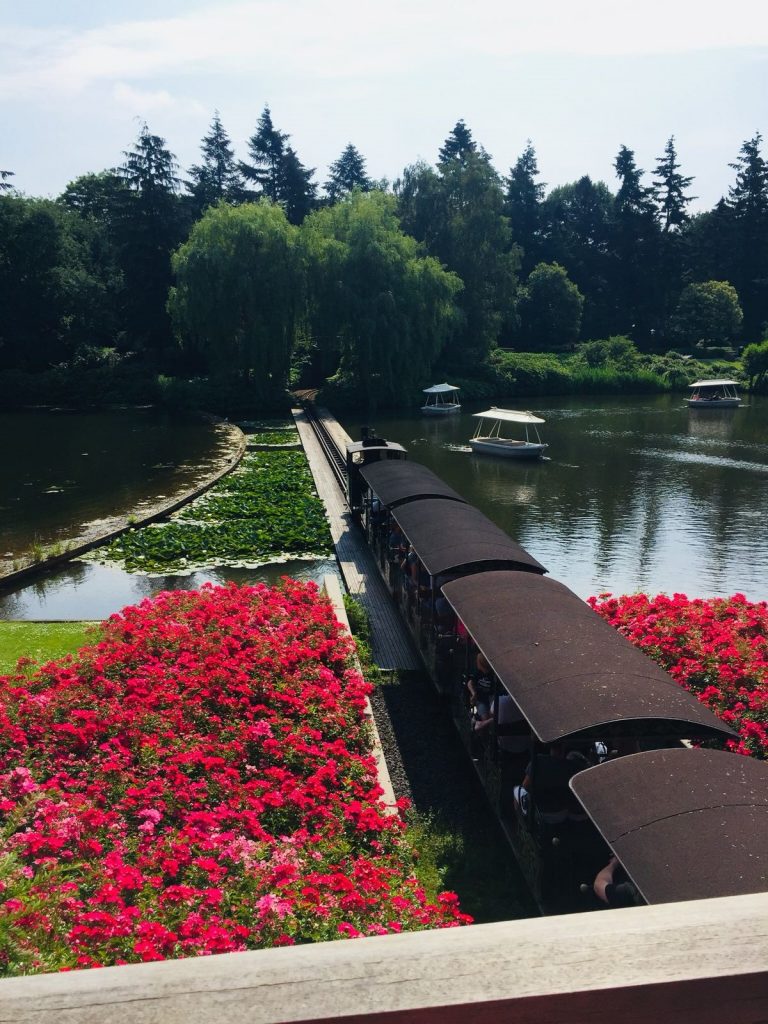 What I haven't mentioned were all the extra little adventures we had during the day from visiting the land of the Laaf (a gnome colony ) where we took a ride over their village and exploring their miniature houses and playground, the unexpected Scottish bagpipe band that played throughout the park, the numerous carousel rides where our children enjoyed the freedom to go on again and again and again or the maze complete with a child sized entrance that is filled with unexpected obstacles and effects.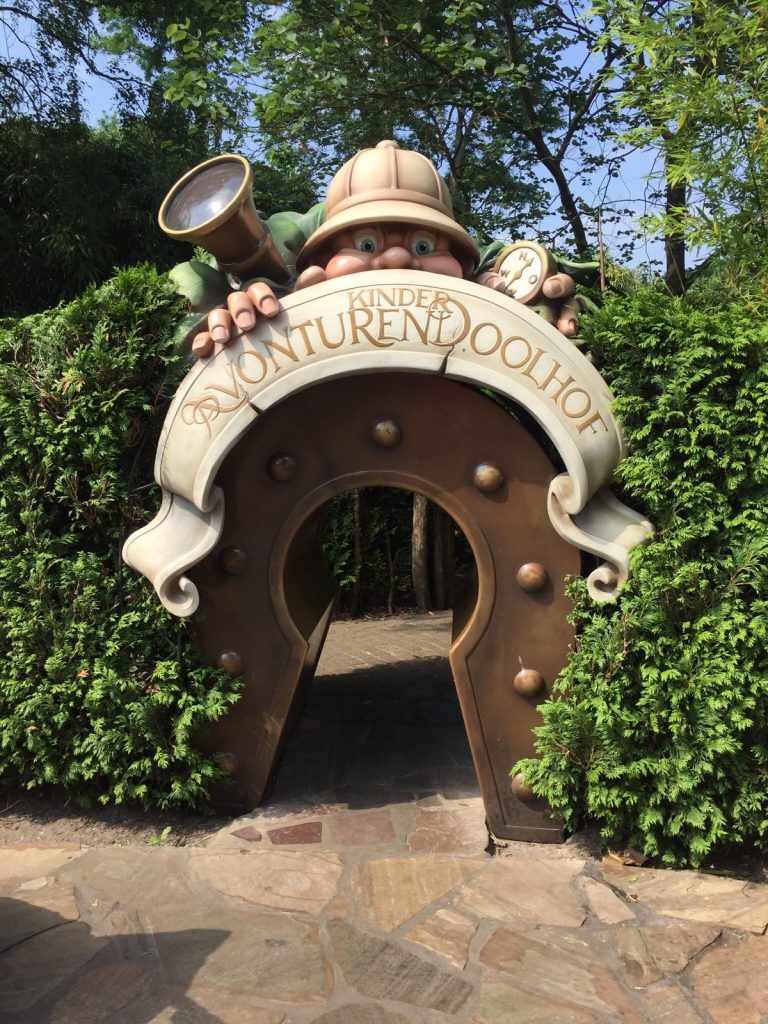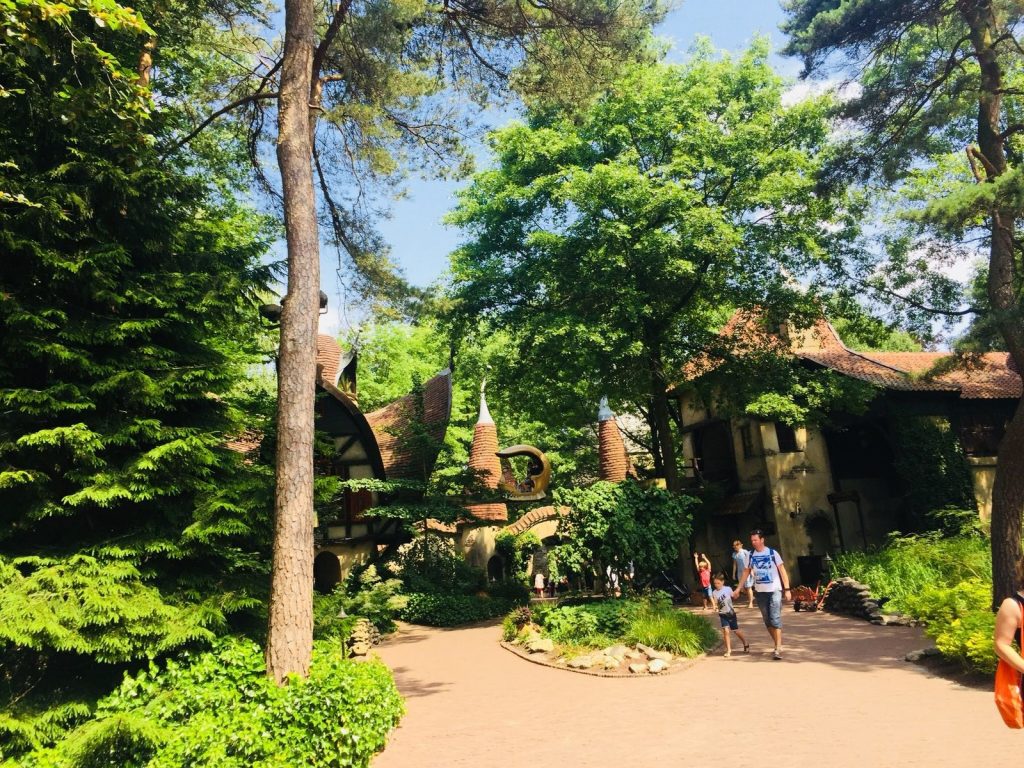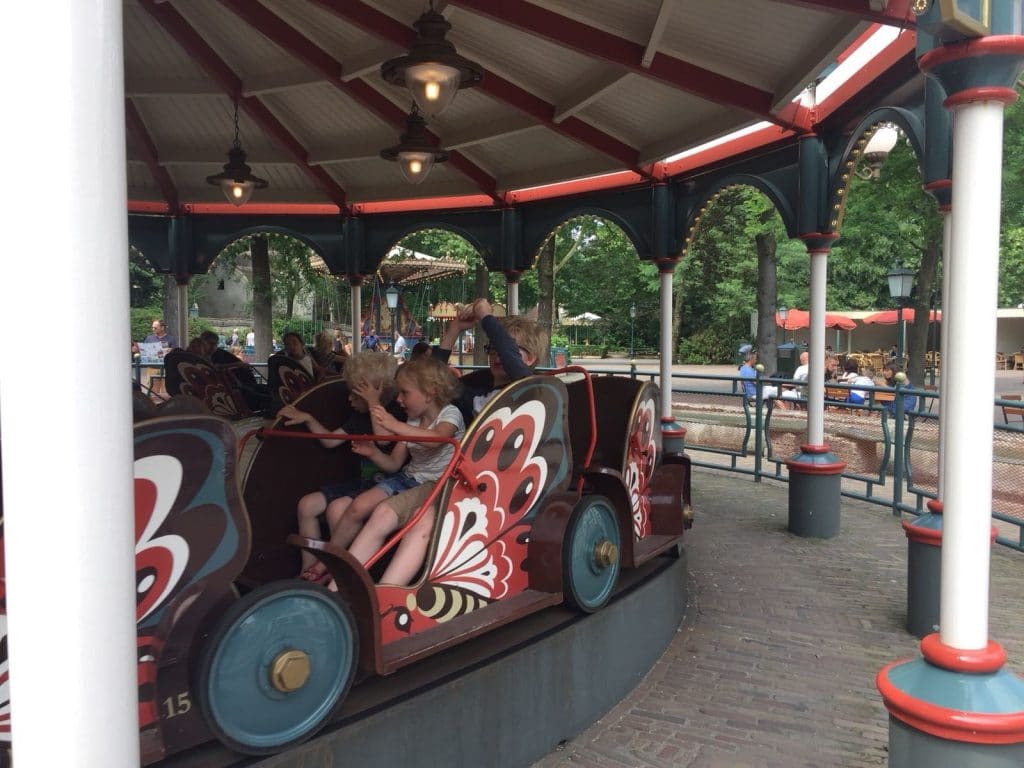 Fleur – "When I went on the butterflies I could put my hands in the air. Efteling was nice!!!!!"
Finn – "I liked the butterflies because I went again and again and again."
If We Could Make A Wish
It would be impossible to write about everything we saw and did as in every nook and cranny there is something fun to see and do. Theme parks can be daunting places to visit with small children and the crowds can be overwhelming but we felt at ease here as it is so cleverly organised and there is space for the children to feel freedom to play and there is soooooooo much to see and do that none of us were bored not even for a moment.
Before we knew it our time was up and there were resounding 'Oh Nooooooos' all round as we delivered the news that we had to leave. It is understandable why they say that if you ask a Dutch person about Efteling they are transported back to wonderful memories. I am excited to say that ours have just begun.
We didn't even see half of what there is to offer at Efteling and everything we did was suitable for all ages. Of course there are huge rollercoasters and water rides with massive thrills for the dare devil visitor but we stuck with areas that suited our family at present and I'm sure as the years progress and we return we will discover the other delights that Efteling has to offer. The Aquanura water and light show, the Raveleijn show and the Caro show (coming soon) mean that there is really only one thing to do……. return and stay for longer next time!
In fact since we got back we have already booked to return in the coming summer holidays and even better I'm taking my sister, niece and nephew too. As we count down the weeks to our return, text messages and Facetime calls have become somewhat more exciting exchanges that begin 'When we go to Efteling we've got to……………………… Now if you want to know what we do decide to do then check in at the end of August and I'll let you know how we get on and what we discover next.
Living Happily Ever After
I'm really glad we didn't decide to try and fit everything in on our day out instead making a plan to visit 3 main rides. By doing this we didn't put pressure on ourselves to see and do everything in one day and it allowed us to be more spontaneous and be led by what our children wanted to do as they saw it. As we all know, when they find something they like there isn't much hope of letting them have one turn and walk away, so flexibility in your expectations is perhaps a good idea here.
With a huge amount of rides, shows and characters still to meet it is easy to see how making the decision to stay at one of Efteling's accommodations is the perfect way to enjoy Efteling at your own pace. We stayed at Loonsche Land but you can also stay in the magical Bosrijk Village or the Efteling Hotel in one of their fairytale themed family suites.
Fleur – "If we go to Efteling again I want to go on a bunk bed."
I'd like to extend a huge thank you to Efteling from myself and my family for allowing us to stay, we simply had a blast!!!!