King's day
What is King's day?
Should you arrive in The Netherlands towards the end of April you could be forgiven for not knowing why shops are full of all things orange even in supermarkets and bakeries. Why are Dutch flags flying and pavements being sectioned off with tape and letters in them? If you were to arrive unsuspecting you would be taken completely by surprise, but with a little planning and inside knowledge you will discover that there is a great national party on the horizon which tourists travel far and wide to join in! King's day is almost here and the party atmosphere is beginning to bubble. On April 27th The Netherlands celebrates the King's birthday and towns and cities across the country fill the streets with a carnival atmosphere. This is a spectacular event for all ages and in particular families.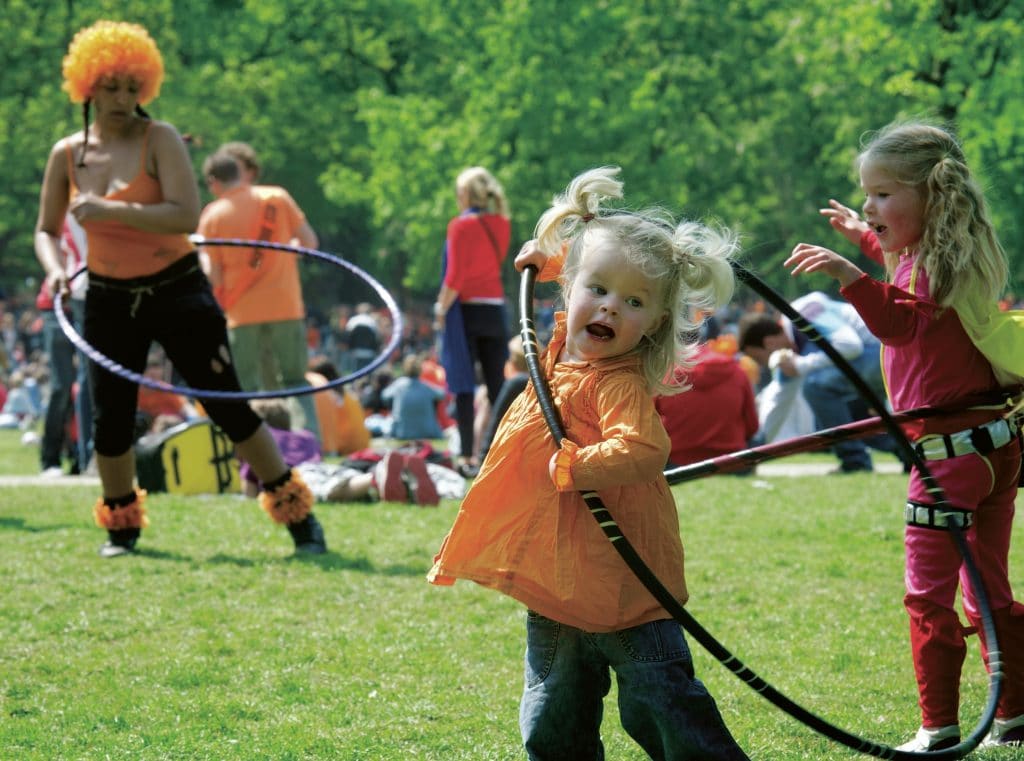 NBTC
The history of this event dates back to when Queen Juliana was in reign. 'Queens' day' as it was called at the time was celebrated on April 30th to coincide with her birthday. When her daughter Beatrix took over the throne she decided to honour the same date. However, since Willem Alexander took to the throne in 2013 he decided to change the date for this national celebration, now called King's day (Koningsdag) to April 27th which is his birthday. This is where the obsession with the colour orange and all things that are orange comes from as the royal family name is 'van Oranje-Nassau.'
Whether you like live music concerts, boat trips, children's games or food festivals you will always find something happening that suits your particular interest or taste.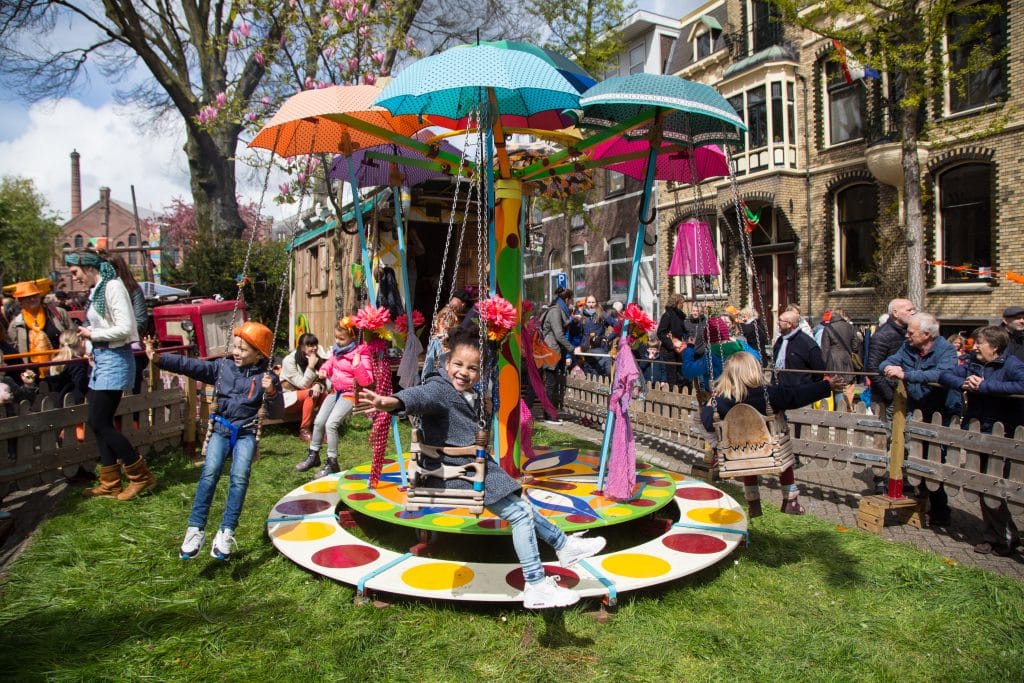 NBTC
There are some traditional games you may come across and should of course try in order to gain the full Dutch experience:
Spijker poepen
Translated as "nail pooing' (!) a long 4 inch nail is hung from a piece of string around your waist and the idea is to bend through your knees to fit the nail into a bottle neck.
Koekhappen
With this game, slices of Ontbijtkoek meaning breakfast cake, which tastes like ginger cake, is hung from string on a washing line. You have to eat it but using only your mouth and keeping your hands behind your back.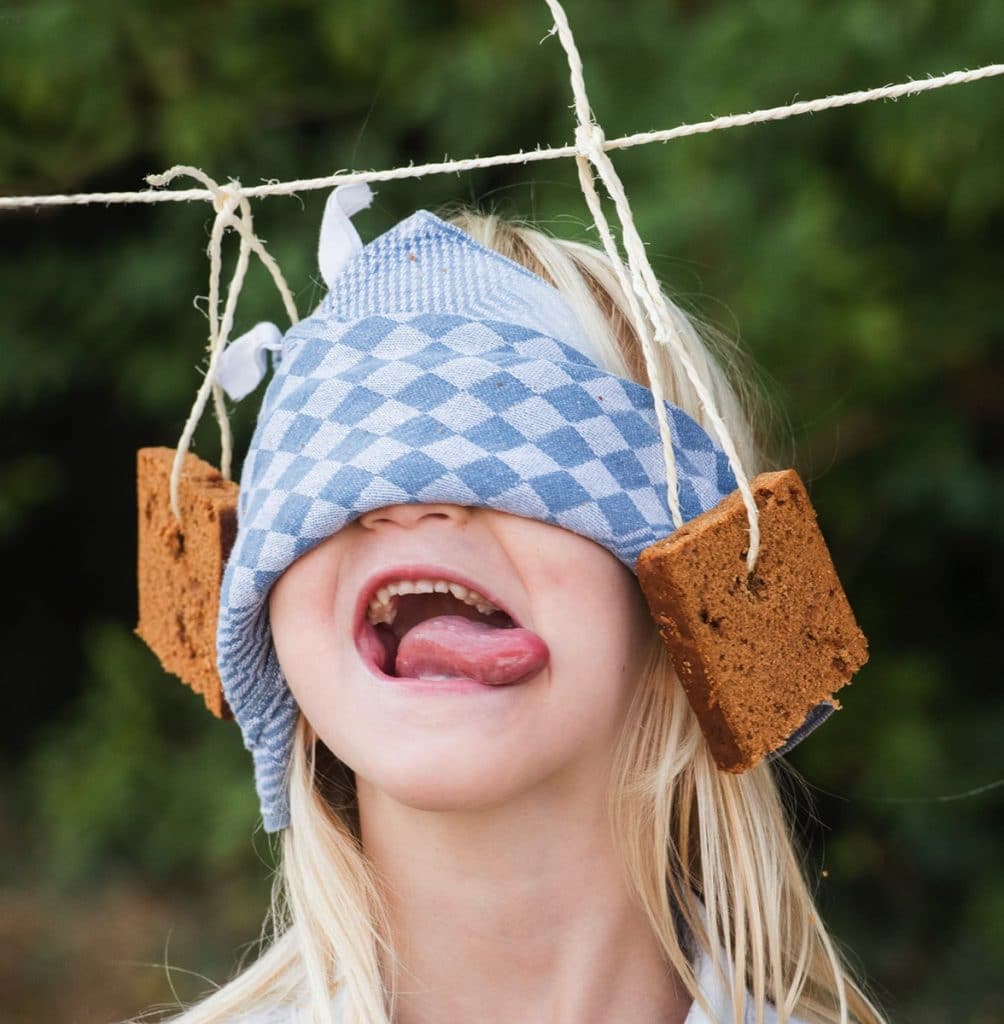 Ruben-Schipper-Fotografie
Grabbelen
This is the same principle as lucky dip, you pay a given amount and dig around in a mystery box to see what prize you get.
Zaklopen
Ever wanted to relive sports day from your youth? here's your chance, grab a sac, which should be a mail bag if truly following tradition, and join in as this literally is the same as the sack race we all know and love.
Fun for all the family
The day really is centred around fun!  It's like a school fête on the largest scale you've ever seen. As you would expect in Holland, the children are always thought of and this is a family day. Having said that specific areas can be found where only children are allowed to set up stalls in major cities. Think of it as a giant flea market, where everyone can trade and sell off their bric-a brac. There are food and drinks vendors everywhere and it is a day where the Dutch come out with the most inventive (wild and wacky) ways to have fun and make some pocket money, often creating fun games with specific royal themes. Children play their musical instruments and once I even witnessed a house on the canal front offering their toilet for use for 1 euro a turn. Sounds crazy, but when you're outdoors all day with plenty of food and drinks to buy I imagine it was an ingenious idea that really paid off! If you host a stall of your own then the idea is to create a fun base for yourself and your friends and family for the day. King's day is just a whole lot of fun, it could possibly be something that should be added to your bucket list so you see it for yourself at least once. Fun, laughter and a relaxed atmosphere.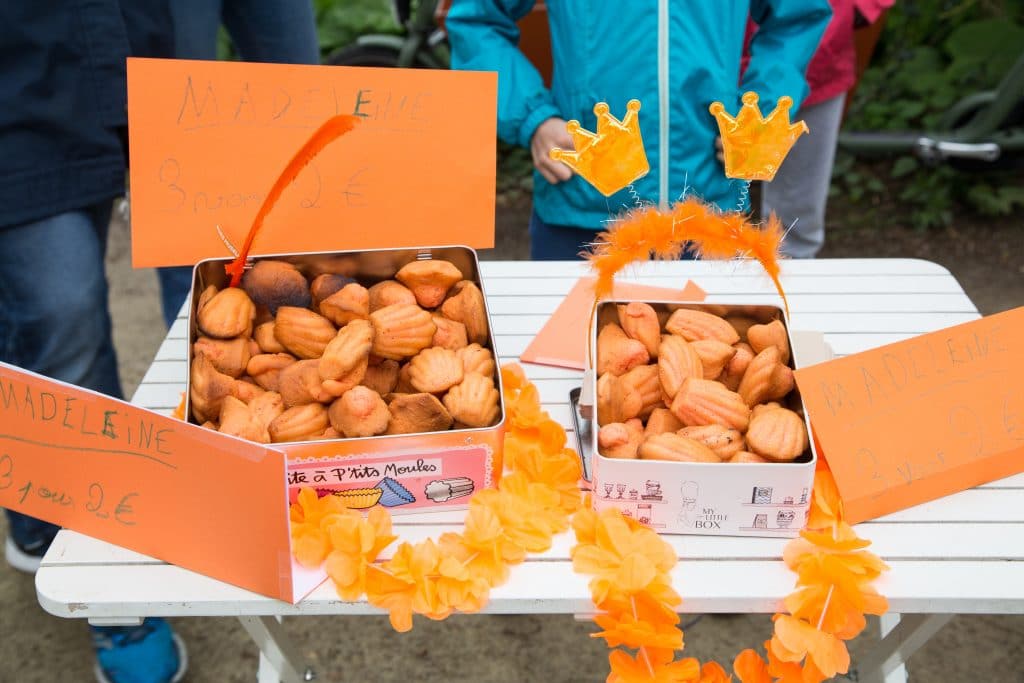 NBTC
King's night starts the evening before King's day and this is when adults come out to party in the streets and join in music of all types. This is mostly found in the major cities in particular The Hague and Amsterdam.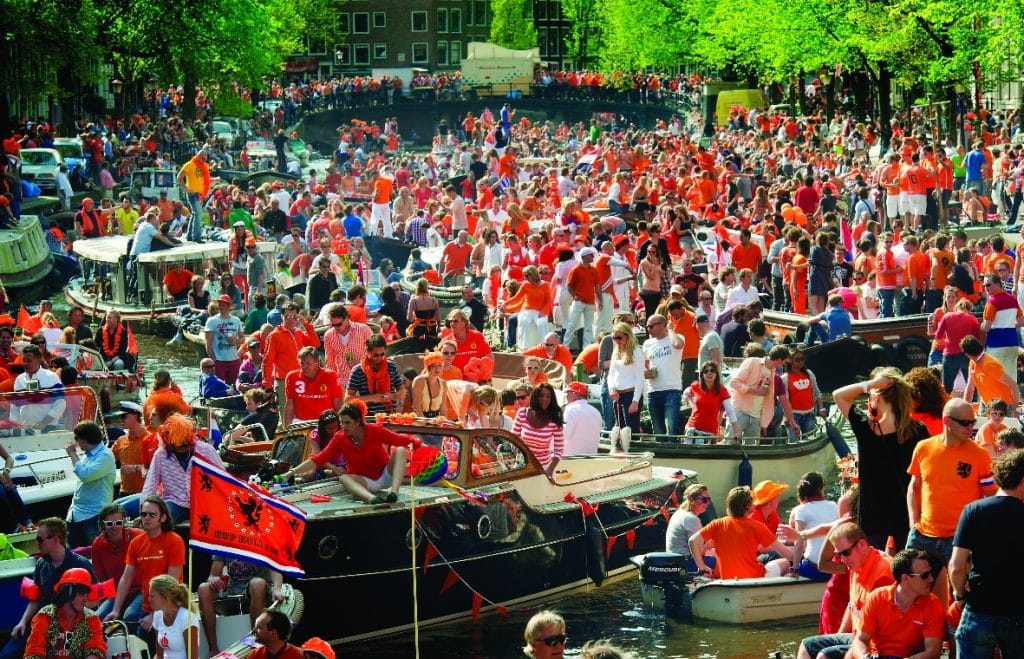 NBTC
Go Orange!
If you come to join in these celebrations then bring an item of orange clothing so you can really join in! However, if you really don't have anything to wear then you will find plenty to buy such as sunglasses, t-shirts, hats and beads and without a doubt there will be plenty of children willing to facepaint the Dutch flag on your face! It doesn't matter if you're a tourist the atmosphere is infectious and you will soon feel part of the party. What you won't believe is that when you tuck up to sleep to recover from your day of fun the city goes to work and by the time you set out the next day you may wonder if it was all in your imagination as everything will have been spotlessly cleared away.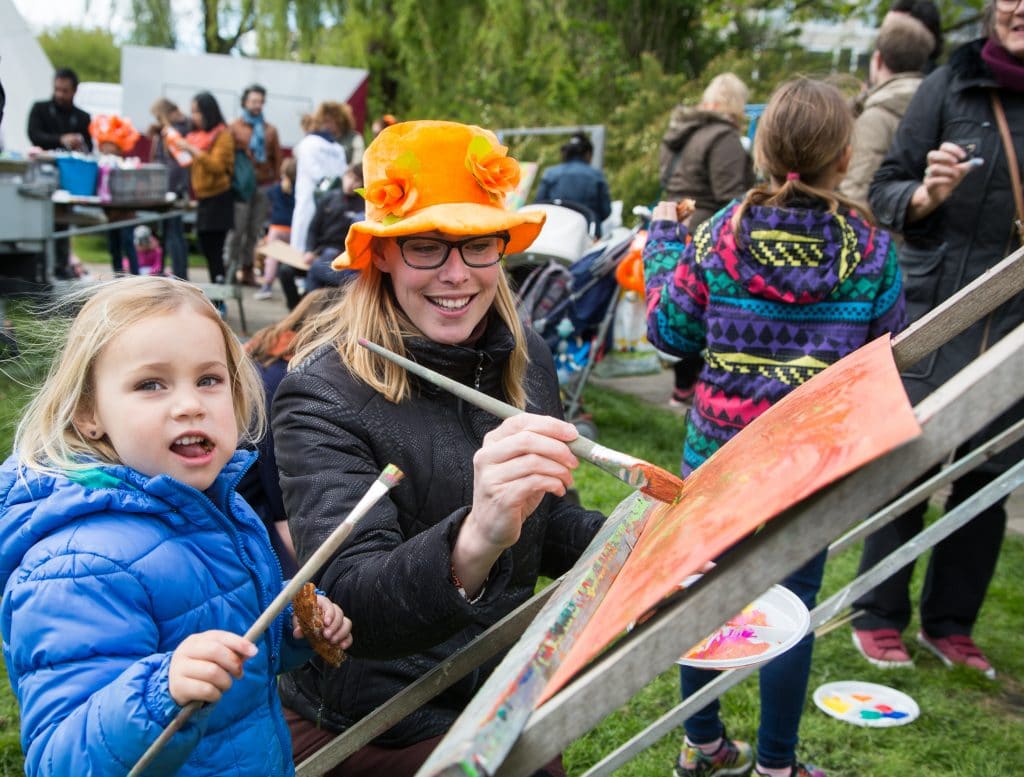 NBTC
As part of your festive preparations why not pimp your pram orange! On this day it is extremely important that you have plenty of small change in your pocket or even better, let your children have a purse of their own with very small change so they can choose which games they want to do. This is also the only day when everything (apart for the games organised by kids) can be haggled. In fact everyone expects to pay very little for anything they purchase on King's day.
If you decide to celebrate King's day in Amsterdam we would not recommend travelling by public transport (taking the train on King's day is a no no for young families). The celebrations are fabulous but the crowds are immense so it is better to make your way to the Vondelpark which is a huge park in the city centre which is purely allocated to children's activities.
Where to stay
Duinrell and Koningshof holiday parks are within easy reach of Amsterdam and still have some availability left for King's day weekend.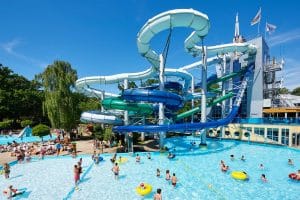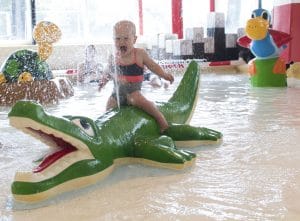 By Jane, Little Clogs.