Review: Duinrell Bike Hire: Exploring the Dunes
We (Laura and family) stayed at Duinrell during May half term this year, hired bikes and had such a fantastic time! Every time I visit Duinrell it never fails to impress me and reminds me of just what a unique holiday park it is.
Not only do you have the excellent facilities including the family theme park and the Tikibad pools and waterslides complex but the location is just perfect. We flew and didn't hire a car, the taxi transfer from Amsterdam airport took under 30 mins. Even if we had driven then it's equally accessible by ferry or by driving up from Calais (approx. 3 and a half hours). Then, once you're there, the pretty village of Wassenaar with its shops, restaurants and ice cream parlours is literally over the road. In addition, Duinrell is flanked by dunes (Duin means dune) and has a beautiful clean, child friendly beach just a few kilometres away.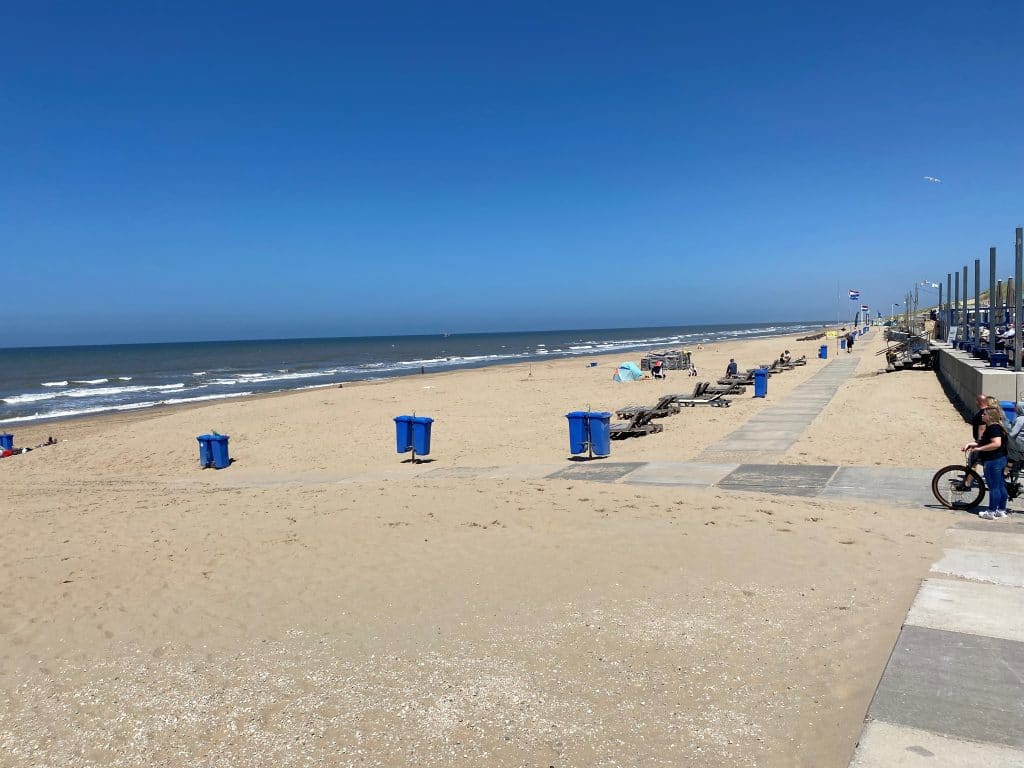 With so much to do at Duinrell it's easy to stay on site and make the most of the facilities on offer. However, this would mean missing out on the stunning scenery and beautiful nature which is on the doorstep.
Although public transport is excellent in Holland, so is the cycle path network and bringing bikes or in our case hiring them should definitely be on your to-do list. Duinrell has an extensive bike hire shop, offering everything from adult bikes, children's bikes, tagalongs, family bikes and even go-karts. This was our second time hiring bikes at Duinrell. We last did it when our children were 1 and 2 and we got one of the pull along trailers which attach to the back of the bike. This time we did 2 days of bike hire, first hiring tagalongs and then we hired a family bike.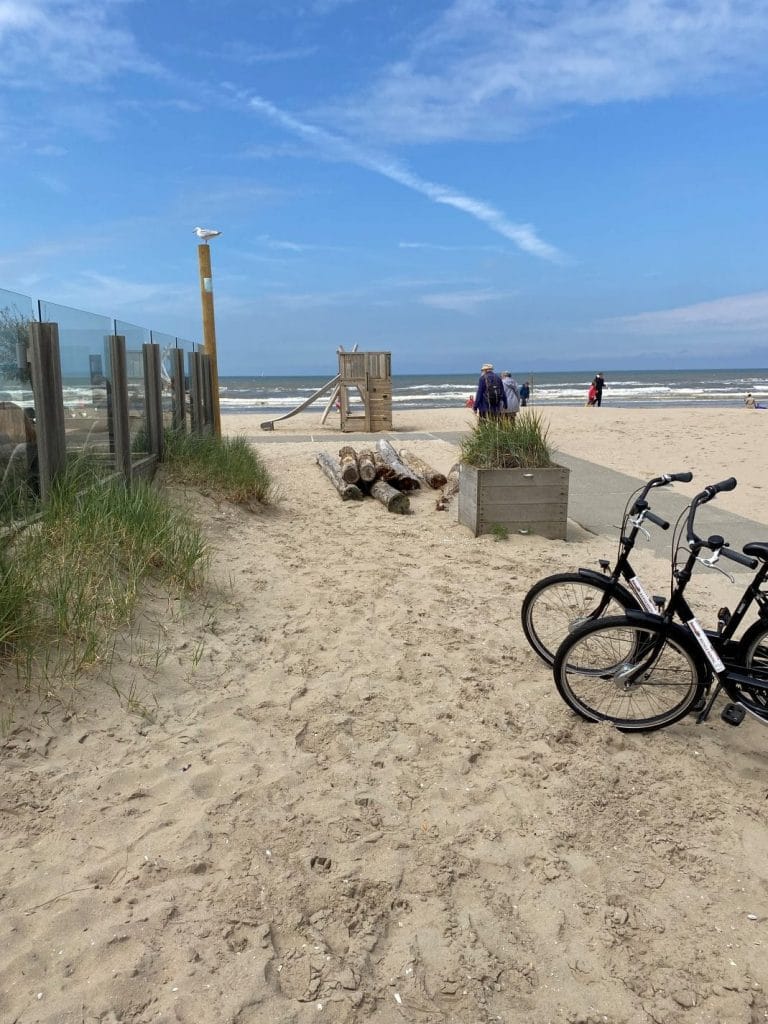 Day 1
Our children are 6 and 7 so the tagalongs were a great idea for us as it meant that the children could choose when they wanted to pedal and have a little rest if they got tired. More pedaling for us grown ups but at least in Holland it's pretty flat (apart from some slight inclines over the dunes).
The Duinrell website has a brilliant selection of cycle routes  to choose from and as all the routes are numbered, with maps along the way, it's easy to chop and change and make little detours if you wanted. We chose the "Dune and heathland route" which takes you through forests, dunes and sand plains and is 25,8km long. We left Duinrell at around 10h30, turned left out of the site and picked up the cycle path straight away.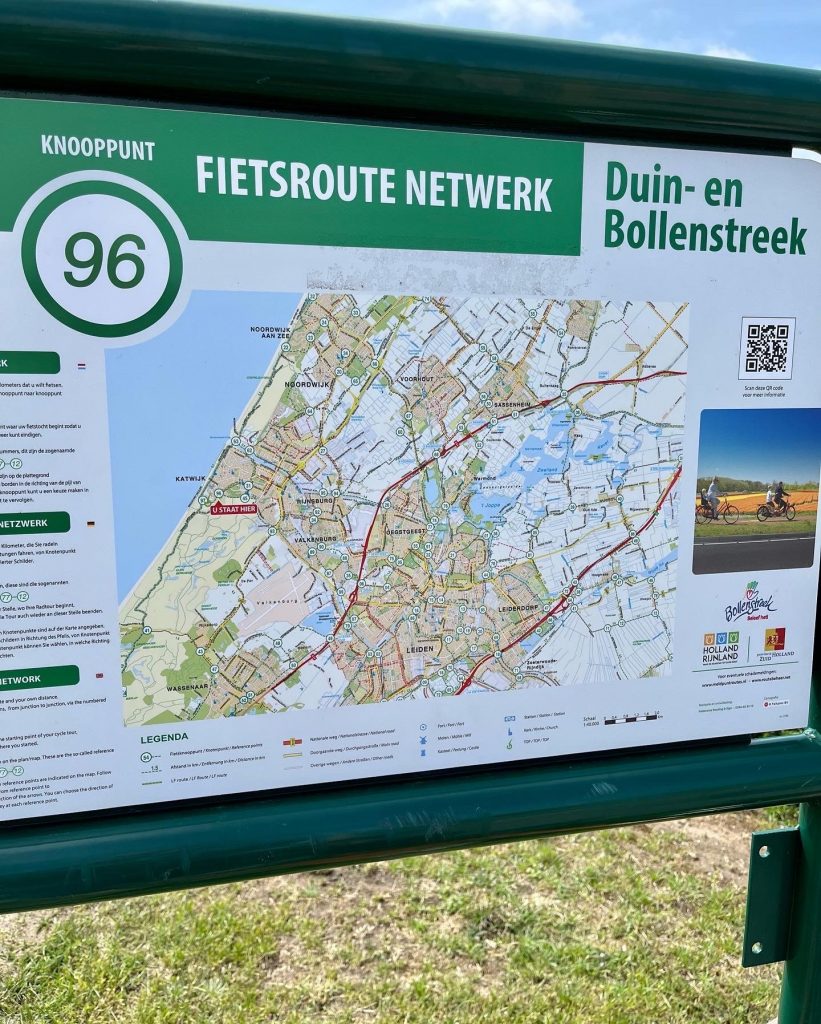 We rode towards Katwijk, past fields of horses, stopping occasionally for water as it was thirsty work and getting warmer. I think we cycled for about an hour before stopping at beach pavilion for lunch. We parked our bikes up and the children went off to play at the beach playground and we ordered lunch which was lovely. Katwijk beach is beautiful, clean and with plenty of space to run about and explore!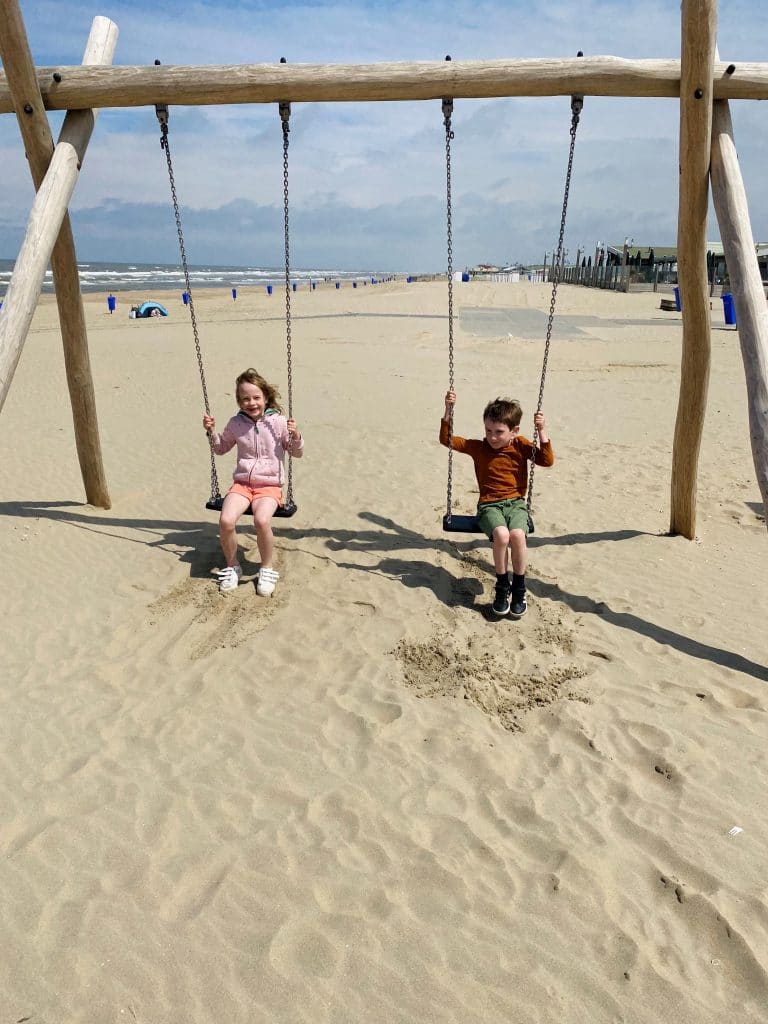 We then got back on our bikes, cycled along the beach front and out through the dunes and towards the Meijendel nature reserve. The dunes are rich in vegetation and the smell of the pine trees and chirping of the birds accompanied us on our way. It was so nice not seeing a single car whilst we were in the dunes and forest areas and we really enjoyed the peace and quiet around us.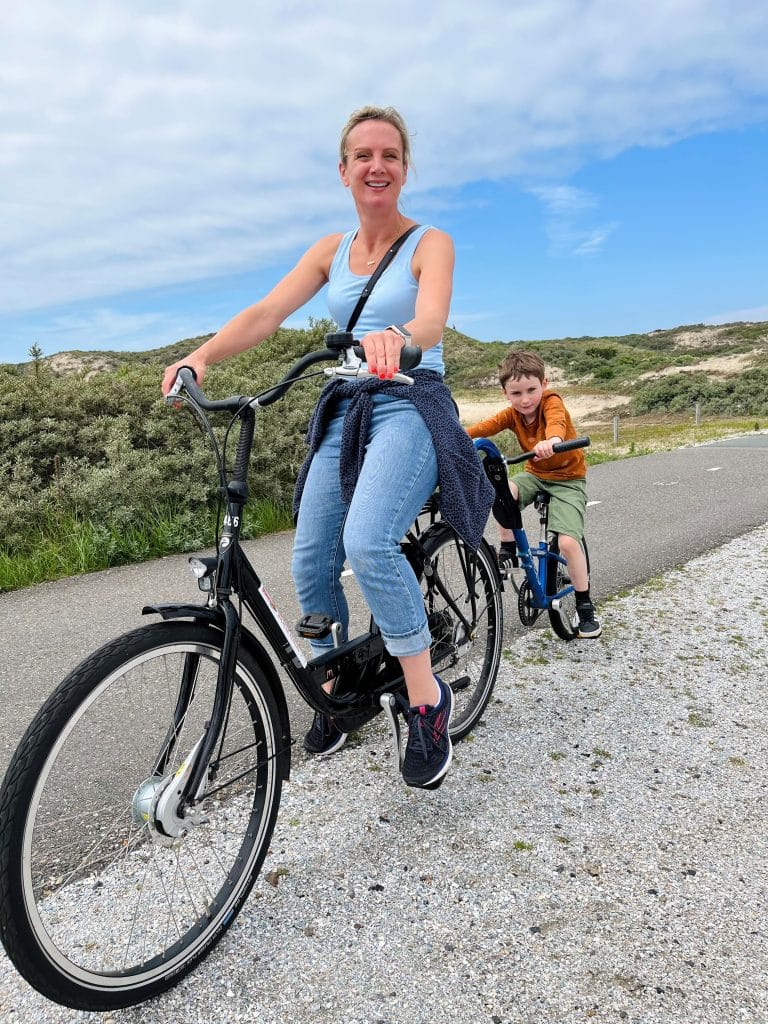 We stopped off at a lookout point in Meijendel. The views were spectacular, with panoramic views out towards the Hague and Scheveningen pier. There is another cycle route you can do through Meijendel which takes you to the "Monkeybos" a children's play forest so we'll have to do that next time! The route then took us back into Wassenaar past some amazing looking houses, back into Duinrell.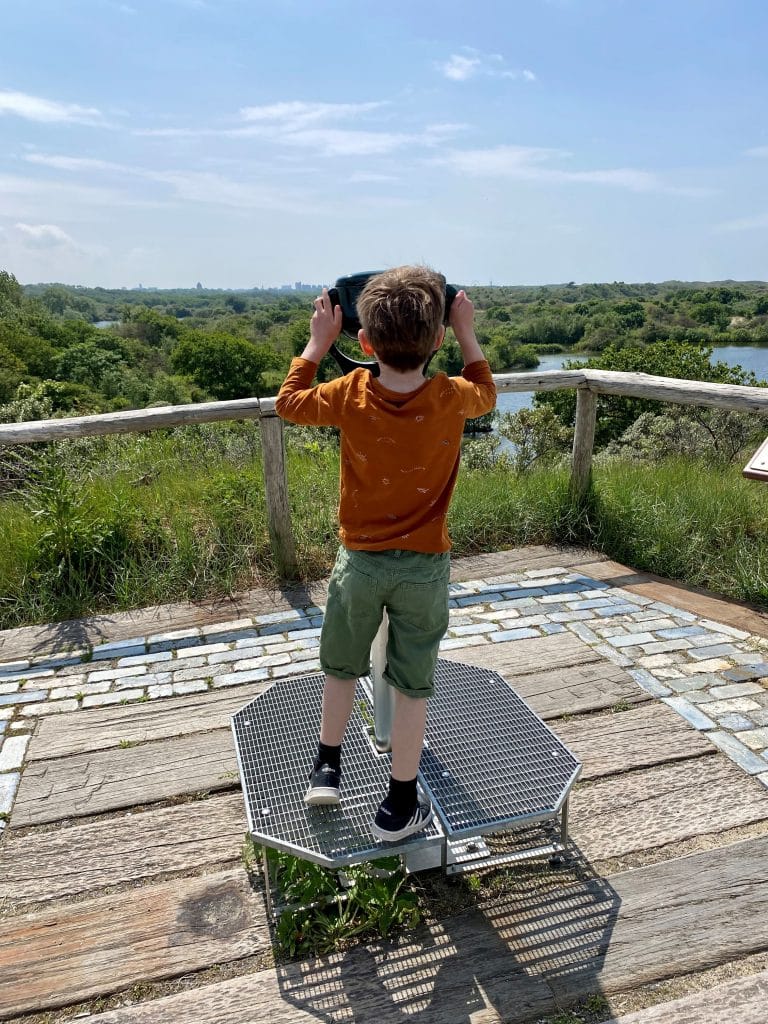 The cycling was easy, even pulling along a 6 year old. We were out for a few hours including lunch, so it was perfect for a half day trip.
We paid €42 for 24 hours hire which included the 2 adult bikes and the 2 tagalongs.
Day 2
We had seen quite a few families with the 4 seater family bikes and they looked a lot of fun so we checked these out and hired one to cycle to the beach. The bike rental guy warned us they were quite heavy to pedal and to get speed up on the downward inclines but we actually found them to be fine and not bad at all really. The children sat at the front and we sat behind.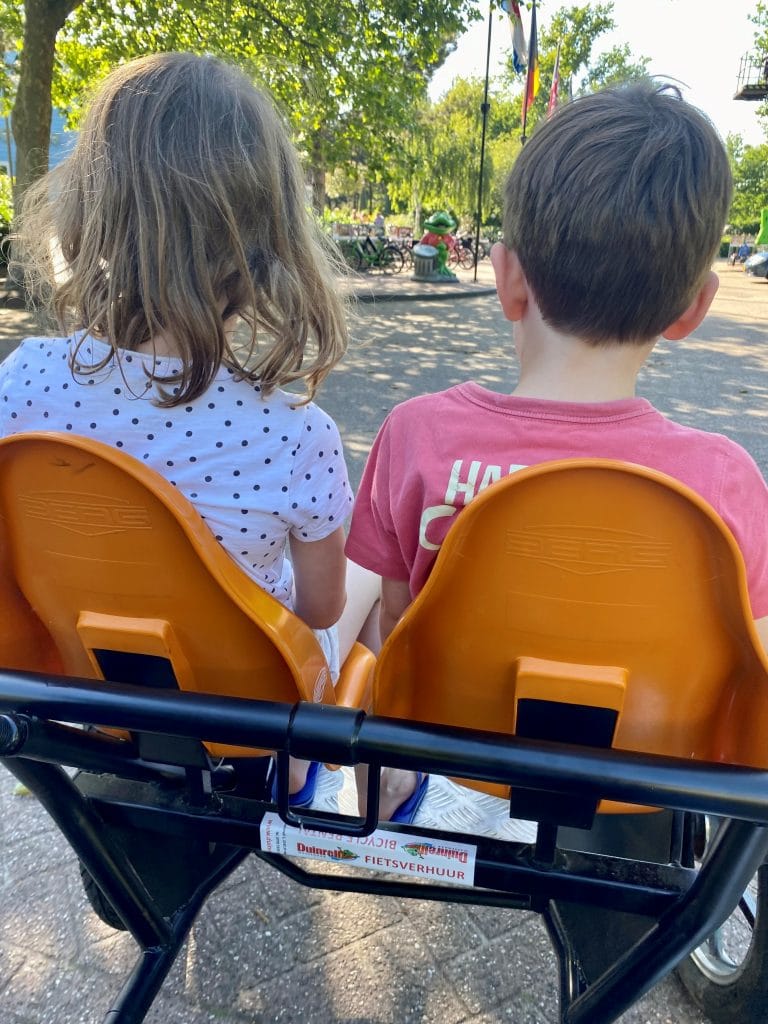 The journey to the beach took about 20 minutes. You cycle out of Duinrell and turn left and left again and follow the road up a slight hill and then turn left through the dunes to the beach. It's a cycle path the whole way and a very relaxing way to get to the beach.
The beach, Wassenaarseslag, is gorgeous! A clean beach with soft sand which seems to go on forever. There is a play area, cafes, pavilions and ice-cream kiosks. There is even a free suncream machine! We locked our bike at the carpark and walked down for a drink and a play and then returned to our bike, picking up some speed down the hill, and back to Duinrell via Wassenaar for some BBQ supplies and an ice-cream!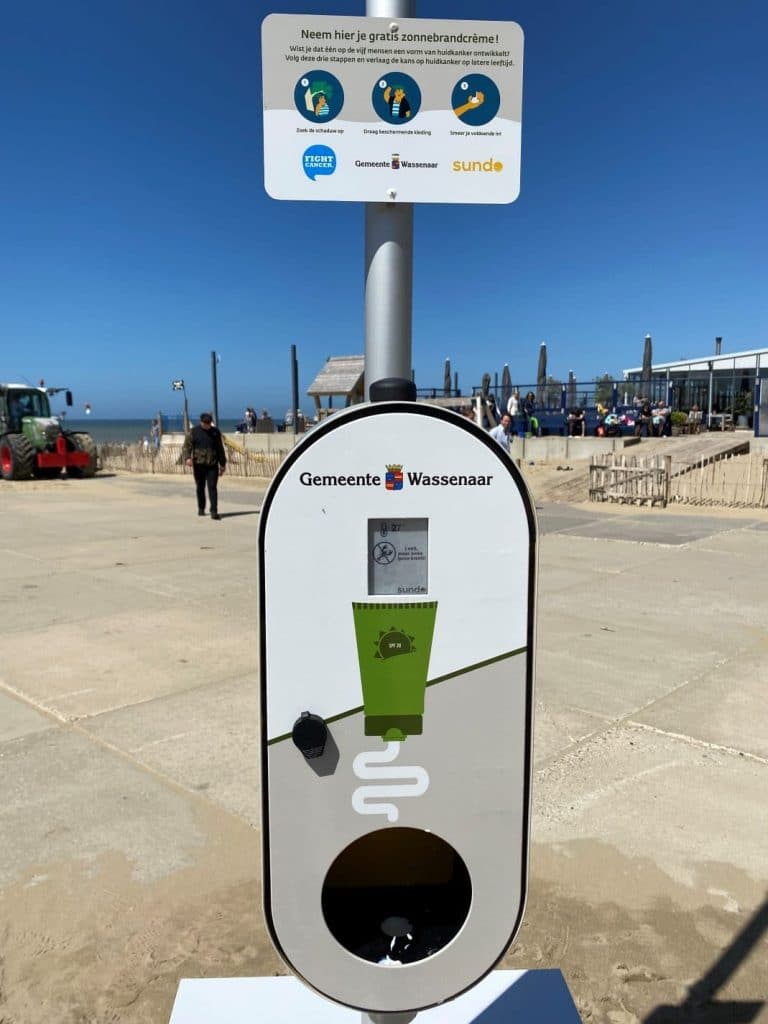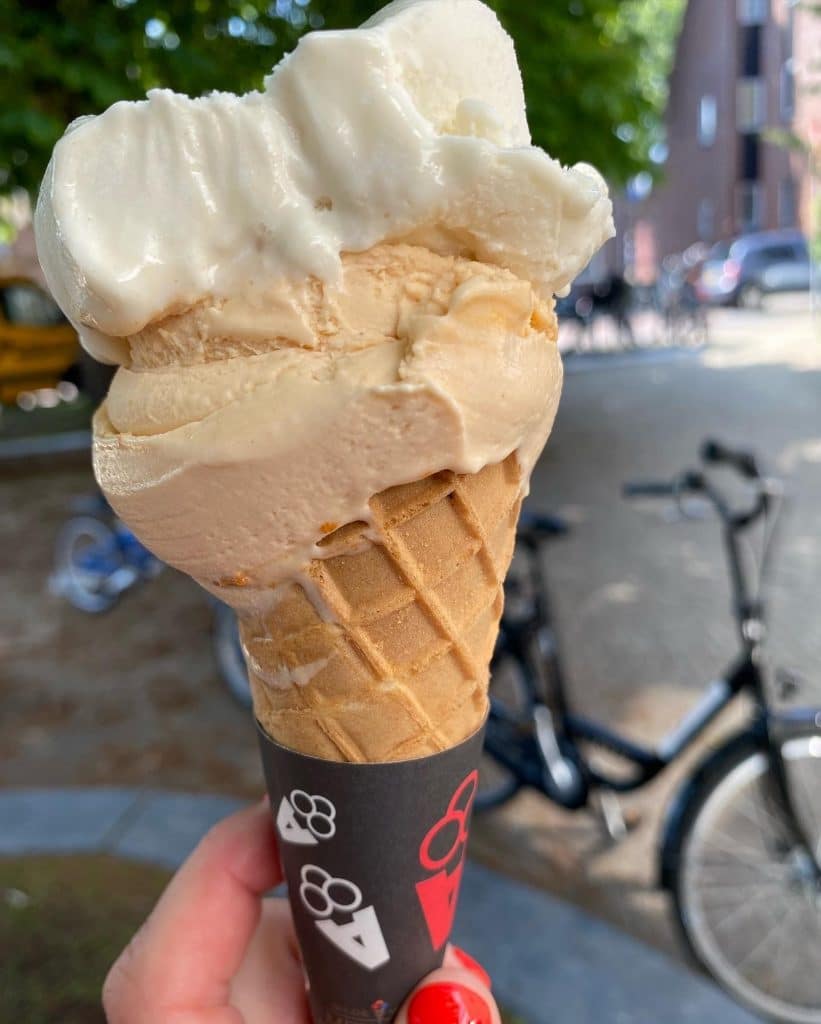 As we had the bikes for a full 24 hours we used them to explore Duinrell too, checking out their amazing new Luxury Lodge Tents and the iconic Airstreams!  We would highly recommend hiring bikes for a day or two and using them to explore the area. It's the perfect balance to the thrills and spills of Duinrell and gives you more of an appreciation about just what is so special about this park and the area.
We paid €33 for the family bike for 24 hours hire.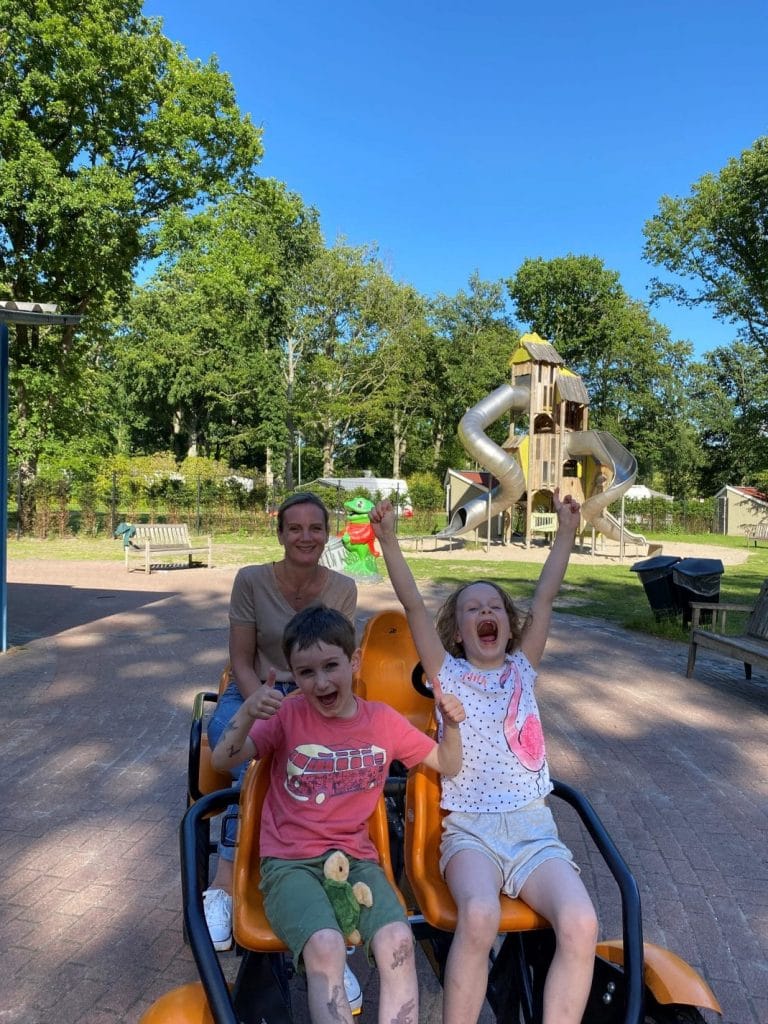 Contact Us For More Info
DISCOVER DUINRELL