Review- A Weekend At FarmCamps Oranjepolder
I have just come back from a sunny weekend at one of the new FarmCamps in Zeeland and had a wonderful time. I have decided to begin this review from our departure rather than our arrival. My reason for this is that it was the reaction of my children when leaving Oranjepolder that confirmed what a wonderful time they'd had. My youngest son had been trying to persuade me all weekend to move to the farm and had been carefully considering how he would be able to make his journey to school if he did. As for my eldest, he simply refused to get in the car until I firmly promised that we would return to stay again soon. My little crew are an enthusiastic lot, who embrace the different types of holidays and adventures we have, but these were their genuine reactions.
As I delve a little further into our holiday weekend maybe you will be able to decipher what it is about a glamping holiday on a working farm that had such appeal to my children. I know my husband and I also had the most wonderful weekend and don't need any convincing to return to a FarmCamps holiday soon.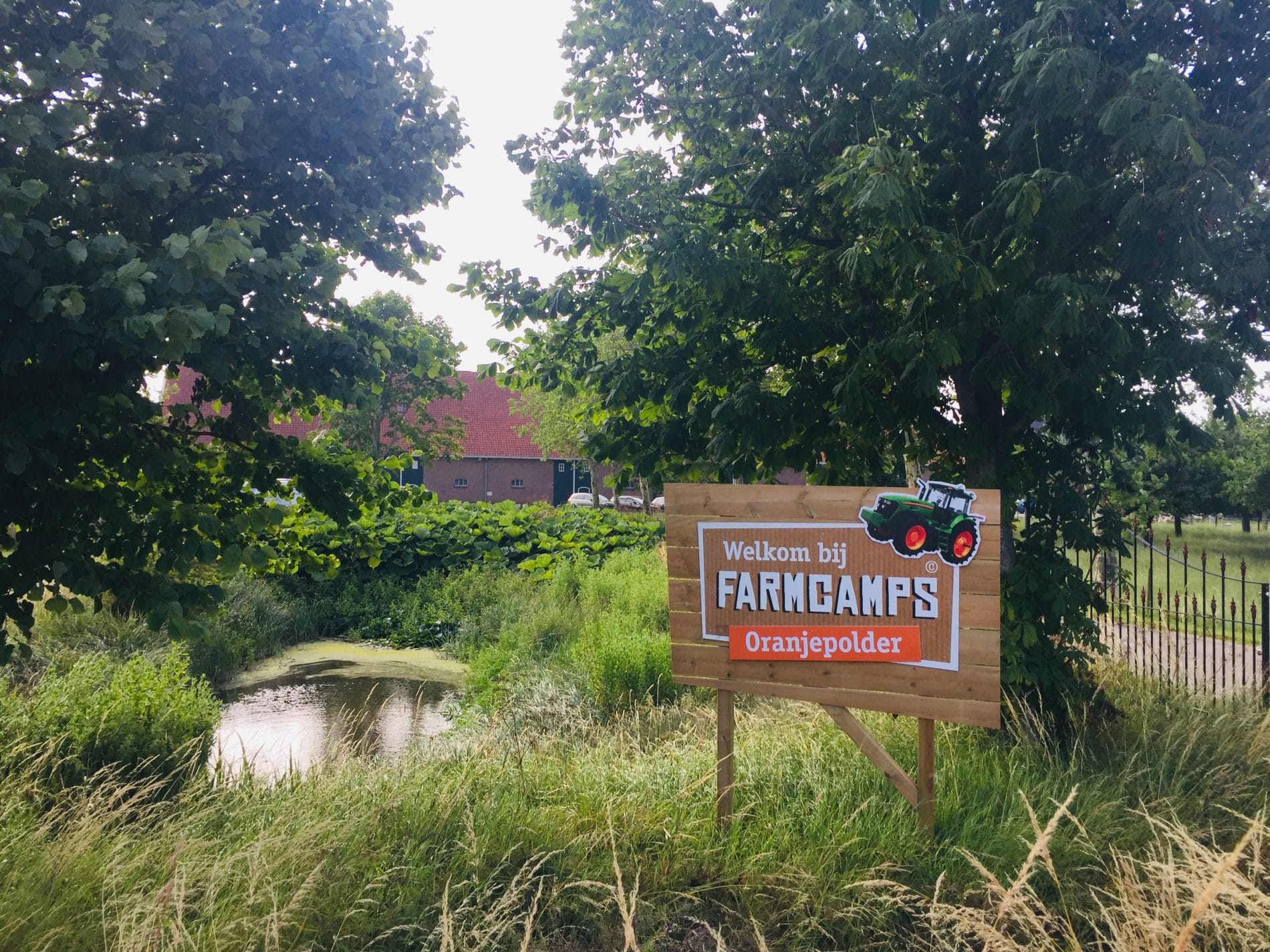 A Warm Welcome
As part of the FarmCamps service we'd had the chance to correspond with Farmer Sentine and Farmer Gavin prior to our stay to inform them of our expected arrival time. As we arrived after 8pm we really didn't think the farmers would have a lot of time to welcome us and we expected to be shown directly to our tent. How wrong were we? We were welcomed with open arms and a big smile. What I truly love is that our children were immediately addressed and almost given charge of the arrival process. As Farmer Gavin is English it was also easy for him to explain the ins and outs in English if needed. No, it wasn't the boiling temperatures that made our welcome so warm, it was the lovely open contact we had with the farmers.
Before we knew it we had been invited to grab our luggage and to transport it to our Barn Tent in a wheelbarrow. These are the small details that make a FarmCamps holiday unique and memorable. I mean, which child doesn't want to sit on top of the luggage and be taken for a ride!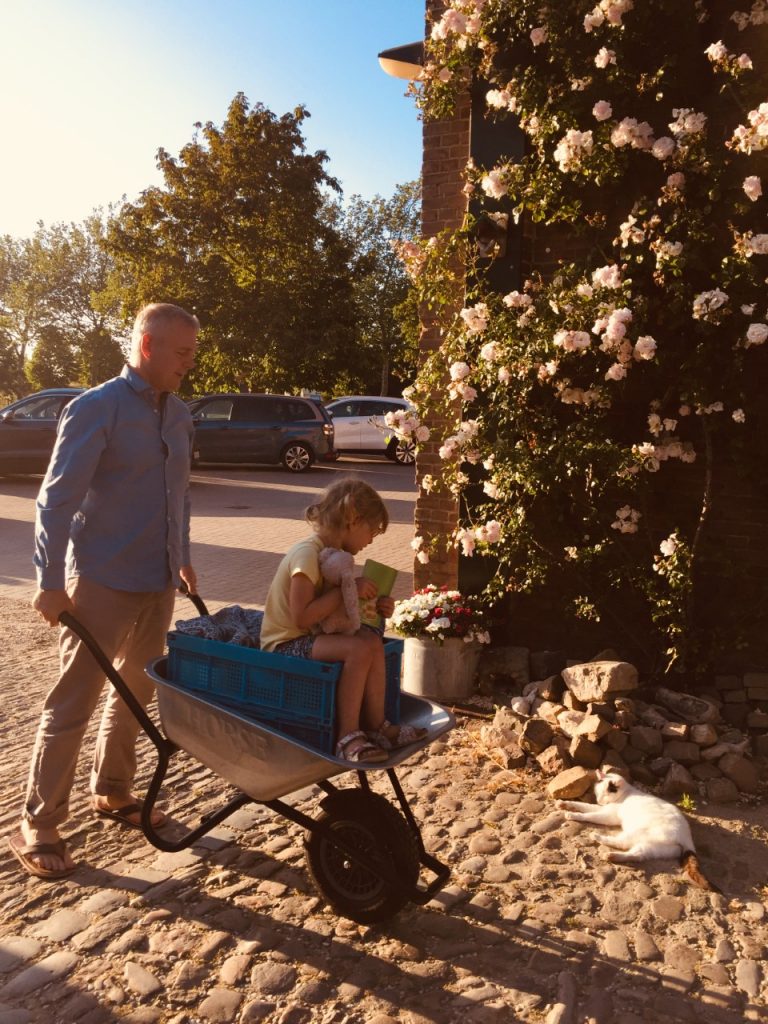 We were soon being taken for a whistle stop tour across the farmland to our tent and what a tent it was (more details to come)!! Whilst en-route, Farmer Gavin explained how the animals would be fed at 9am in the morning and that the children could help. No sooner had we begun the tour had my eldest informed me that I wouldn't be seeing him after 9am the next morning. Before we had even unpacked our children had already asked to be signed up for the metal detector adventure with Farmer Gavin the next morning. There was also the option to bake a local speciality with Farmer Sentine but the promise of hidden treasure was too much to resist.
Our First Evening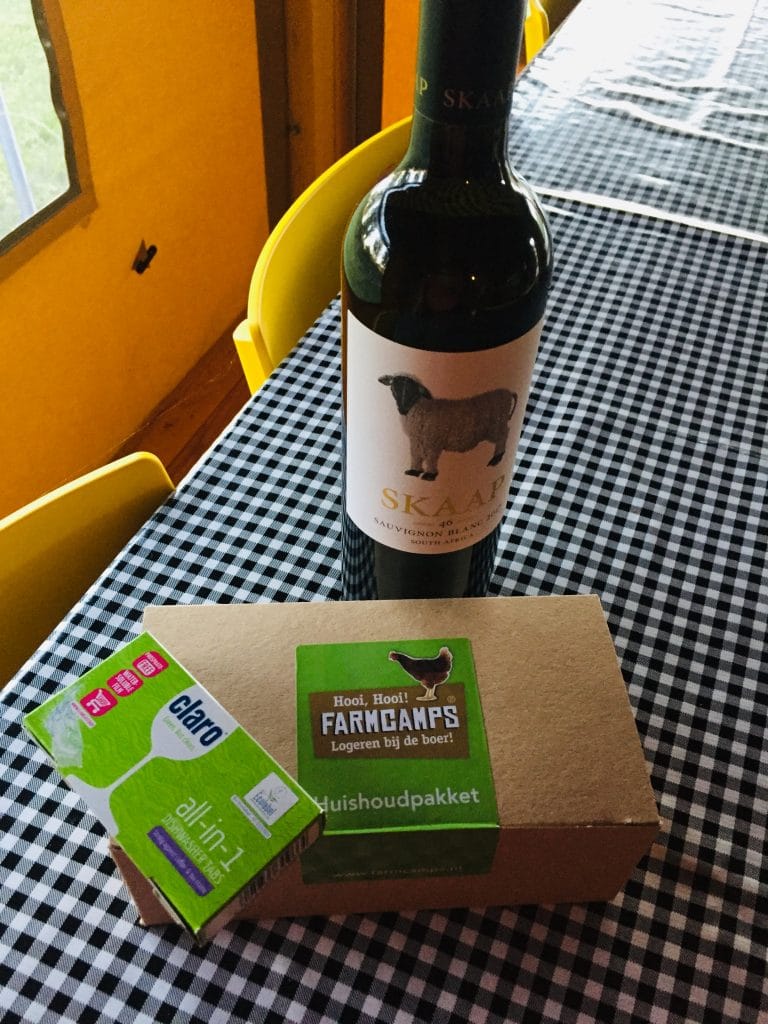 Once all safely in our accommodation we began to unpack whilst our children explored every nook and cranny of our Barn Tent and the farm. They discovered the toy chest at lightening speed and were off selecting their bikes and go-karts that could be borrowed from the farm in an instant. We were delighted to discover a great welcome pack full of all the cleaning essentials, coffee and a lovely bottle of local wine – what a treat!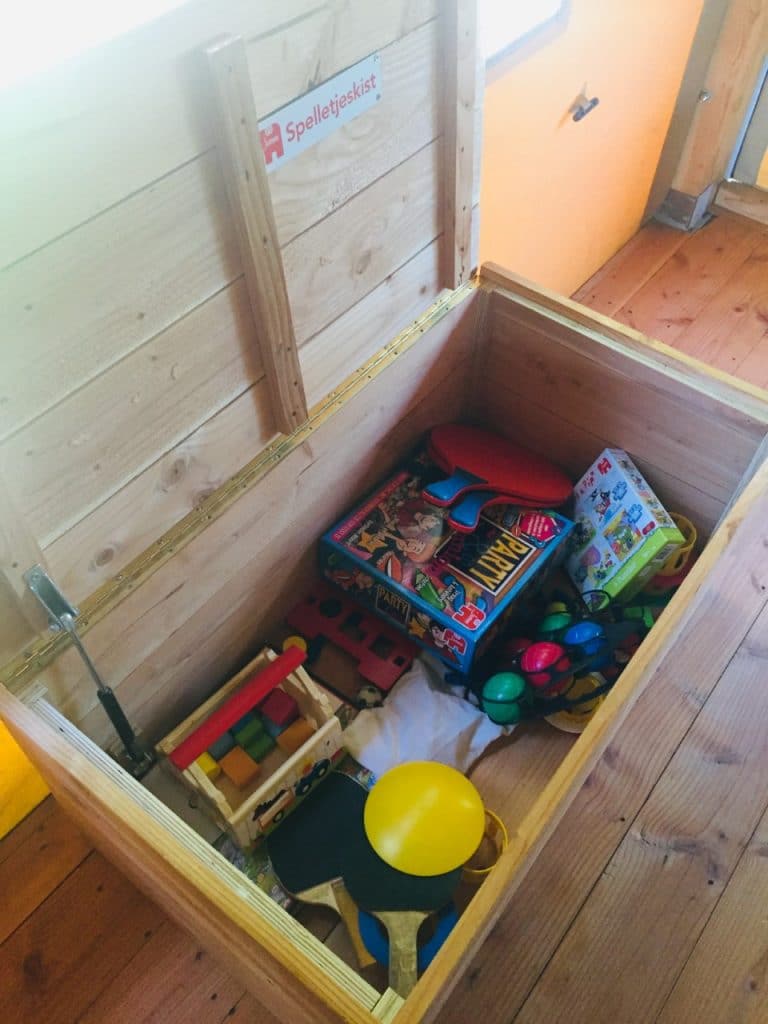 Soon we were just soaking up the peaceful surroundings, beginning to unwind and letting that weekend feeling sink in. Our children went off to bed in their amazing triple bunk bed, shortly followed by ourselves. Being such a hot and balmy night we left the large netted window with its fabulous open view across the farmer's field open,  letting a lovely breeze flow into our bedroom.
As The Sun Rose
We all had such a wonderful sleep in our Barn Tent, the mattresses and beds were super comfortable. We could have slept on late into the morning but our children had other ideas and were awake it seemed with the sun. They were up and raring to go, wanting to explore, meet friends and enjoy the farm. Their excitement was infectious and we found ourselves hurriedly getting dressed to go and follow in their tracks.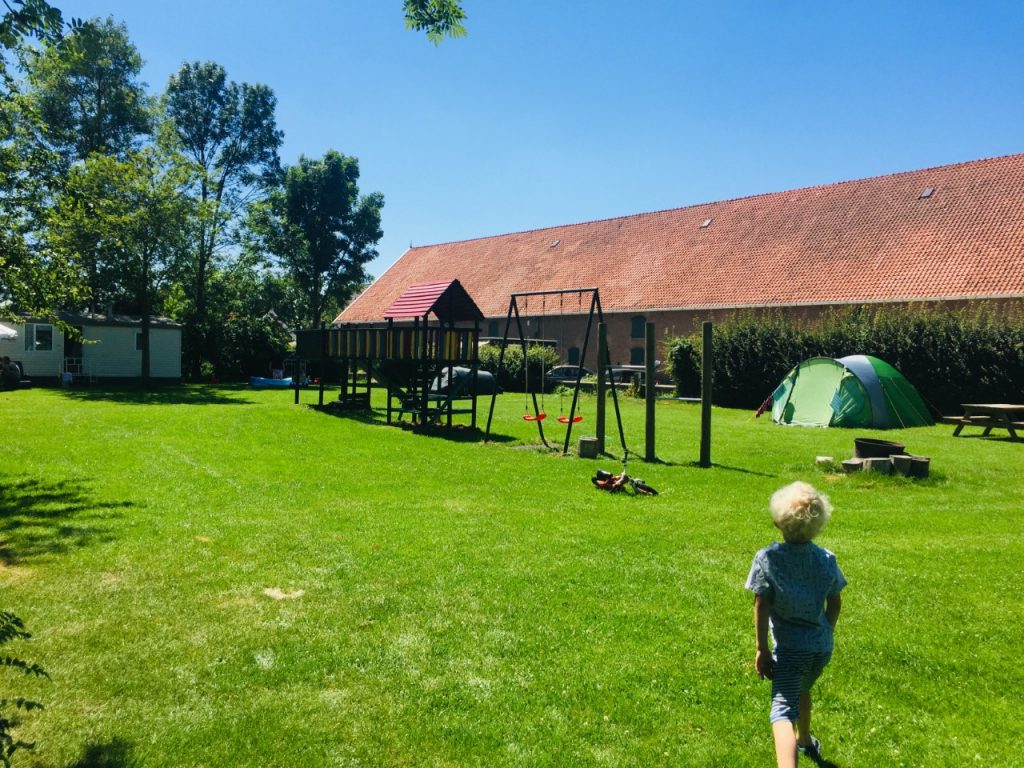 With all the open space at Oranjepolder there was plenty to explore. All the children appeared to naturally come together and make friends, hopping from one tent to the other and then continuing in their games. With a football field, trampoline, sandpit, table tennis, and more bikes and scooters than you can imagine, there was more than enough to keep children of all ages entertained.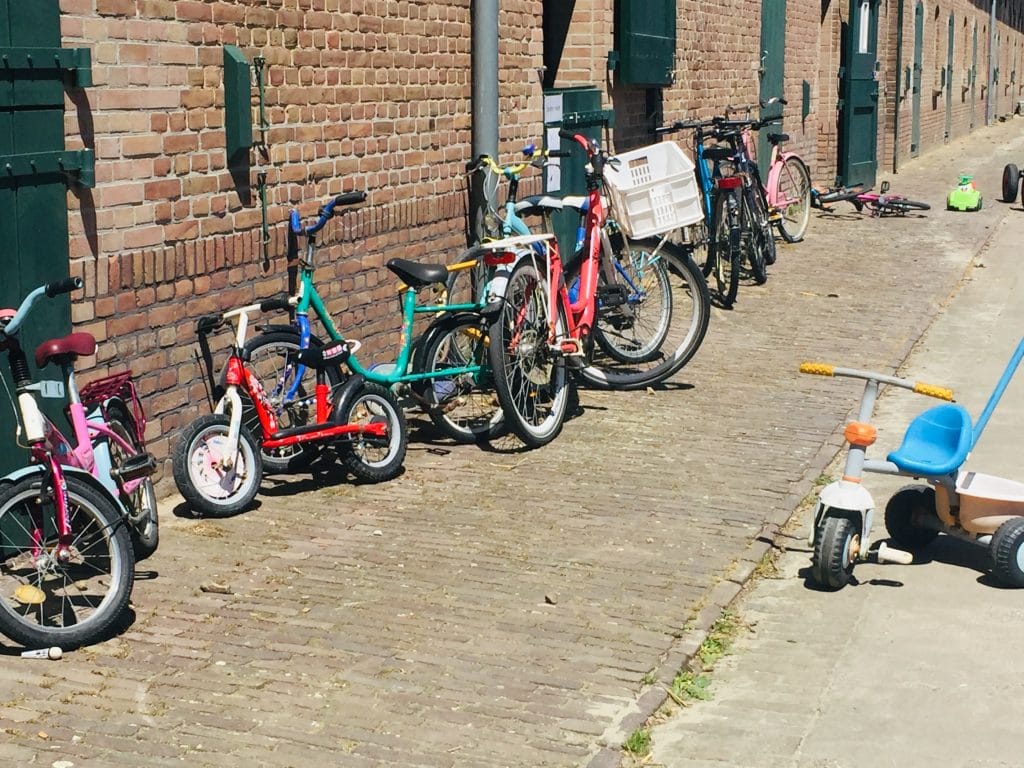 Then there were the activities which were offered by the farmers themselves, all three of our children having chosen to go metal detecting with Farmer Gavin. Once the basics had been explained, he guided us all through the fields to an open area where the children could get to grips with their equipment and begin hunting for treasure. The children loved being able to man the important metal detector and my husband and I were armed with a trusty spade to dig, dig, and dig until each elusive piece of metal was uncovered. We were all mighty proud of what we found.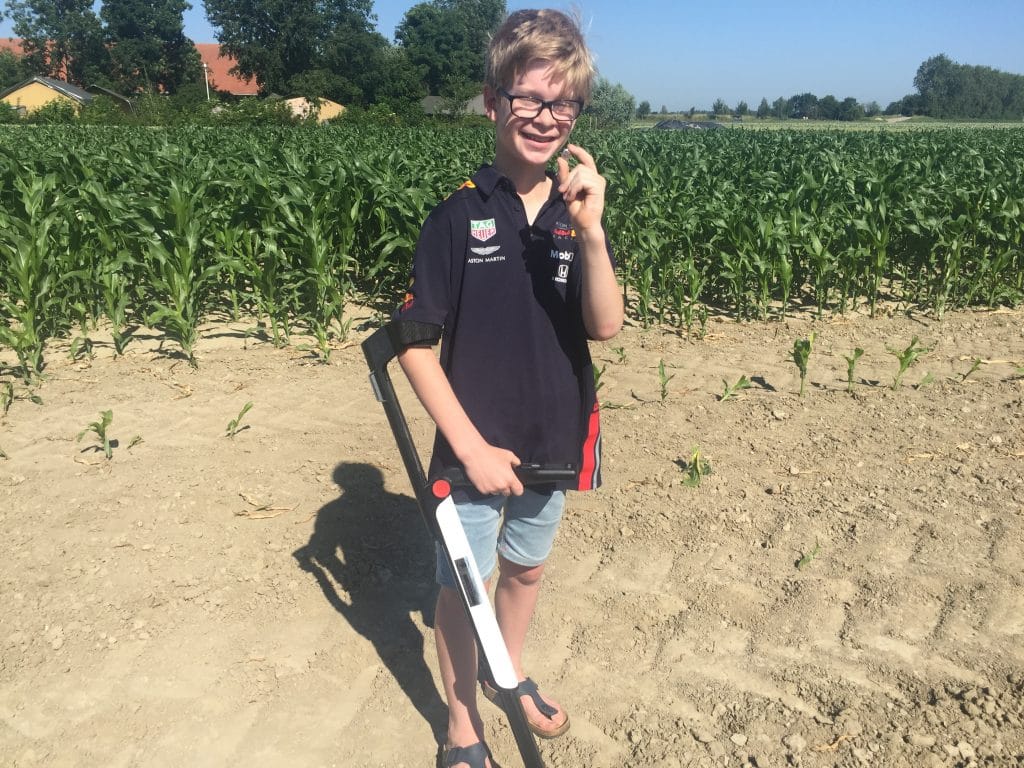 After our exciting excursion we decided to settle back into the surroundings of our Barn Tent and to enjoy the glorious weather. We were glad to have brought along a paddling pool which most of the guests seemed to have done as well. The children got back into the fun of the farm whilst we enjoyed the nature and meeting some more of the FarmCamps guests. It would have been easy to enjoy the farm for the rest of the day but not having been many times to Zeeland we also wanted to get out and see a little bit of the local area.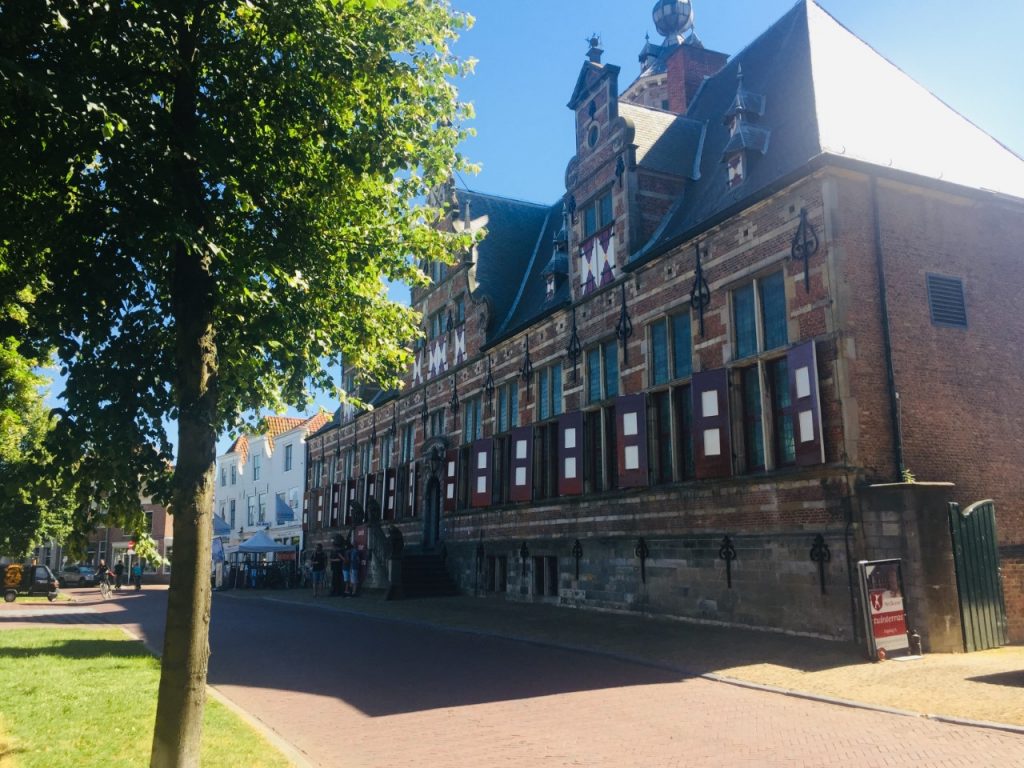 This brought us to the town of Middelberg, just a few kilometers away from Oranjepolder. There was a lovely pedestranised shopping street with beautiful boutique shops and an ice cream parlour we couldn't resist. At the main square we came across some terraced bars and cafes where we decided to stop for dinner. There was a wonderful jovial atmosphere as the other people on the terrace watched the national Dutch women's football team play in the World Cup. As Saturday drew to an end we returned to the farm and enjoyed a good old game of family boules (from our Barn Tent games chest) before a nice bath, a good old cuppa on our veranda and then it was off to bed.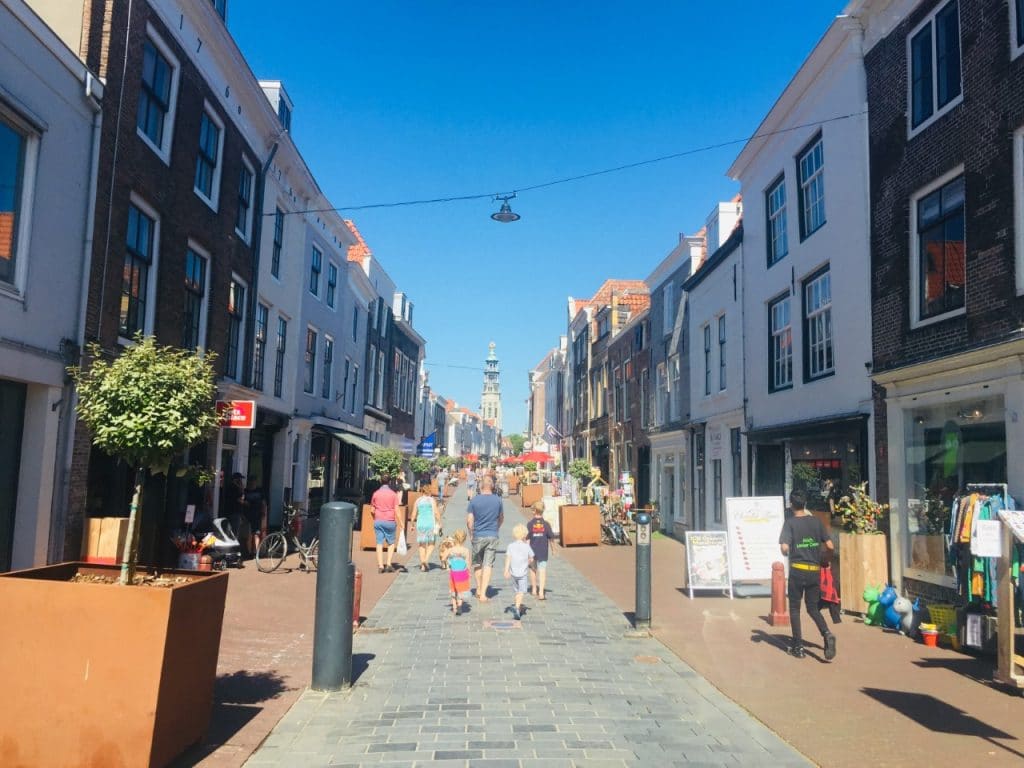 Sunday Funday and Farming
If you were to express your expectations of what a farm holiday experience would be like, I'm pretty sure somewhere along the line being woken by a cockerel would be mentioned. Oranjepolder didn't disappoint. The cockerel itself had its own quirky version of a cock-a-doodle-doo but it was present all the same, to the delight of us all. The theme for Sunday morning was feeding the farm animals. Each day you are welcomed by the farmers to join in their daily rounds. This meant we could enter the rabbit enclosure and meet the geese and sheep too.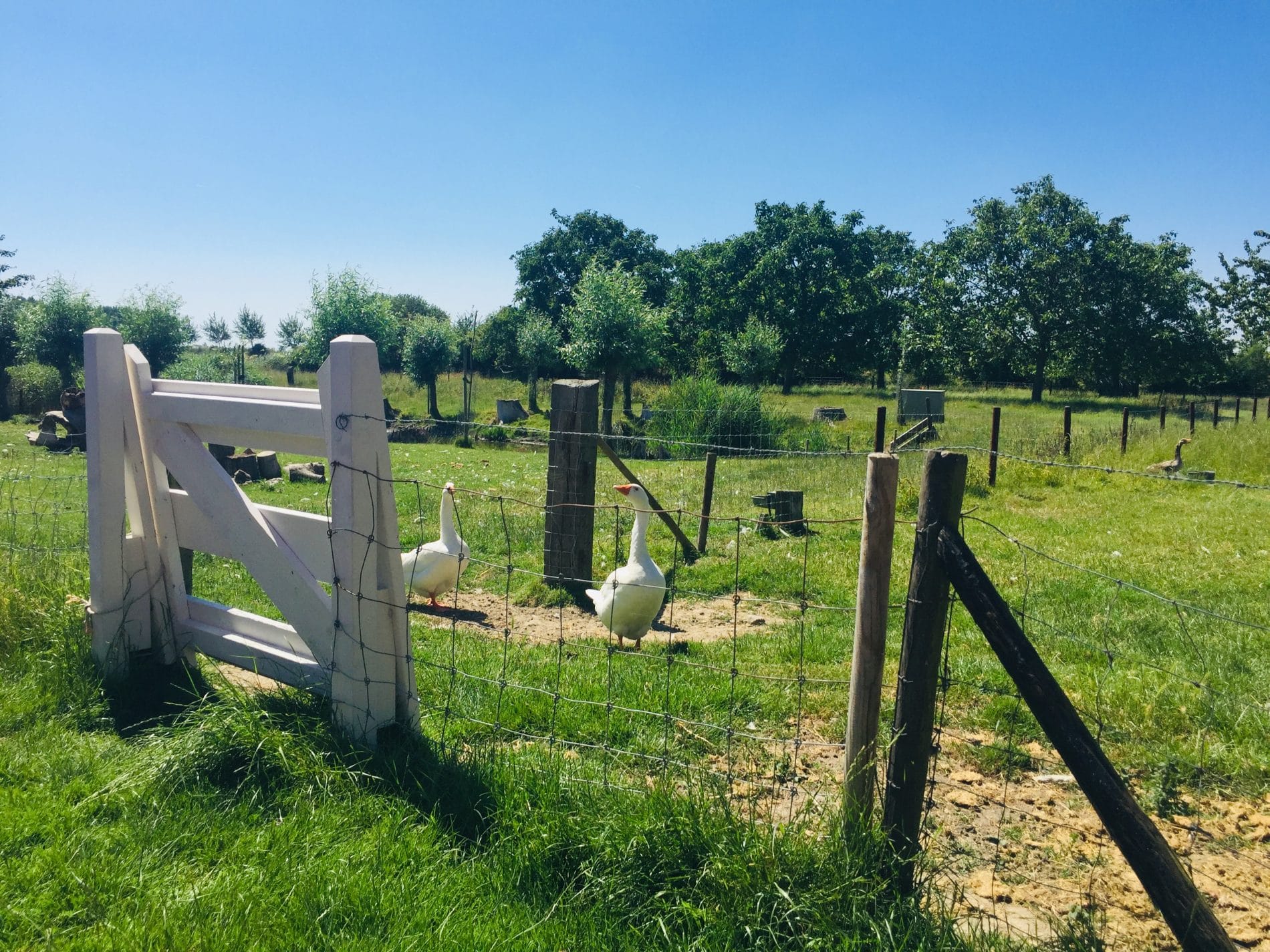 Then it was off out to explore the local area again. The difficulty was choosing which attraction or point of interest to visit. We opted for the local airport (Vliegveld Midden Zeeland). Just a few kilometres down the road and we found this airport side restaurant which overlooked the small planes take off and land. Had we had longer we would definitely have visited here another day for lunch.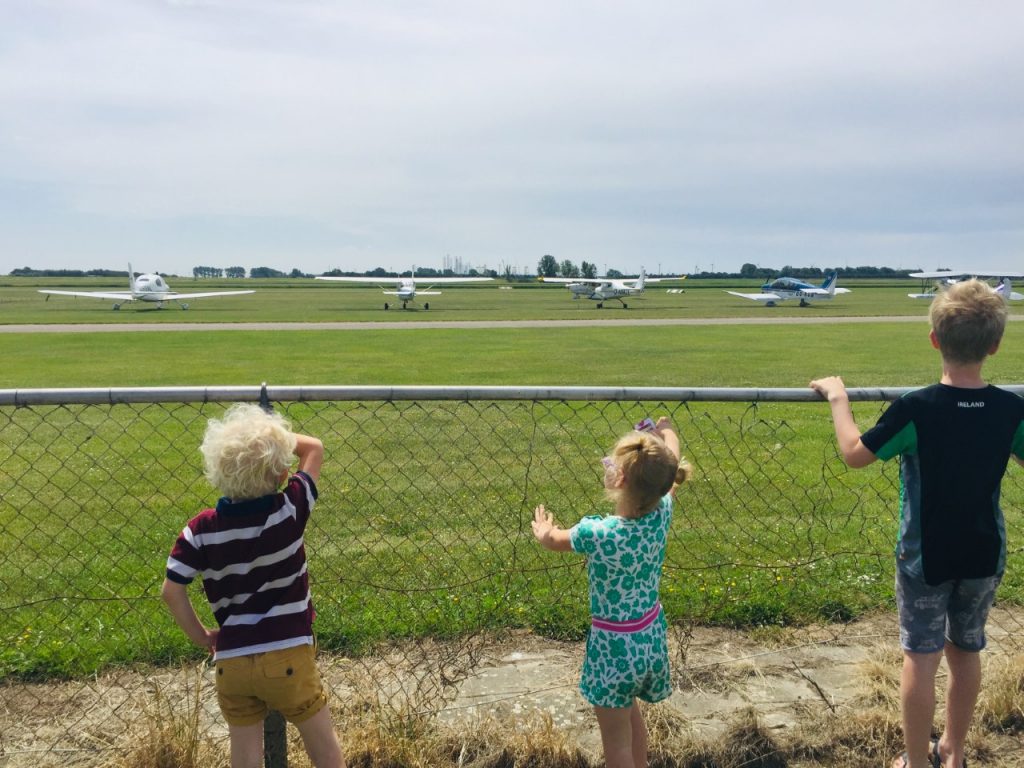 However, with time pressing we headed off to the Veerse Meer. This enormous lake which again is just a few kilometres from the farm has many recreational areas to enjoy. We opted for Kanoa Outdoor Events Center where we could all sit lake side, our children could have fun playing on the assault course and we could take in the beautiful view. Kanoa itself had all manner of water and beach activities on offer which is sure to provide a fabulous family day out.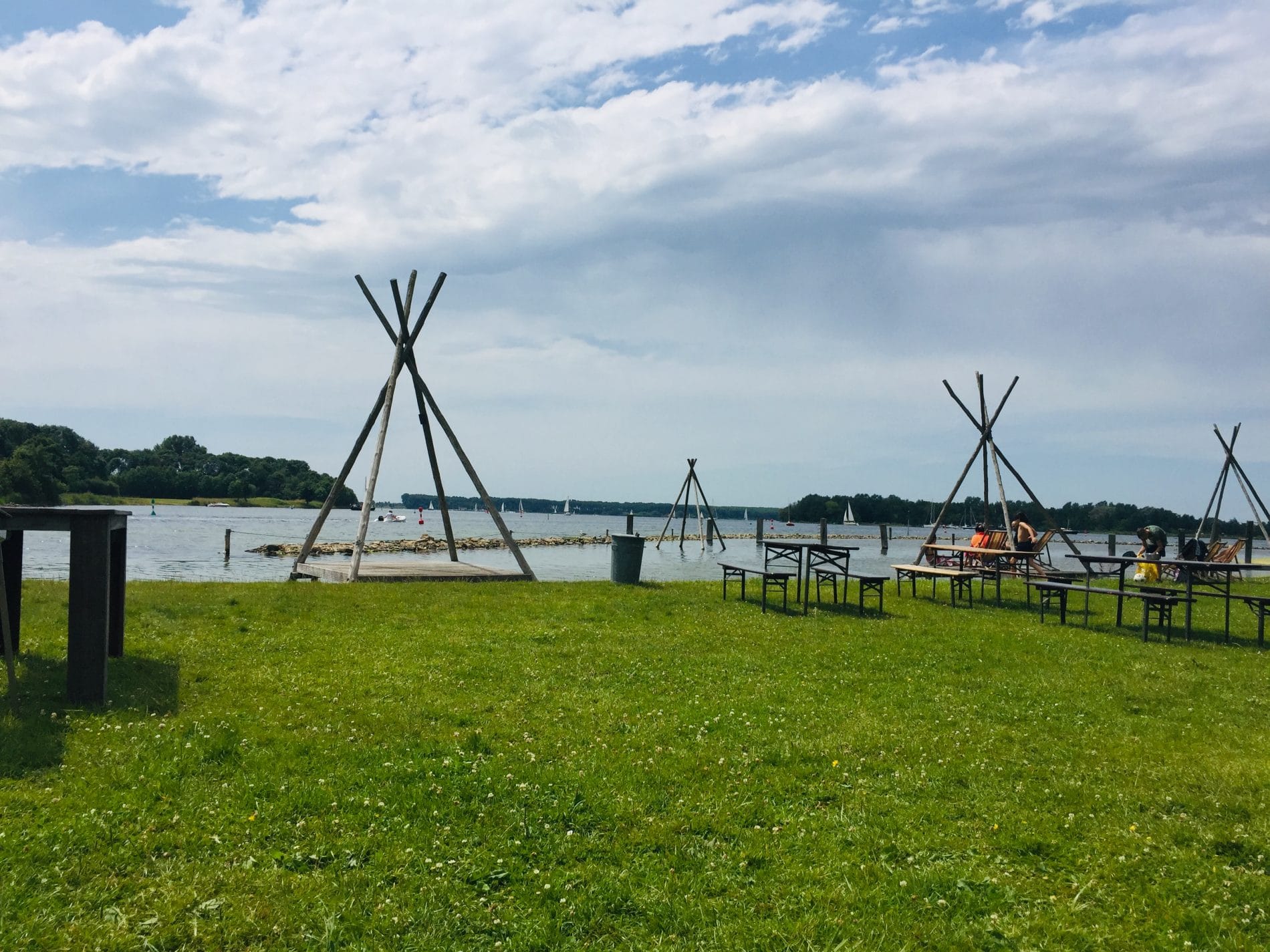 Sunday Blues
Sadly, our weekend at FarmCamps Oranjepolder had come to an end and we packed up ready to head back to Amsterdam. The weekend had flown by and as much as we wanted it to last even longer we had to bid our farewell.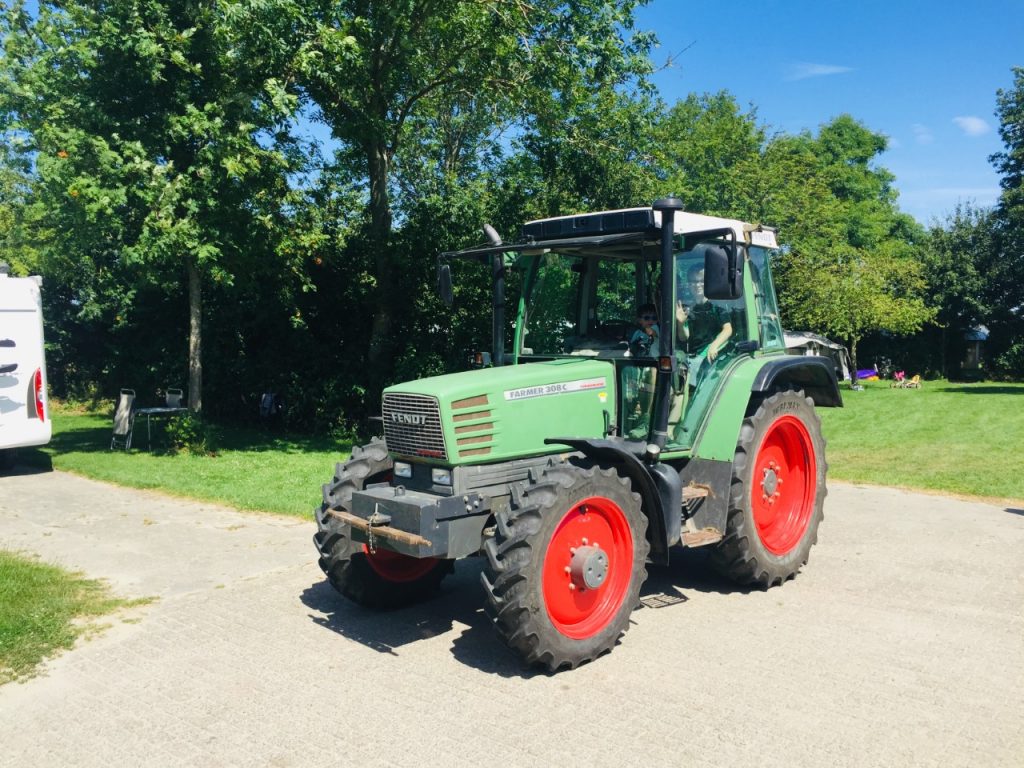 Just as we planned to leave we got a great surprise as Farmers Gavin and Sentine decided to invite all the children staying on the farm for a ride on their tractor! What a wonderful way to round off our farm experience. They also took the time to give each of our children individual attention as they awarded them their farmer's diploma for the activities they had completed in their Farmer's Passport. Then there was one final little touch which I know my children loved. They were allowed to sign their names on the barn wall, along with all the other children who had visited the farm this year.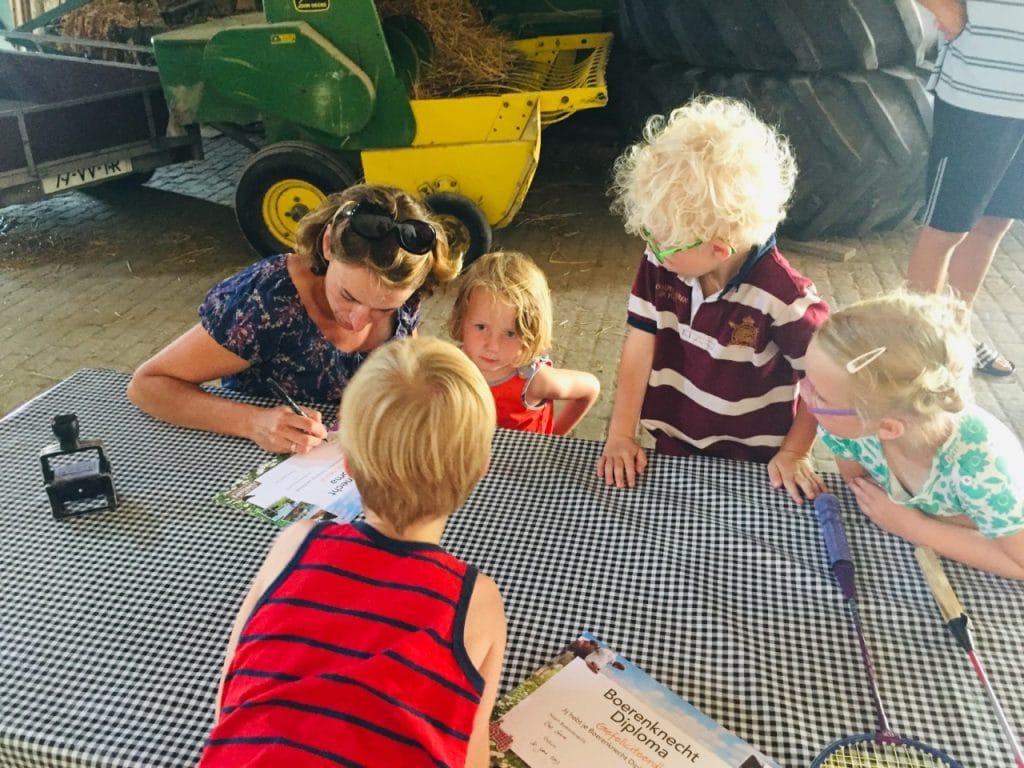 Farming, Freedom and Family
Zeeland is a wonderful region with a huge amount to do so we will need to visit again for a much longer period to be able to fully enjoy all there is to offer.
As for FarmCamps Oranjepolder, it provided us with the most wonderful family holiday. The safe enclosed environment made it really easy to allow our children a certain amount of freedom. The nature of this type of holiday created an unbelievably relaxed atmosphere. At one point I hadn't heard the word Mummy for so long, that it dawned on me that my husband and I were really able to take a moment away from our busy lives and relax too.
The children simply loved meeting the other guests at the farm and played for hours entertaining themselves with the playground equipment, trampoline, bikes and visiting the farm animals. There really is something to be said for keeping it simple. It was like the childhood I remember, where all those electrical goods didn't exist and you made your own fun from your surroundings and imagination.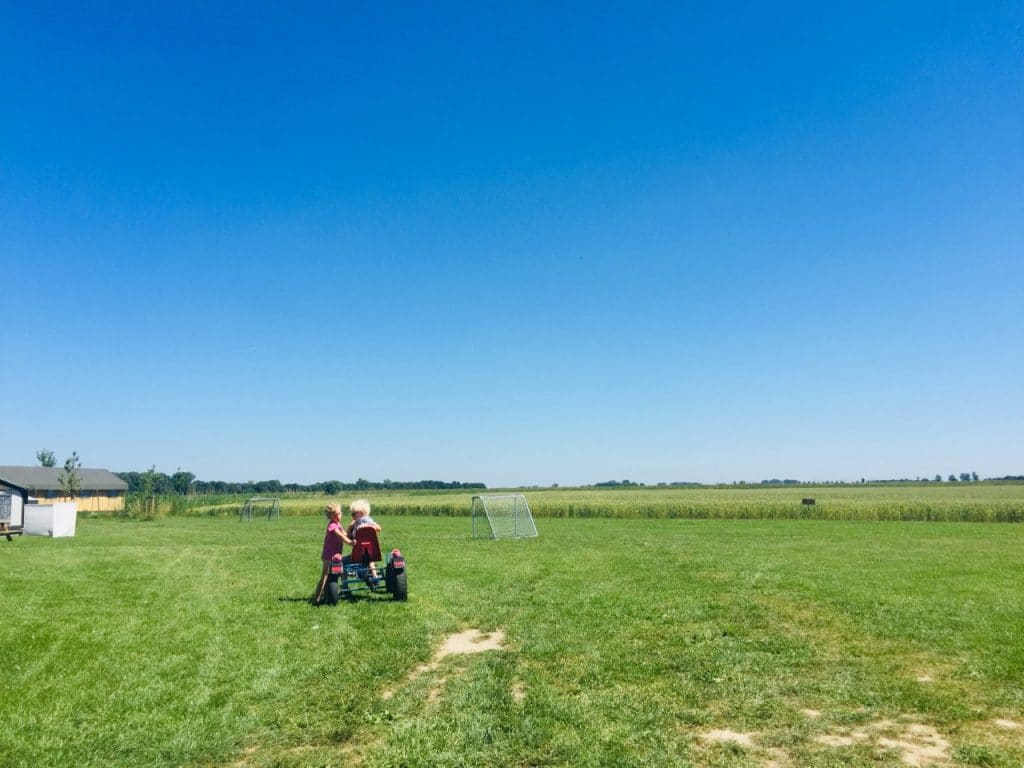 Accommodation
Don't be fooled though, A FarmCamps holiday does not mean that you will be lacking in modern comforts. Our Barn Tent was on another level of luxury. I have stayed in hotels with less character and modern comforts than this glamping accommodation. In fact there was free Wifi too.
The beds were incredibly comfortable, a bath, shower, running water (both hot and cold), coffee machine and a dishwasher, you read it right I did indeed say a dishwasher! There's no slumming it in a Barn Tent, it is most certainly luxury glamping. For the outdoors area you also have a large Fatboy hammock which can, with a little fun, fit the whole family.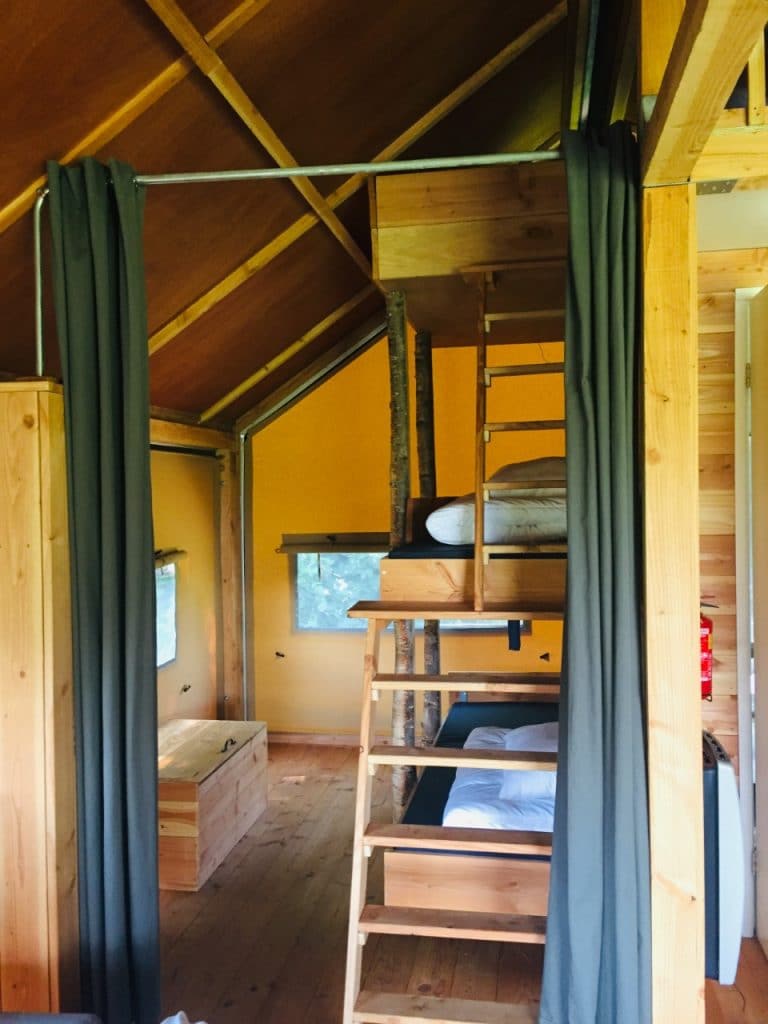 Final Comment
As FarmCamps Oranjepolder is an arable farm we were impressed with how much our children learnt along the way. They now look out onto farmers' fields and try to name the crop they see. Having learnt to recognise wheat, potato plants and sweetcorn, our soundtrack as we drove away from Oranjepolder was, ' chips, chips, chips, sweetcorn, sweetcorn, sweetcorn, bread, bread, bread.' I tried hard to alter the chips to mash but hey ho!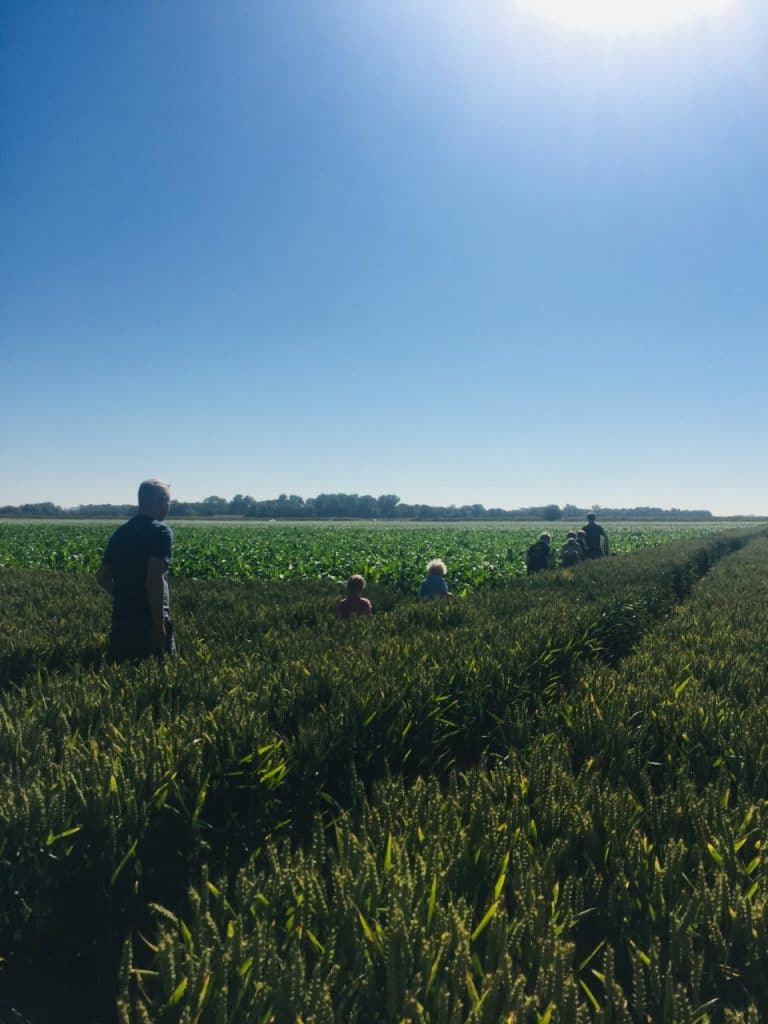 Practical Tips
Travelling from Amsterdam it took us an almost 2 and half hours drive. However, if you take the ferry to Rotterdam or Hook of Holland you're just 1 hour away.
Remind your children to bring their Farmer's Passports with them if you've been on a FarmCamps holiday before as you can add even more stamps into them for the different activities completed.
Accommodation options at FarmCamps Oranjepolder are Safari Tents or Barn Tents
Price example
Friday 23/08 – Monday 26/08
2 x adults and 2 x children
€500.60 staying in a Barn Tent
Friday 23/08 – Friday 30/08
2 x adults and 2 x children
€973.40 staying in a Barn Tent
We look forward to adding this Farm into our Farm Holidays collection.
Thank you very much to FarmCamps for making this weekend possible – we had a blast!