Review: New Year at Landal Nieuwvliet Bad
So this New Year found us by the beach at Landal Nieuwvliet Bad in Holland, or the Netherlands as it's officially called now! Going to the beach in the Netherlands might seem like a strange concept, going in the winter possibly more so! We always spend New Year in Belgium with the in-laws and decided for the first time this year we'd rent a house for 10 of us rather than drive to each other's houses in Gent. In our party were 3 couples and 4 children aged 3, 5, 11 and 14 so quite a mix of ages.
We chose Landal Nieuwvliet Bad for its proximity to Gent (a 50 minute drive) but also as we knew it had high quality houses and a fantastic beach location. Where better to blow away the New Year's Day cobwebs than on the most beautiful stretch of coast in the Netherlands!
Accommodation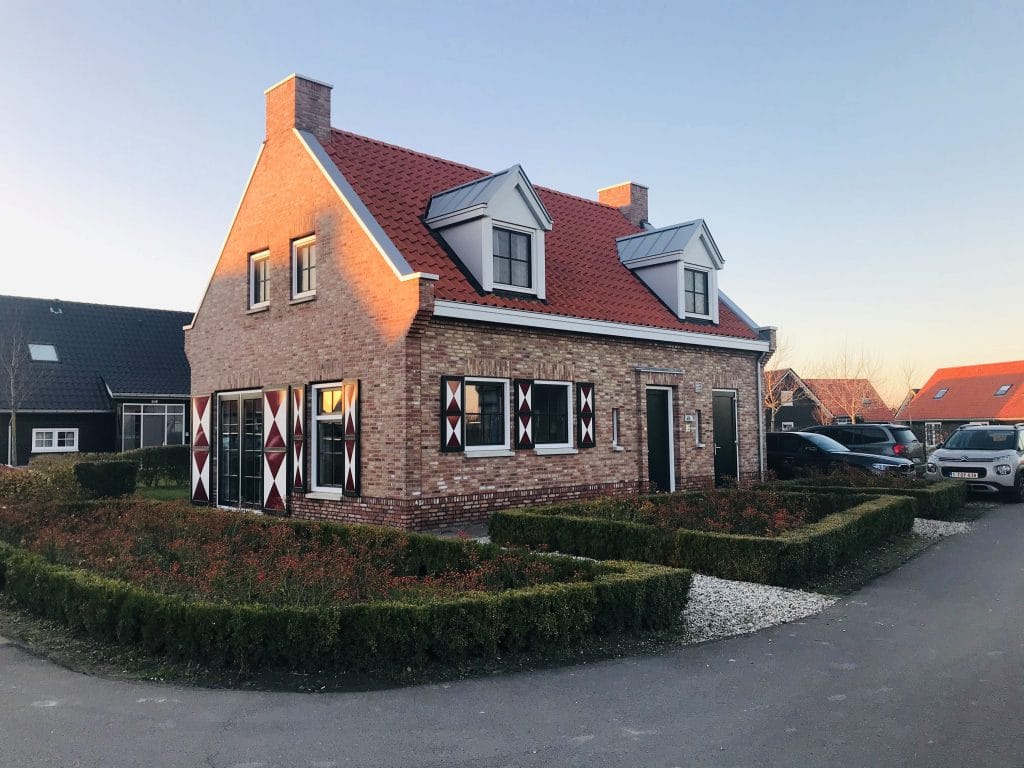 We booked a 10 Person Residence for a midweek Monday to Friday stay. It was large at 126m2, detached with a grassy outdoor garden and lovely landscaped front garden area. It had 5 bedrooms and 3 bathrooms and an open plan kitchen/dining/living space. The kitchen patio doors opened directly onto the back garden. We were allocated one of the quaint looking, traditionally designed Dutch houses with the red and white triangular designed shutters. What's lovely about this park is the houses are all different and there is ample space between them.
Our youngest no longer needs a highchair or cot but the house came fully equipped with 2 cots and a high chair. There were 2 cots in the main bedroom, one with a mattress and the other to be requested if needed. Cot linen isn't provided. The cots were a good size, so much so that our 5 year old insisted on sleeping in one of them for the novelty factor!
The beds were all a good size as you would expect in Holland, the ceilings and door frames were high and everything generally had a very spacious feel. There was 1 bedroom with an ensuite shower room on the ground floor, plus a separate toilet in the hallway, then 4 double bedrooms upstairs, a bathroom with a bath and another bathroom with a shower.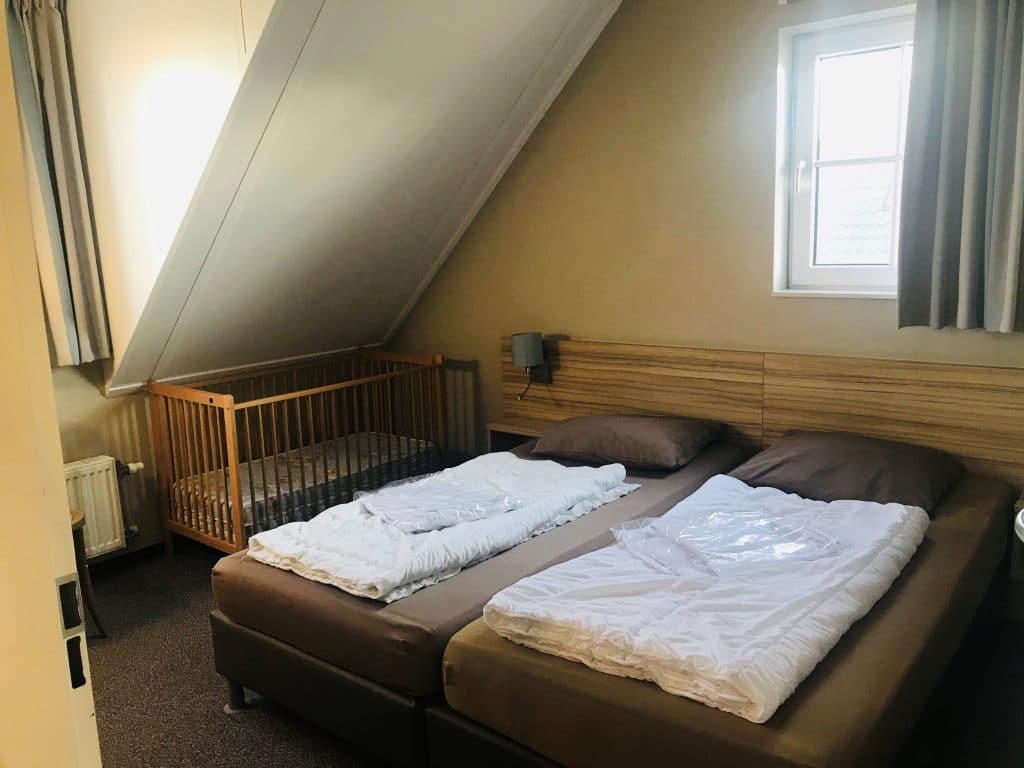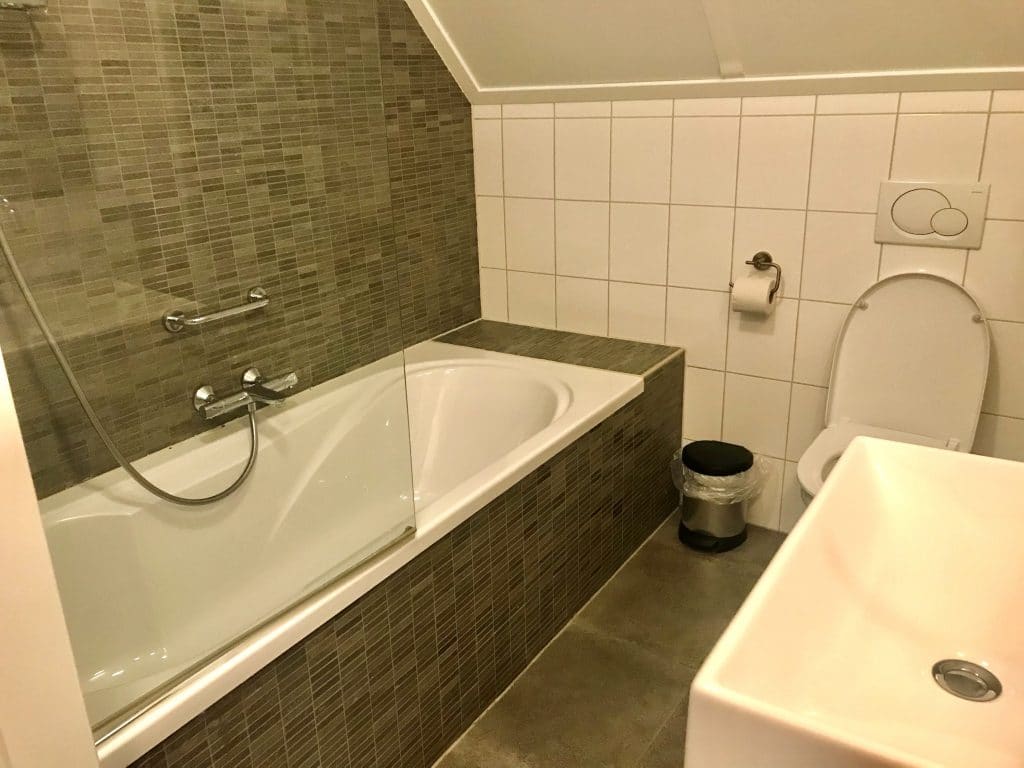 The fully equipped kitchen (combi microwave/oven, full size fridge freezer and hobs) together with the huge dining table which easily seated 10 meant self catering was a breeze. We took full advantage of our dining and kitchen space for our evening meals on all but 1 of the nights.  We had a lovely New Years eve dinner with hot plates and meat and fish that we'd bought in from one of the local villages. Once midnight struck we watched fireworks from our garden.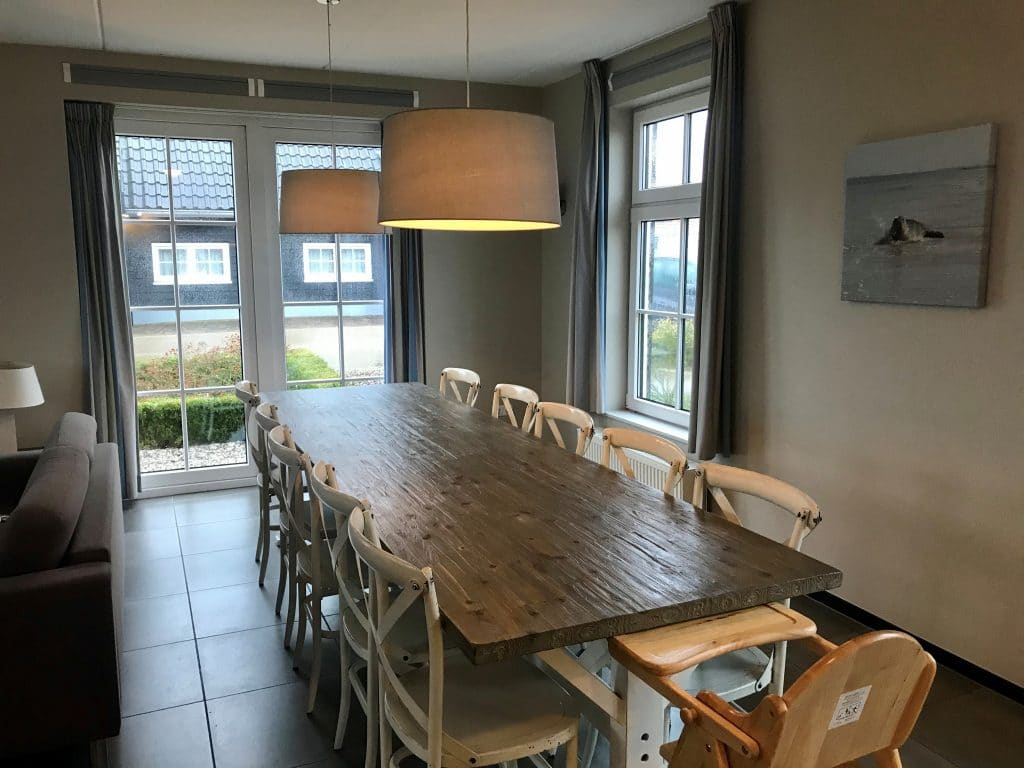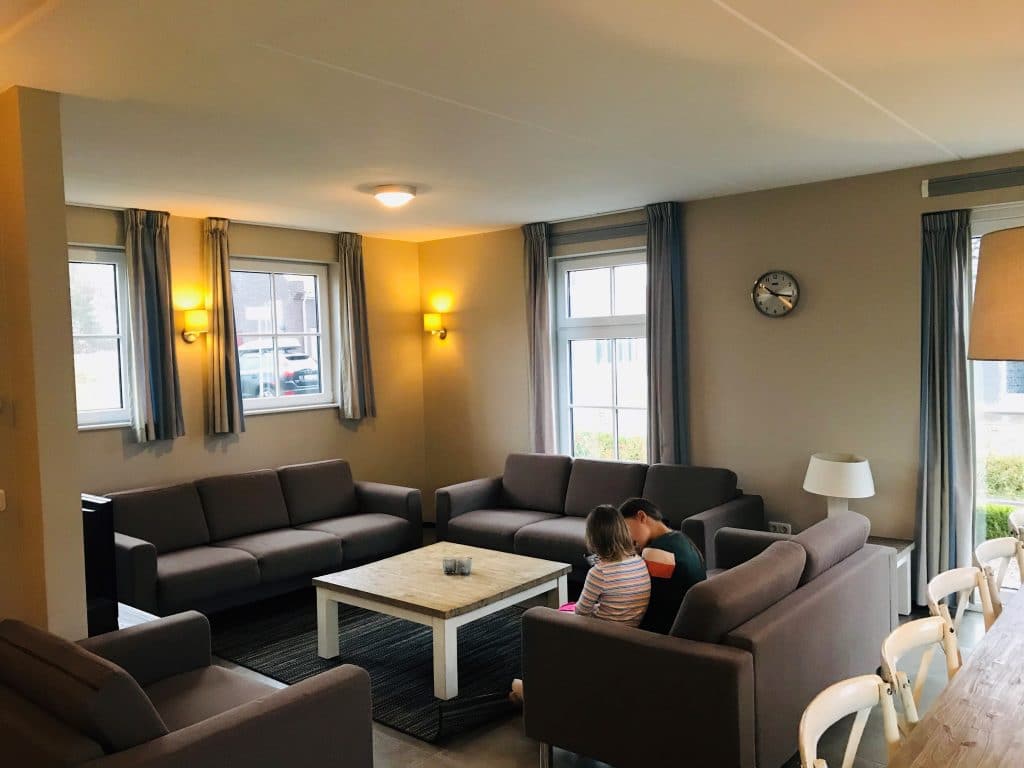 We love these holidays because you've got the benefits of outdoor living whilst staying in extremely comfortable accommodation, basically like a proper house with heating, mod cons and bathroom facilities.
What's great about the Landal parks is there are so many different sizes of accommodation. We booked a 10 person house but the houses range from 4 to 22 person houses at Nieuwvliet Bad if you're coming in an even bigger group. You can also select houses right on the water where you can get the pully boat from one side of the water to the other!
The Beach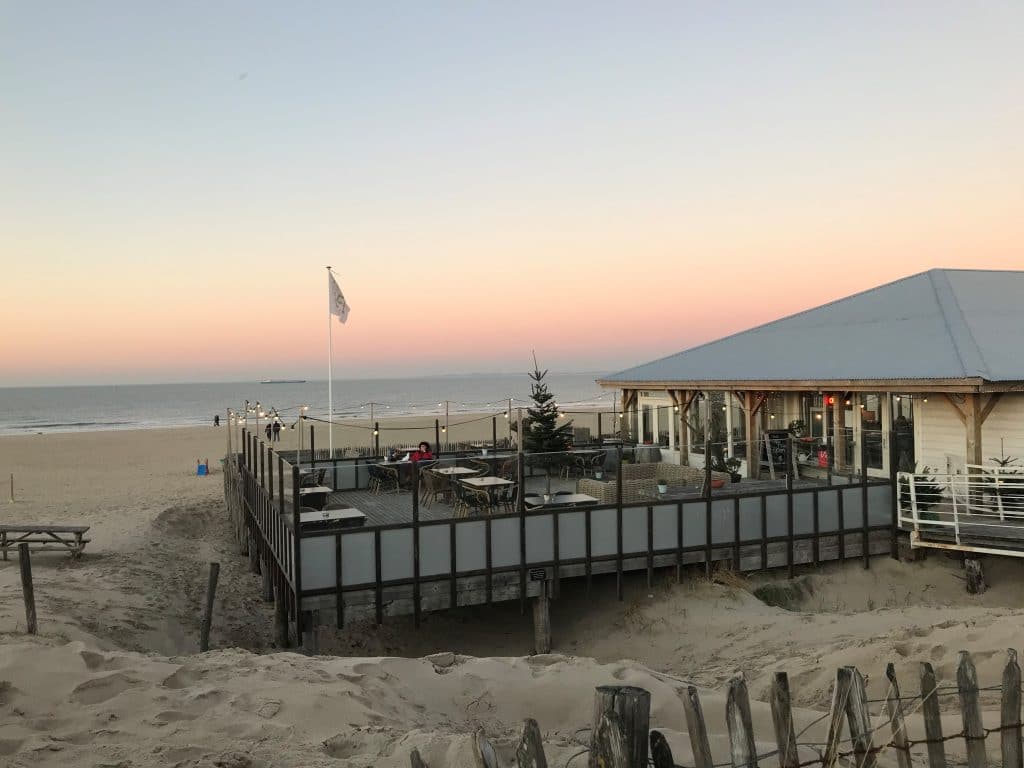 On the day we arrived we walked the 10-15 minutes to the beach along the road at the back of the park. As soon as you step outside of the park you are in the middle of the countryside with fields on both sides, some of the houses on the edge of the park look out onto these fields. You can see the back of the dunes from the moment you step off the park and after a short walk you arrive at the beach. This is truly one of the most beautiful sandy beaches I've seen, even in December! The Dutch do beaches really well, you'll usually find a pavilion and a playground and this was the case here. The pavilion looked cosy with Christmas lights and the views from the terrace were spectacular.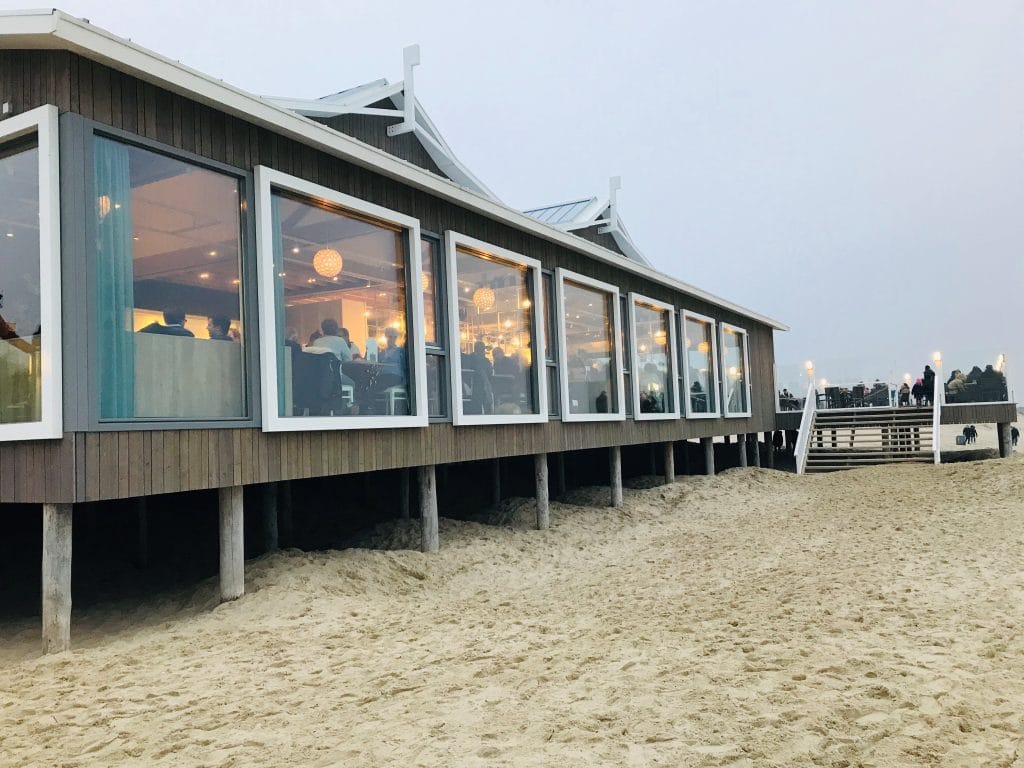 We walked along this beach every day and the children loved running around, finding shells and playing on the breakwater poles which are characteristic of this stretch of coast. There are playgrounds at different points along the beach and I even spotted a slide coming down from one of the dunes onto the beach not far from the park! There were often people out walking their dogs and some people horse riding. On New Year's day they were having a fire to burn all the Christmas trees so we stopped by one of the other beach pavilions and enjoyed a cosy drink and ice cream.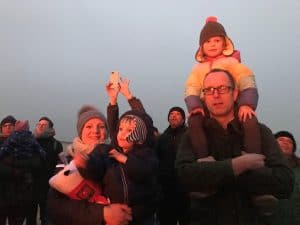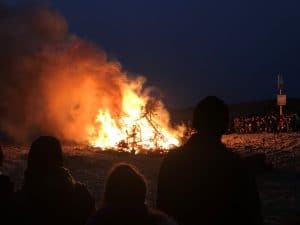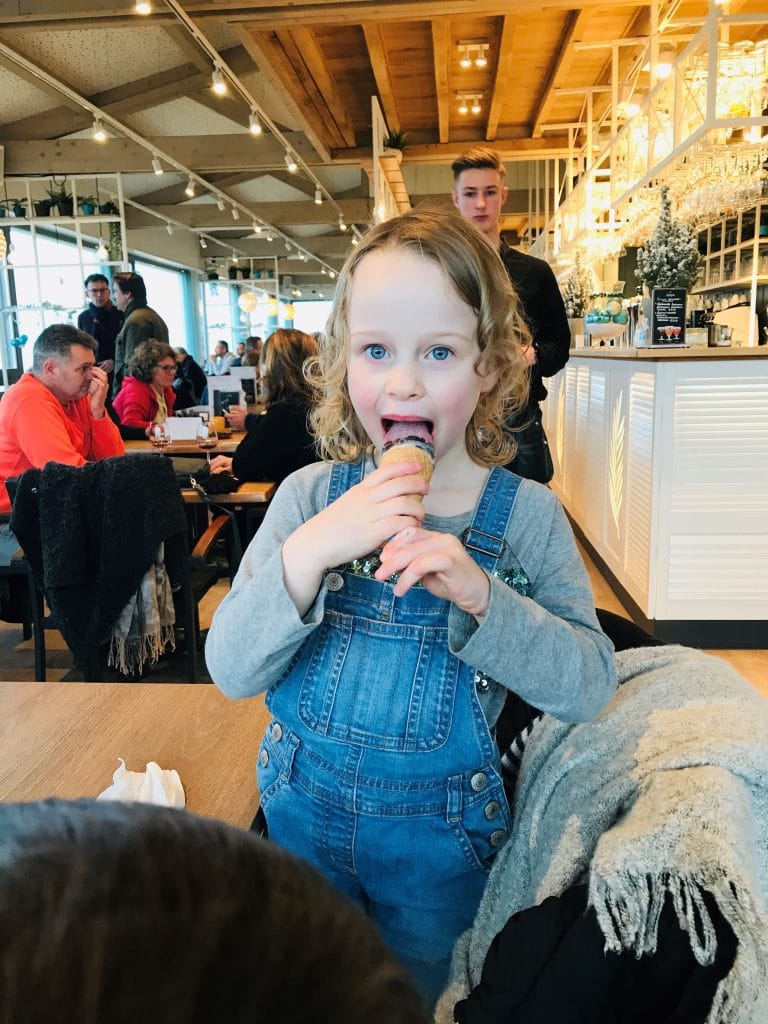 I was also excited to spot Miffy poles which are dotted along this beach to help children find their bearings!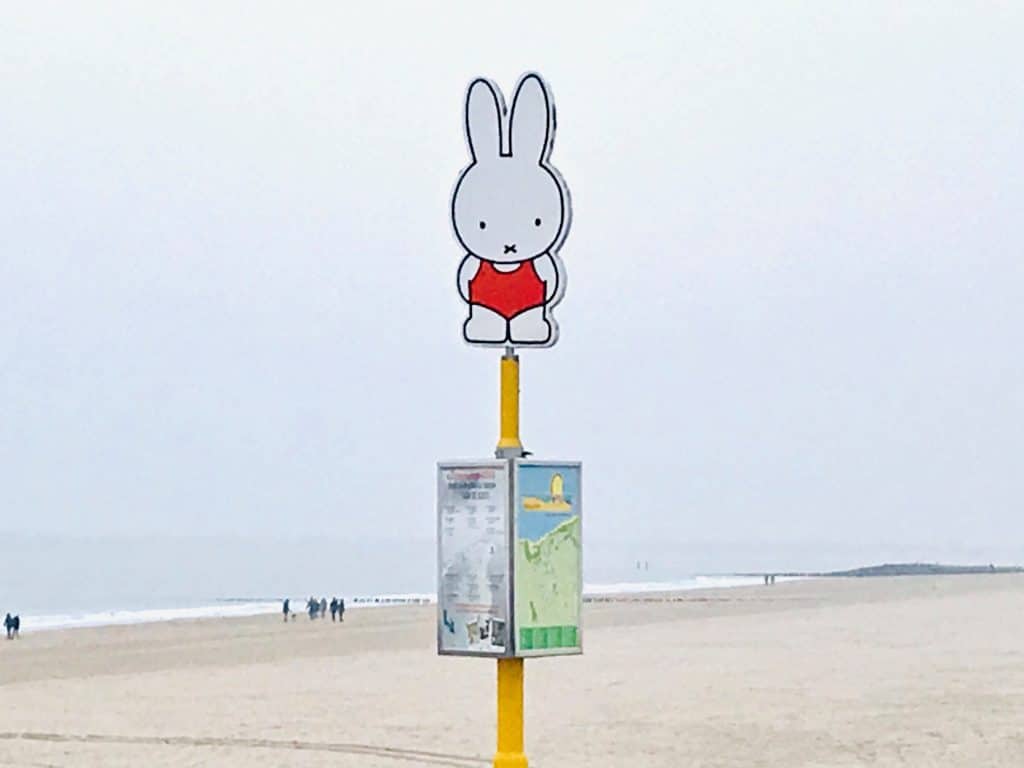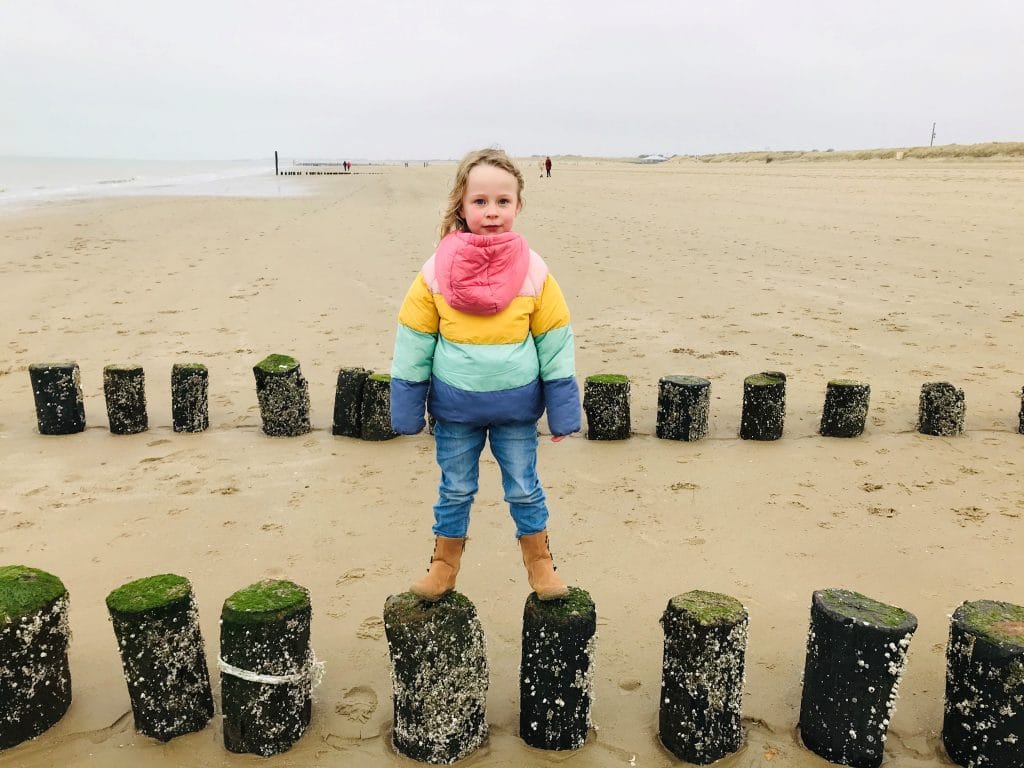 This feels like a really unspoilt, naturally beautiful coast where you can walks along the beach and through the dunes and really breath in the fresh sea air. I went for a run one day along the paths through the dunes and I even saw a rabbit hopping about!
Back On The Park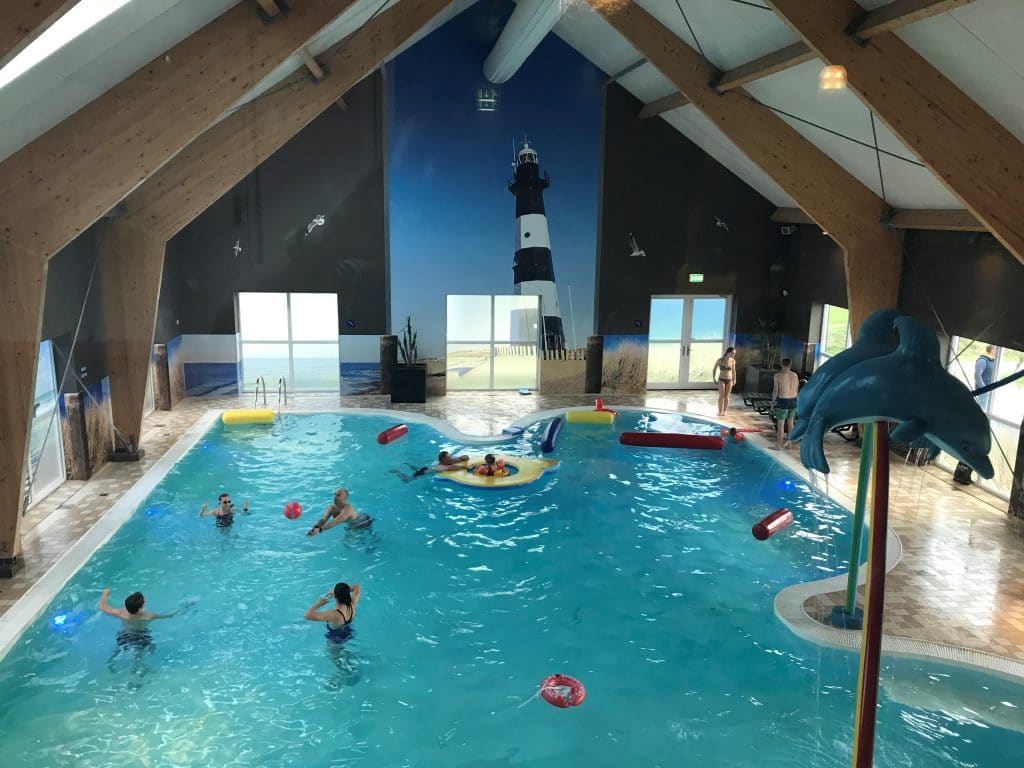 Back on the park we made full use of the pool which is fairly small but more than adequate for the size of the park. Our 3 and 5 year olds loved the little toddler pool as well as the dolphin fountains and play floats in the main pool. The pool was open until 8pm and lit up blue at night so had a nice atmospheric feel. What I loved were the beach images around the pool which really felt like you were looking out of the window onto the beach and gave a feeling about just how gorgeous this stretch of coast is in the summer months.
The pool, small shop, bar and restaurant are located in the main central building. Right next to the pool is a lovely play area with an air trampoline, slide and little wheelbarrow and spade which our 3 year old loved. And upstairs there is a small indoor "play attic" with ball pool, play house, giant lego building bricks and a little kitchen. There are also several other little play areas dotted between the houses with swings and play huts etc.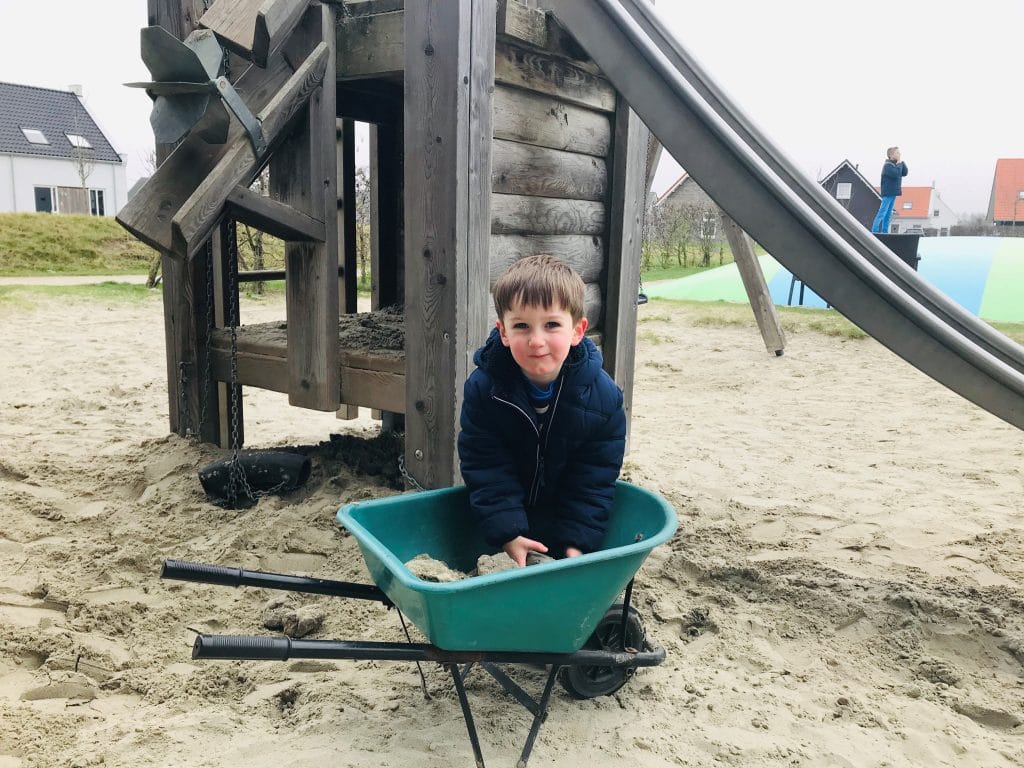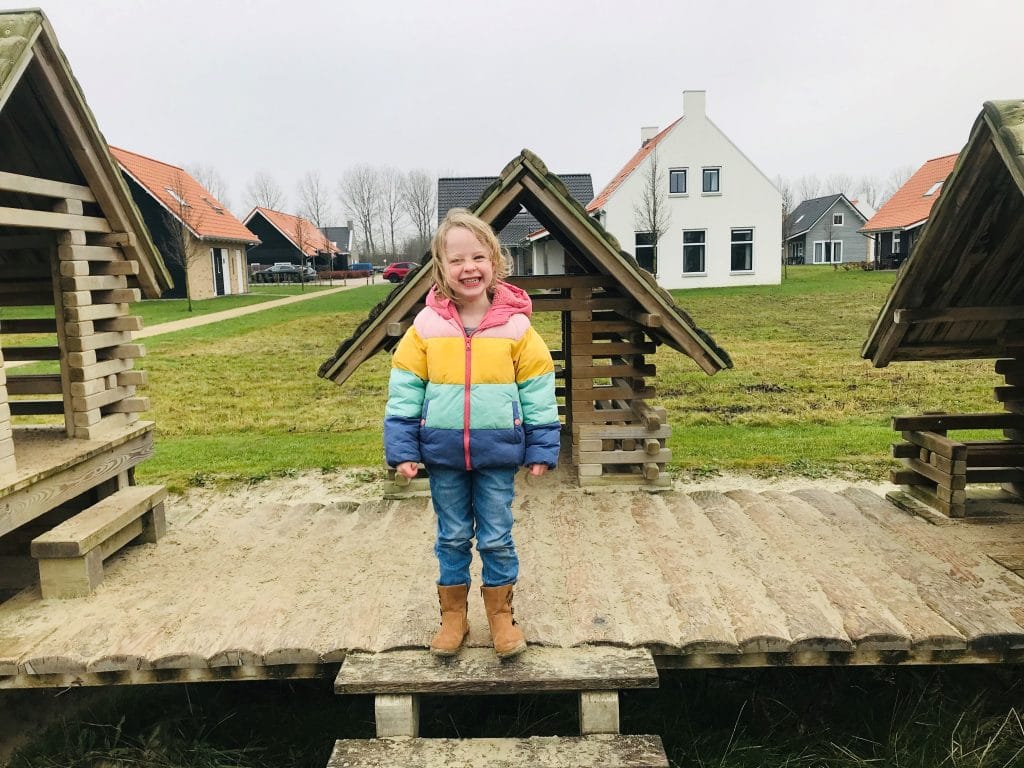 There is a selection of bike hire as well as some pull along carts you can rent for €6 per day or €24 per week to transport the little ones in! (or your stuff!). This area is a paradise for cycling and there are cycle paths directly from the park and all along the beach.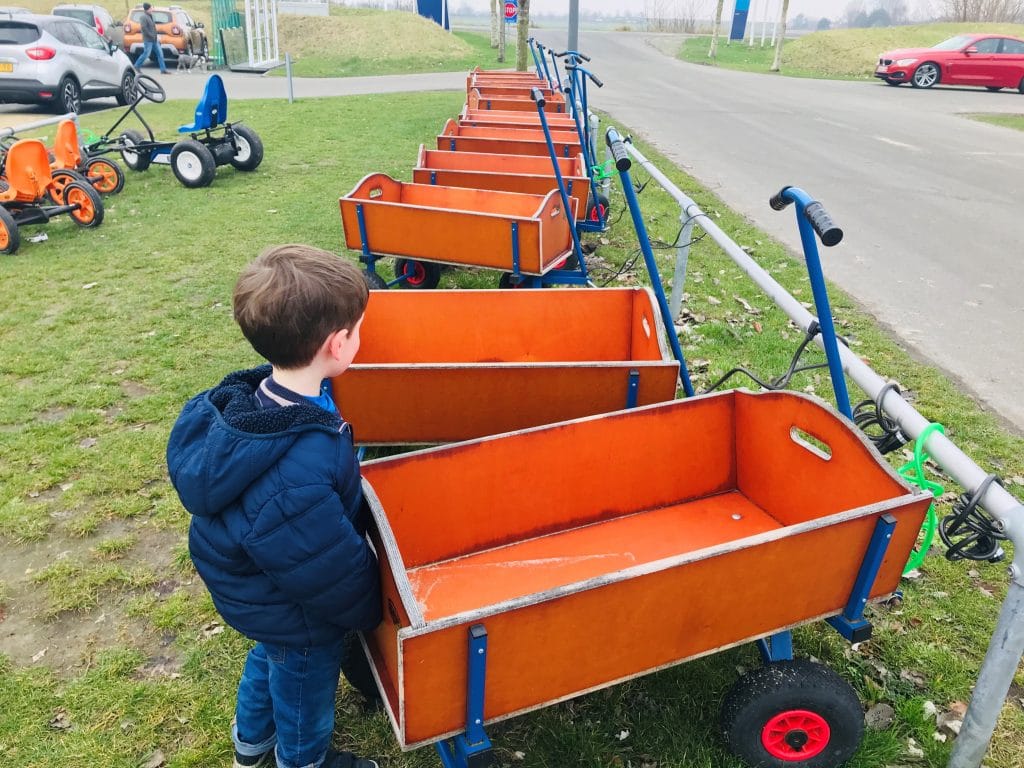 Restaurant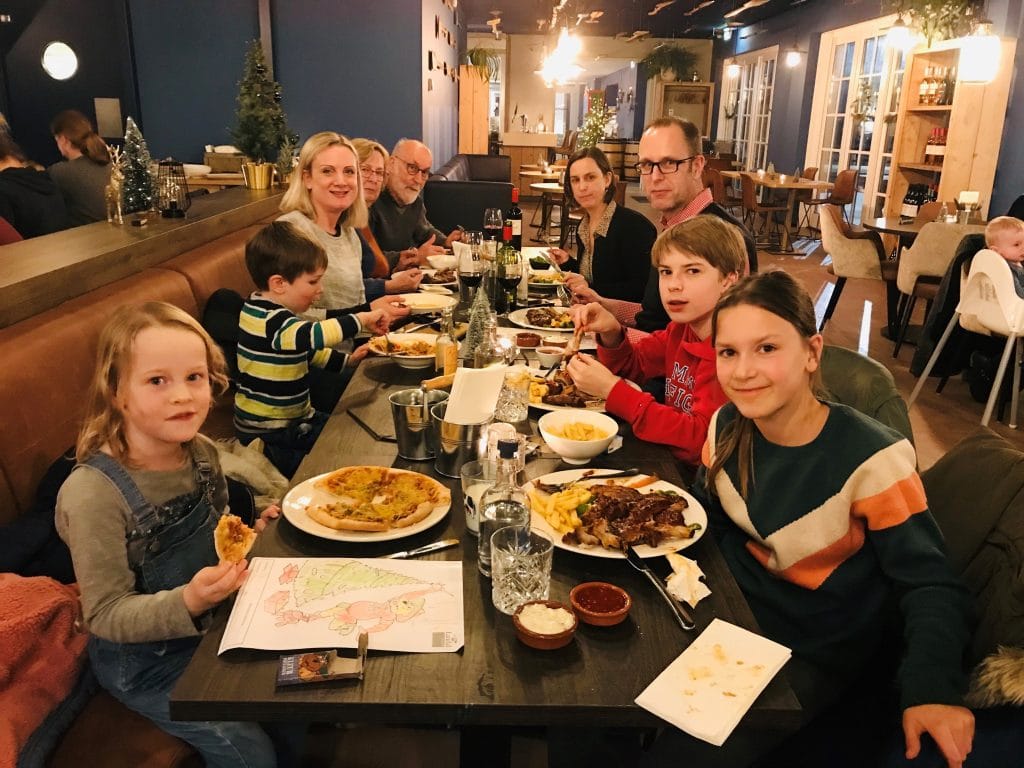 The park was fairly full being Christmas so had a nice buzz about it but also had a very chilled out relaxed and cosy feel. There was a Christmas tree and twinkly Christmas lights decorating the main building. We decided to book a table at the restaurant for our last night and we were really glad we did. The staff were extremely friendly and efficient and the restaurant was tastefully decorated and had a nice ambiance. The food was excellent. I had the fish soup and all the other adults went for the spare ribs. The children's menus were good, with a selection of options and portion size was generous. For dessert the children had ice cream and my 3 year old son's came in a Bollo cup (the Landal park mascot) and he was allowed to keep the cup afterwards which we thought was a lovely touch. I noticed that there were also gluten free menu alternatives. The staff seemed very flexible to different dietary needs too.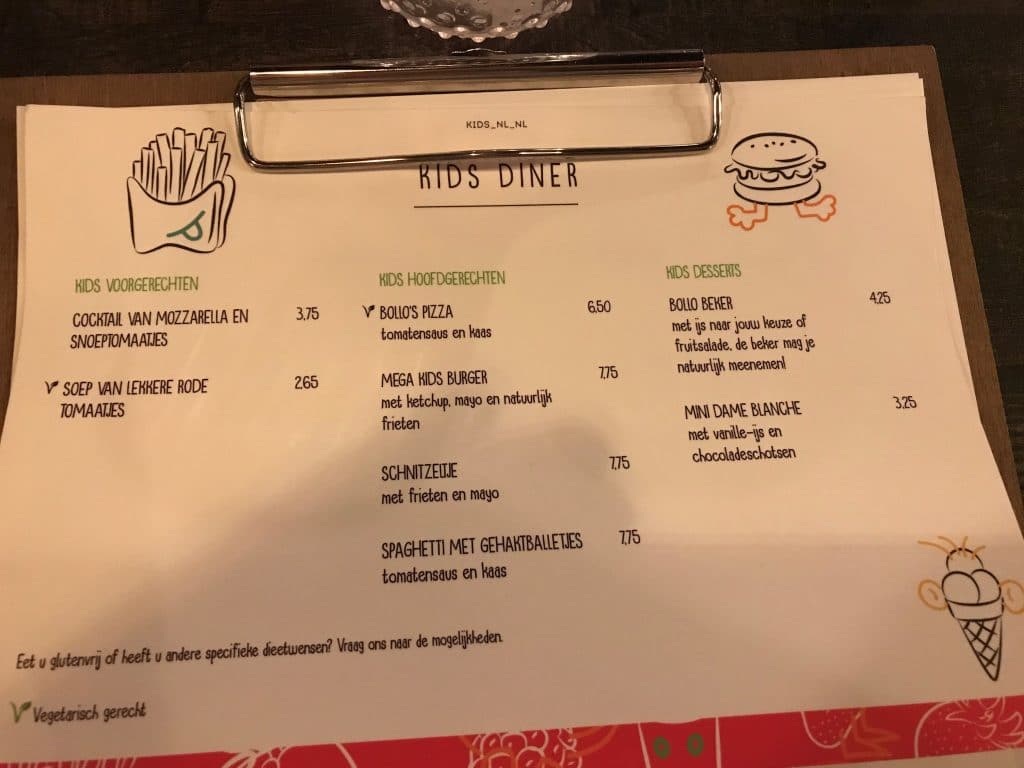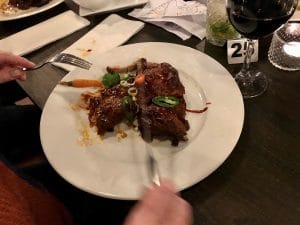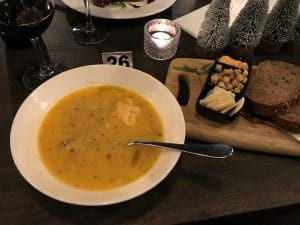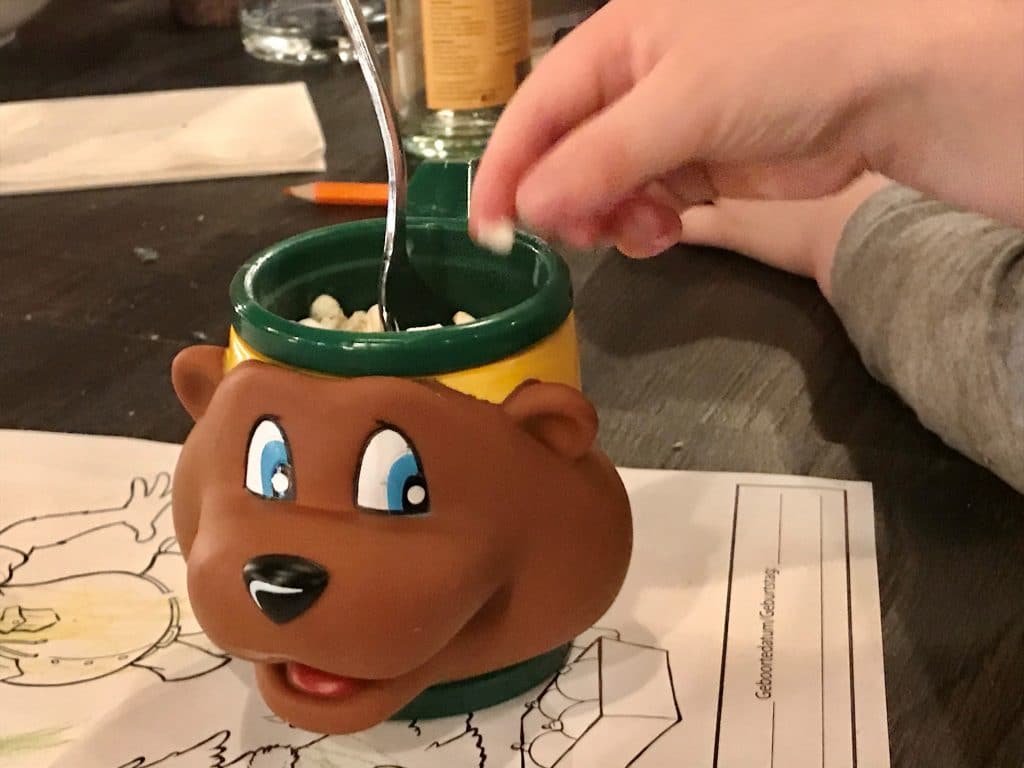 While in the restaurant we spotted that there were 2 tables which had a swing instead of one of the seats! My 5 year old was very excited about this and told me we had to reserve one of those tables next time!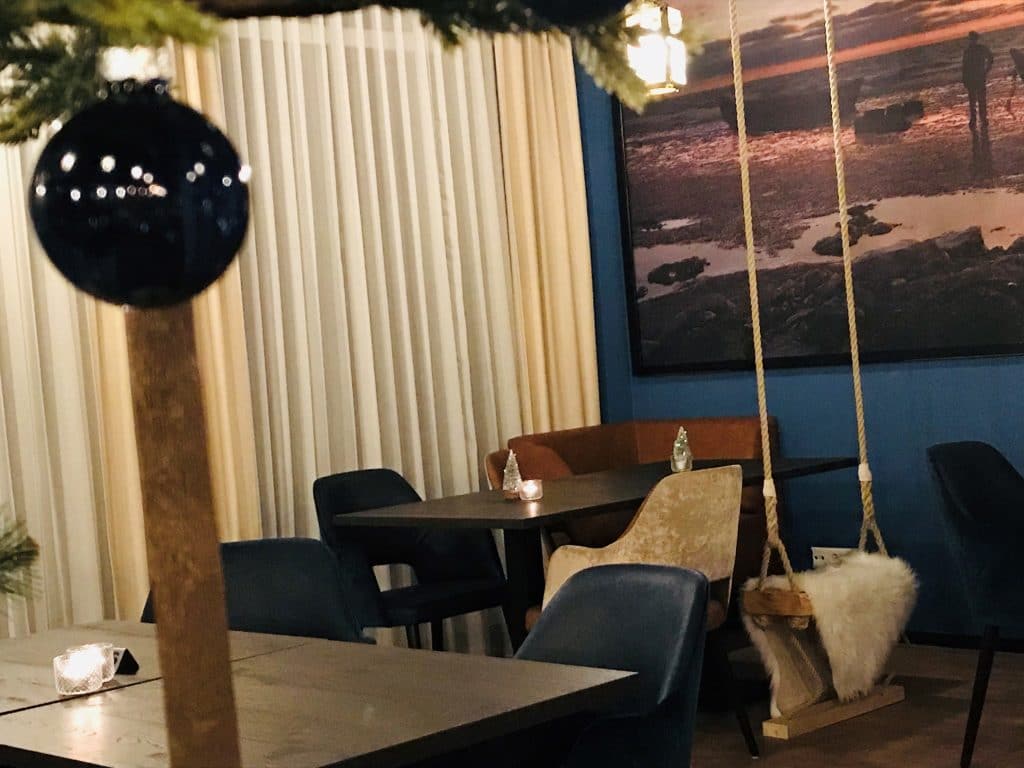 To Do Nearby
We were having too much family reunion fun to venture too far off the park and were only there for 4 days but Landal Nieuwvliet Bad is close to many places of interest. Namely it's only 40 mins from Bruges and 50 mins from Gent. It's also 6km from Cadzand beach which is widely regarded as the most beautiful beach in the Netherlands and has a variety of water sports activities in the summer. Nieuwvliet town is 2km away where there is the Piereweit play farm which has indoor and outdoor play areas and a small farm. The larger town of Sluis is 13km away where you can find an Ostrich farm and an indoor play park. You are also an hour from Plopsaland theme park on the Belgian Coast (below) and from the Mini Mundi amusement park in Middenburg. We would recommend having a car for this resort.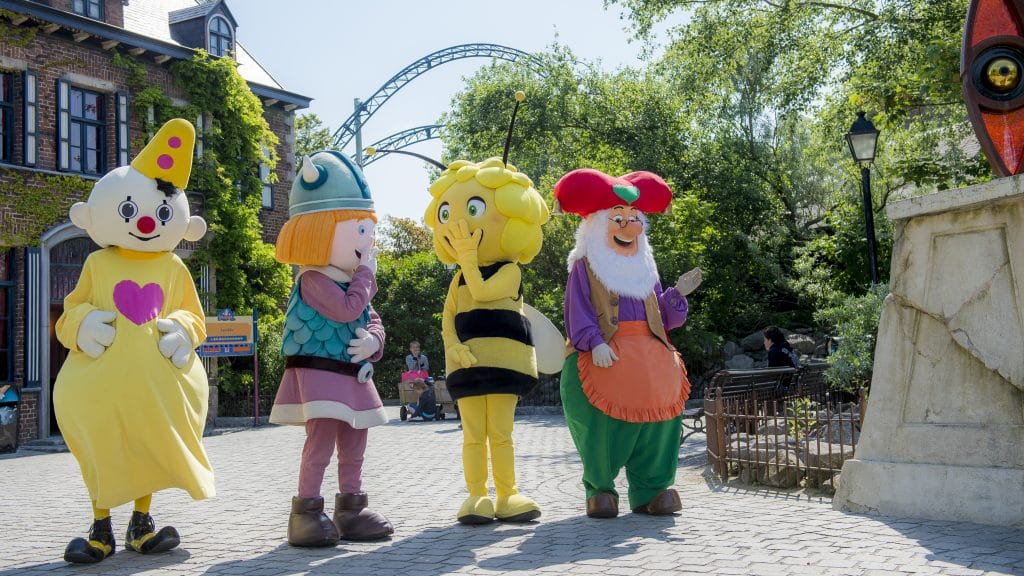 Getting There
Driving from Dunkirk ferry port takes 1h30 or from Calais it is 1h40. Europoort in the Netherlands is 2 hours away. The nearest airport is Brussels which is 1h30 away.
Conclusion
Landal Nieuwvliet Bad is a brilliantly located park with high end accommodation, lovely pool and  several play areas for younger children. I had always earmarked this park as one definitely suitable for little ones (there were so many baby and toddler families there when we were there) but maybe less so for older children but my sister in law said that she would definitely come back with her 11 and 14 year olds and that with all the cycling you can do here and the amazing beach it really is a park for all ages. The Dutch do the holiday park concept so well! We will be back!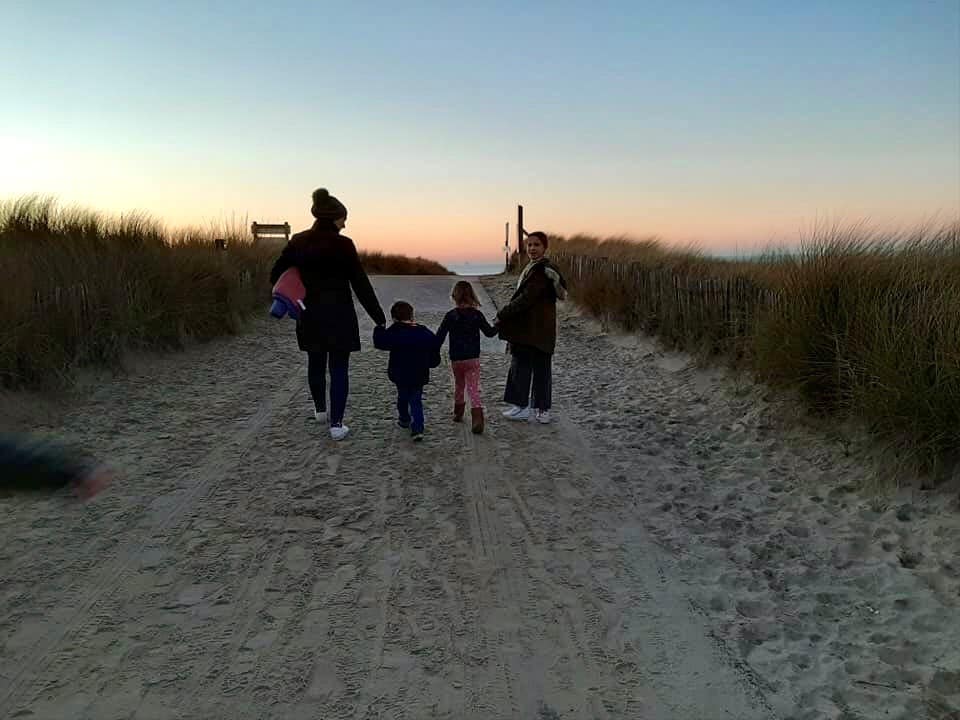 Drop us a line for more info or prices